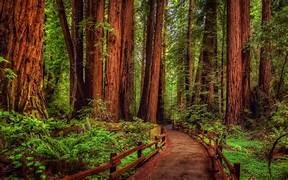 Disclaimer: Copyright infringement not intended.
Context
California's Redwoods are being revived

A conservative initiative known as Redwoods Rising aims to restore California's damaged redwood forests
Details
An ecological preservation effort "Redwoods Rising" has been initiated to rejuvenate the ailing redwood forests of California.

This project is focused on revitalizing these forests by emulating the characteristics of thriving young woodlands, employing techniques like controlled burns and judicious thinning.

Redwoods Rising project represents a partnership between Redwood National and State Parks and the Save the Redwoods League.

This initiative is firmly dedicated to the rejuvenation of previously logged redwood forests, with a central goal of enhancing their resilience for the times ahead.

The redwood forests in California have suffered from various forms of human intervention, including logging, urban expansion, and environmental degradation.
Redwood
Redwood trees stand out as exceptional reservoirs of carbon owing to their impressive height and long lifespans.

Through the restoration of robust redwood forests, the Redwoods Rising project effectively amplifies the process of carbon sequestration, assuming a pivotal role in the global fight against climate change.

Belonging to the coniferous tree subfamily, redwoods encompass the grandest and loftiest trees globally.

One of the largest and tallest specimens in existence.

Trees have the potential to endure for millennia, with lifespans spanning thousands of years.
Conclusion
The Redwoods Rising project requires the collaboration of governmental agencies, environmental organizations, local communities, and concerned citizens. By implementing these strategies and garnering collective support, the initiative aspires to rejuvenate the redwood forests and ensure their preservation for generations to come.
PRACTICE QUESTION
Q. What is the Redwoods Rising project?Discuss the challenges faced by redwoods due to a changing climate? (250 Words)
https://indianexpress.com/article/explained/explained-climate/californias-redwoods-revived-8894840/