Border Infrastructure & Management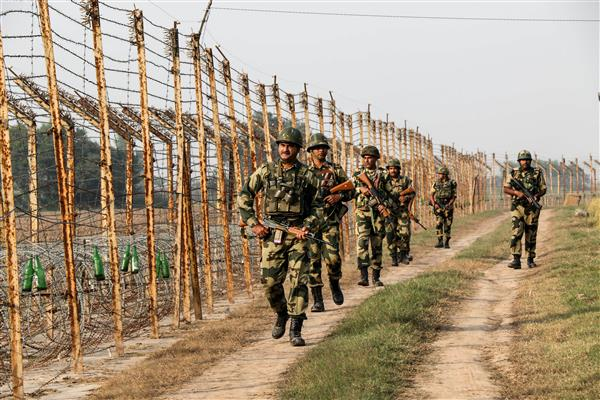 Copyright infringement is not intended
Context: Union Government has decided to continue the Umbrella scheme of Border Infrastructure and Management (BIM) from 2021-22 to 2025-26
Details:
Government has approved the continuation of the central sector umbrella scheme of the Border Infrastructure and Management (BIM) during the 15th Finance Commission cycle from 2021-22 to 2025-26, at a cost of Rs.13,020 crore.
The Scheme is implemented under The Ministry of Home Affairs.
It will strengthen the border management and infrastructure for improving policing and guarding the borders.
It will promote construction of border fence, border flood lights, border roads and Border Outposts, Operating Bases to secure Indo-Pakistan, Indo-Bangladesh, Indo-China, Indo-Nepal, Indo-Bhutan and Indo-Myanmar borders.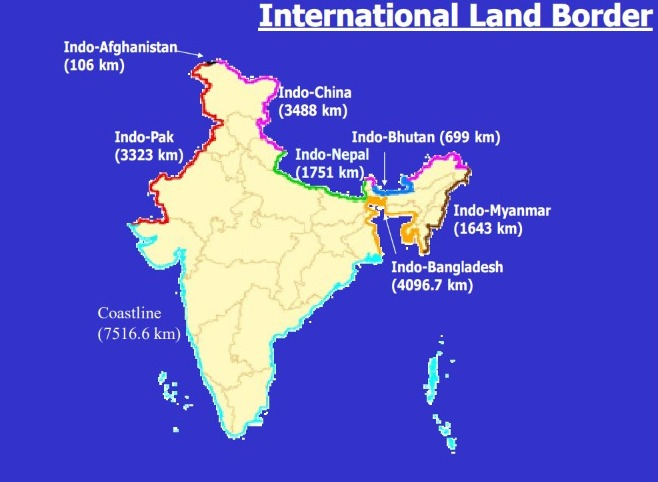 Copyright infringement is not intended
India's Border length with neighboring counties:
4,096 km With Bangladesh
3,488 km with china
3,323 km with Pakistan.
1,751 km with Nepal
1,643 km with Myanmar
699 km with Bhutan
106 km with Afghanistan
Other program for improving border infrastructure and management:
In 1960, Jawaharlal Nehru laid the foundation of the Border Roads Organization (BRO), to provide defense infrastructure including roads, bridges, highways, airports, tunnels, buildings and other such structures.
Government launched a Comprehensive Integrated Border Management System (CIBMS) to improve the capability of Border Security Force in detecting and controlling the cross border crimes like illegal infiltration, smuggling of contraband goods, human trafficking and cross border terrorism etc.
Project BOLD-QIT (Border Electronically Dominated QTR Interception Technique) under Comprehensive Integrated Border Management System (CIBMS) on the Indo- Bangladesh border.
https://economictimes.indiatimes.com/news/india/rs-13020-crore-border-management-plan-approved-by-modi-government/articleshow/89729722.cms