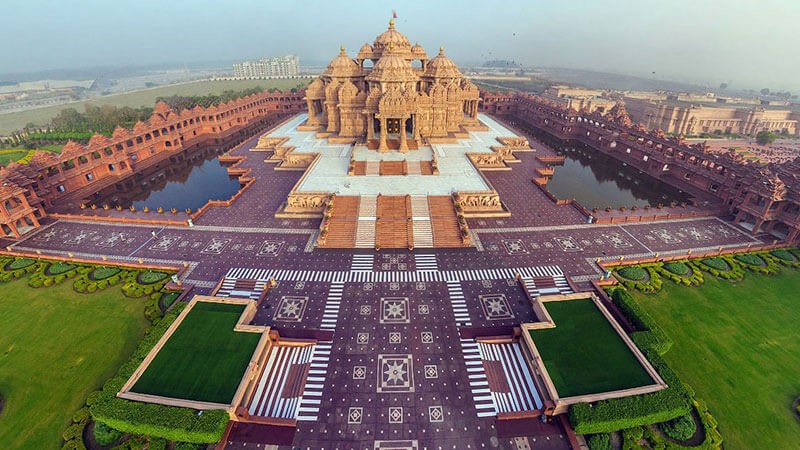 Disclaimer: Copyright infringement not intended.
Context
Rishi Sunak, UK Prime Minister, visited the Akshardham Temple in Delhi with his wife Akshata Murty.
Details
Akshardham Temple, also known as the Swaminarayan Akshardham Temple, is a magnificent Hindu temple complex located in Delhi.
History
Akshardham Temple was inaugurated on November 6, 2005, by Pramukh Swami Maharaj, the spiritual leader of the BAPS Swaminarayan Sanstha (Bochasanwasi Shri Akshar Purushottam Swaminarayan Sanstha), a prominent sect within Hinduism.
The temple was built to honor Bhagwan Swaminarayan (1781-1830), the founder of the Swaminarayan tradition.
Architecture
The temple complex showcases stunning architecture inspired by ancient Vedic and Hindu architectural principles.
The main monument is made of intricately carved pink sandstone and white marble.
It stands 141 feet tall and features more than 20,000 statues and sculptures.
The central monument represents Mount Meru, the mythical abode of the gods.
Main Attractions
Yagnapurush Kund:

This is the world's largest stepwell and serves as the central feature of the temple complex. It hosts the spectacular Sahaj Anand Water Show, a multimedia fountain show that depicts an episode from the life of Bhagwan Swaminarayan.

Abhishek Mandap:

This area allows visitors to participate in the Abhishek ritual, where they can pour holy water over the sacred image of Bhagwan Swaminarayan.

Exhibitions:

Akshardham features several exhibitions, including the Sahaj Anand Water Show, a cultural boat ride, and the Hall of Values (Sahaj Anand Multimedia Museum), which educates visitors on Swaminarayan's teachings and values.

Garden of India:

The temple complex also includes beautifully landscaped gardens with bronze sculptures depicting India's cultural and spiritual heritage.
Spiritual Significance
Akshardham Temple is not only a place of architectural beauty but also a center for spiritual activities, prayers, and devotion.
It emphasizes the principles of non-violence, truth, purity, celibacy, and faith.
Awards and Recognition
Akshardham Temple has received numerous awards and recognitions for its architectural and cultural contributions, including the Guinness World Record for the World's Largest Comprehensive Hindu Temple.
Conclusion
Akshardham Temple is a marvel of art, culture, and spirituality that attracts millions of visitors each year. It stands as a testament to India's rich cultural and spiritual heritage and serves as a place of inspiration and reflection for people from all walks of life.
PRACTICE QUESTION
Q. Consider the following statements regarding Akshardham Temple in Delhi:
Akshardham Temple is a UNESCO World Heritage Site due to its historical significance.

The temple complex features a massive stepwell known as Yagnapurush Kund.

The primary deity worshiped at Akshardham Temple is Lord Shiva.
Which of the statements above are correct?
A) 1 and 2
B) 2 and 3
C) 1 and 3
D) None
Answer: B) 2 and 3
https://www.ndtv.com/india-news/rishi-sunak-wife-akshata-murty-take-a-break-from-g20-visit-akshardham-temple-4376063