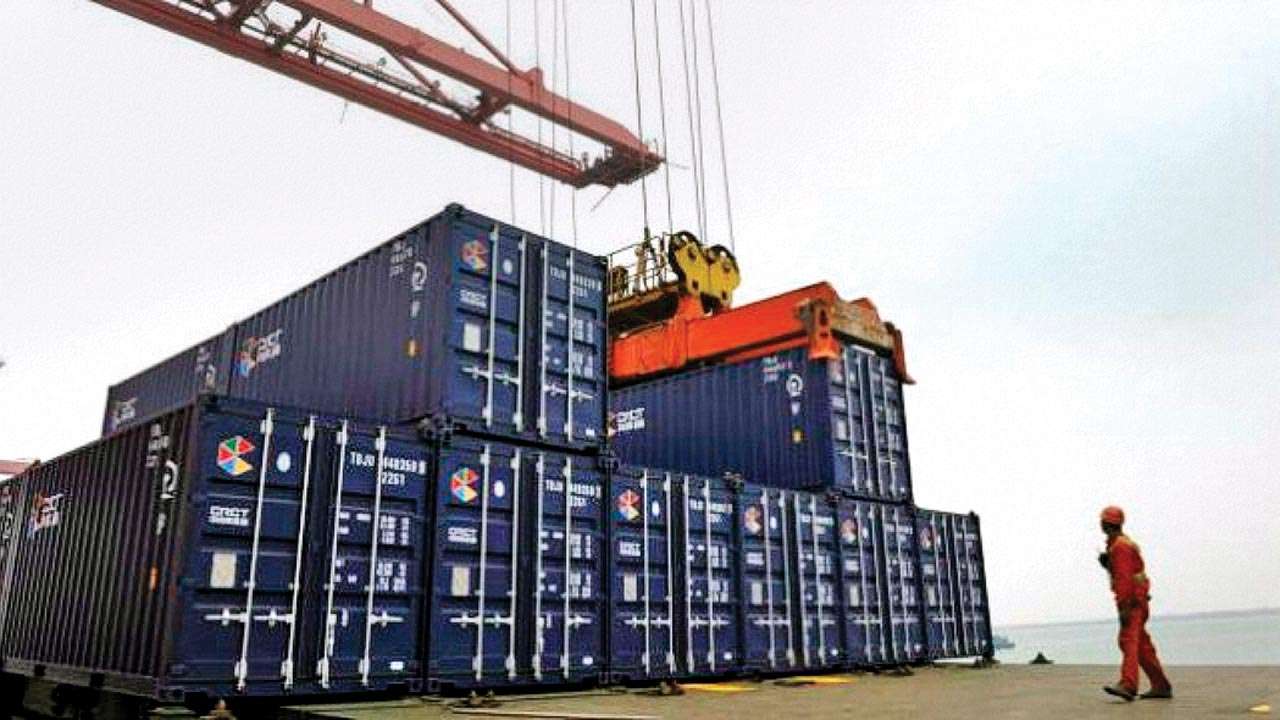 Disclaimer: Copyright infringement not intended.
Context:
Exports of agricultural and processed food products rose more than 23% to $19.7 billion during April-January 2021-22 as compared with the year-earlier period.
The exports stood at $15.97 billion in the 10-month period a year ago- Commerce Ministry.
Findings of the Ministry:
Rice

: Export of rice was the top forex earner at $7.7 billion during the period under review.
Wheat: Similarly, shipments of wheat increased to $1.74 billion during the period.
Meat and Dairy Products: Meat, dairy and poultry products exports grew more than 13% to $3.40 billion during the 10-month period of the current fiscal year,.

Fruits and vegetables

: Fruits and vegetables outbound shipments were up 16% to $1.20 billion.
Agriculture Exports: Some statistics:
2021 WTO Report
India broke into the top 10 list of agricultural produce exporters in 2019 with a sizeable share in the export of rice, cotton, soya beans and meat, according to a World Trade Organization (WTO) report on the trends in world agricultural trade in the past 25 years.
In the past 25 years, India with1% share in global Agri exports, replaced New Zealand (9th) as the largest exporters across the globe in 2019.
India was the third-largest cotton exporter, and the fourth-largest importer in 2019 and 2020-2021.
India has been the fourth largest beef exporters worldwide in 2020.
India's share of foreign value-added content in its Agri exports clocked 3.8% share primarily due to high tariffs on Agri imports to boost the domestic markets and local farmers.
As of 2021, India is the second largest producer of the fruits and vegetables in the world after China.
Initiatives taken by APEDA to boost agri exports:
Paperless office, enabling digital signatures and electronic payment facilities.
Phase-wise delivery of online services.
Monitoring and evaluation, uniform access to shippers and conducting virtual trade fairs.
Cent per cent digitization of issuing registration-cum-allocation certificate (RCAC), by enabling online payment gateway and digital signatures.
Integration of peanut processing units and laboratories into a single window system for certification of peanut (groundnut) exports. This includes issuing online certificates of exports. The authority has also launched similar initiatives with regard to meat exports.
Hortinet: An integrated traceability system covering 40-plus vegetable. It provides Internet based electronic services to the stakeholders for facilitating farm registration, testing and certification of Grape, Pomegranate and Vegetables for export from India to the European Union in compliance with standards.
A traceability System for Basmati rice (a registered GI product).
Grapenet - a web based certification and traceability software system for monitoring fresh grapes exported from India to the European Union.
APEDA compiles and disseminates various international trade analytical information, market access information amongst exporters and address trade enquiries.
APEDA assists in up-gradation and strengthening of recognized laboratories for export testing and residue monitoring plans.
Assistance under the financial assistance schemes of infrastructure development, quality improvement and market development for boosting export of agricultural products.
FarmerConnect portal to help farmer producers' organisations, cooperatives and exporters. This helps them to create profiles and post their sale offers on the web platform. Exporters can also post their enquiries or needs, and view matching sale offers.
Virtual Trade Fair -A meeting place for exhibitors, visitors, exporters and industry to exchange information on new products and establish new partnerships.
SaaS model: Hybrid solution combining its traditional web-based SaaS model for its stakeholders, augmented by an authentic, private Blockchain layer for further data security and authentication.
These initiatives have, helped Indian agricultural exports fare well during COVID pandemic when shipments were affected due to various factors, including lockdowns.
APEDA:
Agriculture and processed food production export Development Authority (APEDA) is an apex body that promotes export trade of agricultural products in India.
Set-up by the Ministry of Commerce and Industry, APEDA was formed under the act passed by parliament in 1985.
APEDA is mandated with the responsibility of export promotion and development of the following scheduled products:
Fruits, vegetables and their products
Meat and meat products
Poultry and poultry products
Dairy products
Confectionery biscuits and Bakery products
Honey, jaggery and sugar products
Cocoa and its products, Chocolates of all kinds.
Alcoholic and non-alcoholic beverages
Cereal and cereal products
Groundnuts peanuts and walnuts
Pickles, papads and chutney
Guar gum
Floriculture and its products
Herbal and Medicinal plants
The above product categories are almost covered 50% of all Agriculture products exported from India.
APEDA has also been entrusted with the responsibility to monitor import of sugar.
The Department of Commerce also has several schemes to promote agricultural products, viz. Trade Infrastructure for Export Scheme (TIES), Market Access Initiatives (MAI) Scheme, Merchandise Exports from India Scheme (MEIS) etc.
India's Agriculture Export Policy:
The Agricultural Export Policy was introduced in 2018 to increase and provide support to productivity, pre and post-harvest management, value-addition and upgrade technology.
Objectives
To Double Agricultural Exports
To Diversify our Export Basket, destinations and boost high value and value added agricultural exports including focus on perishables.
To promote novel, indigenous, organic, ethnic, traditional and non-traditional Agri products exports.
To provide an institutional mechanism for pursuing market access, tackling barriers and deal with sanitary and phyto-sanitary issues.
To strive to double India's share in world agri exports by integrating with global value chain at the earliest.
Enable farmers to get benefit of export opportunities in overseas market.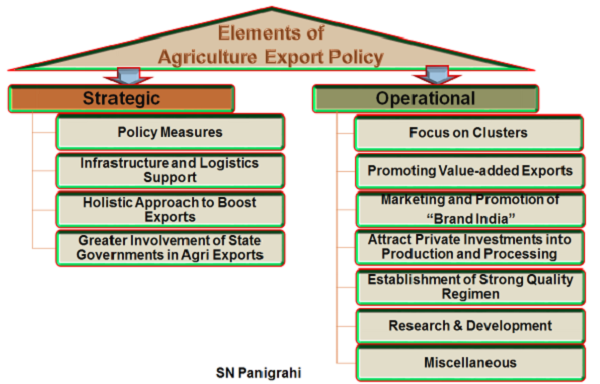 Recommendations of India's Agriculture Export Policy: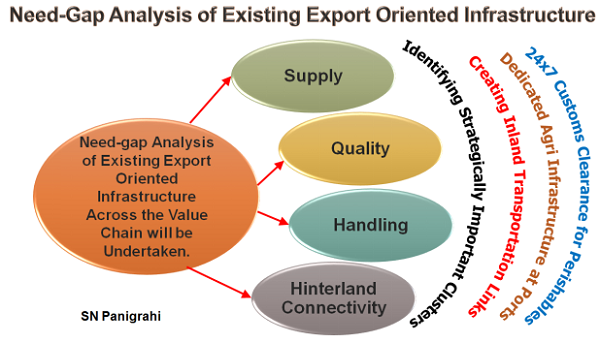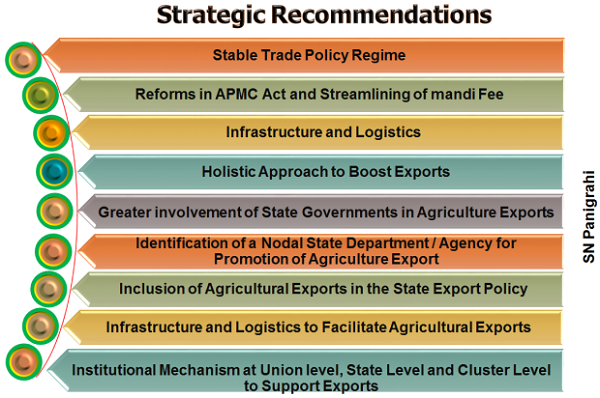 Final Thoughts:
The significant spike in agri-exports is a testimony of the government's commitment to increase farmers' income.
This is being done through giving thrust on boosting exports of agricultural and processed food products of the country.
Trivia: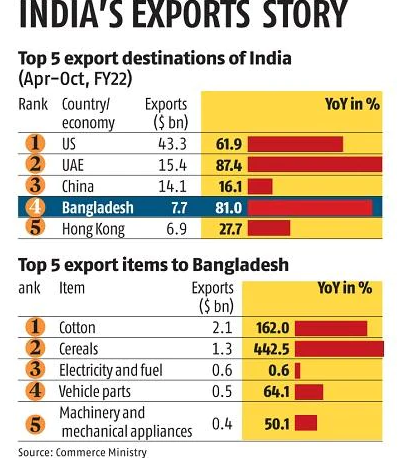 India's Top 10 Exports
The following export product groups categorize the highest dollar value in Indian global shipments during 2020. Also shown is the percentage share each export category represents in terms of overall exports from India.
Mineral fuels including oil: US$27.6 billion (10% of total exports)
Gems, precious metals: $24.5 billion (8.9%)
Pharmaceuticals: $18.4 billion (6.7%)
Machinery including computers: $18 billion (6.5%)
Organic chemicals: $17.4 billion (6.3%)
Electrical machinery, equipment: $13.5 billion (4.9%)
Vehicles: $13 billion (4.7%)
Iron, steel: $10.6 billion (3.9%)
Cereals: $8.7 billion (3.1%)
Plastics, plastic articles: $6.6 billion (2.4%)
India's top 10 exports approached three-fifths (57.5%) of the overall value of its global shipments.
Cereals represent the fastest grower among the top 10 export categories, up by 22.7% from 2019 to 2020.
As of 2020,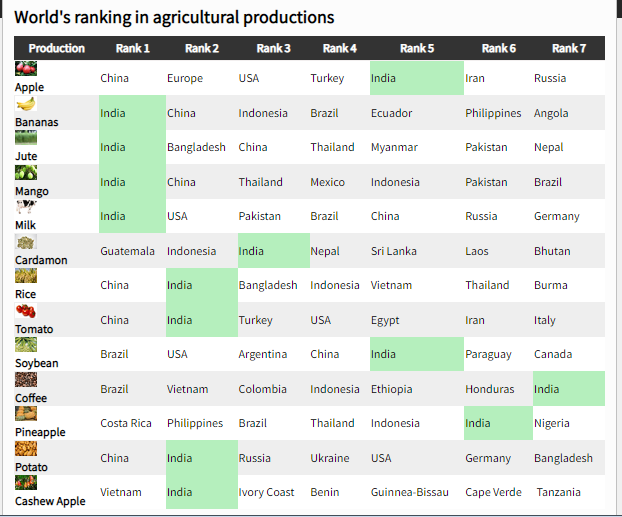 https://www.thehindu.com/business/exports-of-agri-processed-food-rise-23-pc-in-april-january/article65201573.ece