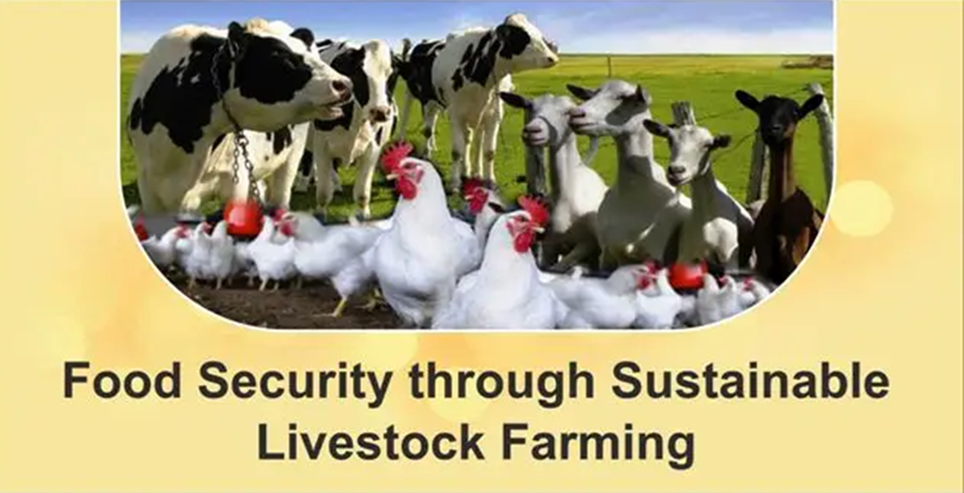 Copyright infringement not intended
Picture Courtesy: KrishiJagran
Context: As part of the Azadi Ka Amrit Mahotsav initiative, the Union Minister for Animal Husbandry and Dairying has introduced the 'A-HELP' (Accredited Agent for Health and Extension of Livestock Production) along with an Infertility Camp program in Gujarat.
Details
The initiatives are part of the Azadi Ka Amrit Mahotsav celebration, which commemorates the spirit of freedom and progress.

The initiative is part of the Pashudhan Jagrati Abhiyaan under Inclusive Development. The Pashudhan Jagrati Abhiyaan aims to empower farmers and improve livestock health, disease management, and animal infertility concerns.
Highlights of the 'A-HELP' program
The 'A-HELP' program focuses on empowering women by training them as agents who contribute to disease control, artificial insemination, animal tagging, and livestock insurance. This approach recognizes the significant role of women in the comprehensive development of the livestock sector, particularly in Gujarat.

Integration of Women's Power:

The 'A-HELP' program exemplifies the integration of women's power in the livestock sector. It aligns with the vision of the Prime Minister for socio-economic progress and empowers women while advancing the livestock sector.

Activities under Pashudhan Jagrati Abhiyaan:

The Pashudhan Jagrati Abhiyaan includes workshops, awareness camps, seminars, and practical training sessions conducted by State Veterinary Universities in collaboration with State Animal Husbandry Departments. These activities disseminate crucial knowledge on disease control, nutrition, and medical interventions for livestock.

Collaboration for Efficacy:

Collaborations with experts from Indian Immunological Ltd. enhance the initiative's efficacy by providing essential nutritional supplements, mineral mixtures, dewormers, and medicines to farmers. This holistic approach combines knowledge and tangible resources for the betterment of livestock.

Socio-economic Impact:

The initiatives are expected to have a positive impact on rural communities by elevating their socio-economic prospects. By enhancing livestock productivity and health, the program contributes to the prosperity of the nation's livestock sector.
Overall, these initiatives reflect a comprehensive approach to improving livestock health, empowering women, and fostering socio-economic progress in the livestock sector, aligning with the larger goals of the Azadi Ka Amrit Mahotsav celebration.
Must-Read Articles:
CREDIT GUARANTEE SCHEME FOR LIVESTOCK SECTOR: https://www.iasgyan.in/daily-current-affairs/credit-guarantee-scheme-for-livestock-sector
LIVESTOCK INSURANCE SCHEME: https://www.iasgyan.in/daily-current-affairs/livestock-insurance-scheme
PRACTICE QUESTION
Q. The Union Government has recently launched the "A-HELP program", the programme is related to:
1. Livestock Sector
2. Skill Development Sector
3. Education Sector
4. HealthCare Sector
Answer: A