Copyright infringement not intended
Context: Concern has been expressed by many manufacturers in Tamil Nadu regarding the viral videos alleging abuse of Hindi-speaking men, which has led to worries that migrant North Indian employees may leave the state.
Details
Manufacturers in Tamil Nadu are worried by reports of assaults on migrant workers in the state. Political leaders and the administration urged employees to ignore the rumours after officials dismissed the reports as inaccurate stories. To assess the situation, representatives from Bihar and Jharkhand have visited Tamil Nadu.

Industry organizations are concerned that an outflow would negatively affect Tamil Nadu's industrial and manufacturing sector, where it is estimated that almost a million migrants labour in the state.

During the Covid-19 lockout three years ago, a substantial reverse movement of workers to their home states severely interrupted economic activity.

Migrant labourers face several serious problems all around the nation

. When it comes to a formal exchange of data on migrant workers, there is insufficient cooperation among the states. With the absence of information, it is challenging to monitor workers during emergencies.
Migration
Migration is a social phenomenon caused by a broad variety of reasons including the search for better economic or educational opportunities, the desire for family reunification, climate change or disasters.

According to the International Organization for Migration

, a migrant is an individual who is moving across an international boundary or inside a state away from where they usually reside. Effective policies, programmes, and operational responses can be made on the ground by examining the migration shifts in size, direction, demography, and frequency.

Migration can be either voluntary or forced movements

as a consequence of the increased magnitude or frequency of disasters, economic challenges and extreme poverty or conflict situations. In recent years, the Covid-19 pandemic is also one of the major causes of Migration.

Factors affecting Migration

Push factors

are those that force a person to migrate out from their place of origin (out-migration) to another location, such as social or economic pressures or a location's lack of growth.

Pull factors

are the elements that draw people to a place (destination), such as employment opportunities, better living circumstances, the availability of low- or high-level amenities, etc.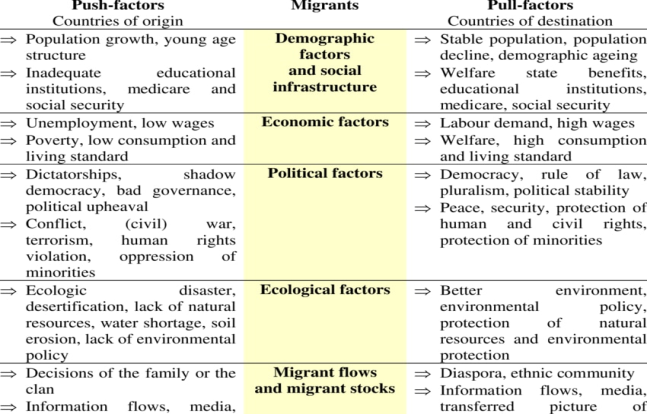 Status of Migrant workers in India
The government's statistics on domestic migration are often outdated and not entirely comprehensive. According to the 2011 census, there were around 45.36 crore internal migrants in India or 37% of the total population. Both intrastate and interstate migrants were included in this figure. The net yearly migrant flows were equivalent to 1% of the working-age population.

Interstate migration

is the movement of people from one state to another, such as when individuals move from Delhi to Kolkata.

Migration within a state is referred to as "intrastate migration," for instance, people move from Kolkata to Darjeeling.

According to the 2011 census

, 48.2 crore people were working in India. The Economic Survey 2011 stated that more than 10 crore people made up the migratory labour, which is believed to have crossed 50 crores in 2016.

According to district-level migration data from the Economic Survey for 2016–17

, Gurugram, Delhi, Mumbai, Gautam Budh Nagar (Uttar Pradesh), Indore and Bhopal (Madhya Pradesh), Bengaluru (Karnataka), and Thiruvallur, Chennai, Kancheepuram, Erode, and Coimbatore (Tamil Nadu), saw the highest inflow of migrants within the nation.

The highest outward movement of migrant workers was from Uttar Pradesh, Uttarakhand, Rajasthan, Bihar, and Jharkhand.

According to the 2017 Report of the Working Group on Migration

under the Ministry of Housing and Urban Poor Alleviation, the top 25% of all male out-migration was concentrated in 17 districts. Ten of these districts are in Uttar Pradesh, six are in Bihar, and one is in Odisha.

According to the Economic Survey, states that are relatively less developed—like Bihar and Uttar Pradesh—have high net emigration rates.

Goa, Delhi, Maharashtra, Gujarat, Tamil Nadu, Kerala, and Karnataka are among the states which represent net immigration.

Emigration is the process of leaving a place of residence with the intent to settle elsewhere.

Immigration is the process of moving to a new region to stay and live there. People may choose to immigrate for a variety of reasons, such as employment opportunities, to escape a violent conflict, environmental factors, educational purposes, or to reunite with family.

The Ministry of Statistics and Programme Implementation published a paper titled "Migration in India 2020-21" in June 2022 that compiled some data on temporary migrants and visitors

. In the period from July 2020 to June 2021, following the start of the Covid-19 pandemic in March 2020, 0.7% of the nation's population was reported as a "temporary visitor" among households, according to the report.

Temporary visitors were defined as individuals who arrived in households after March 2020 and remained there continuously for 15 days or more but less than six months, whereas migrants were defined as individuals whose most recent usual residence was different from the current place.

The all-India migration rate was 28.9% for July 2020-June 2021, with a 26.5% migration rate in rural areas and 34.9% in urban areas.

The migration rate for females was higher

, at 47.9%; it was 48 % in rural areas and 47.8% in urban areas. Males had a migration rate of 10.7%, with rural areas accounting for 5.9% and urban areas for 22.5%.

Among females, the highest level of migration rate was seen at 86.8% for marriage

, while 49.6% of the males migrated in search of employment, to take up better employment/ business/ proximity to the place of work, or loss of job/ closure of unit/ lack of employment opportunities.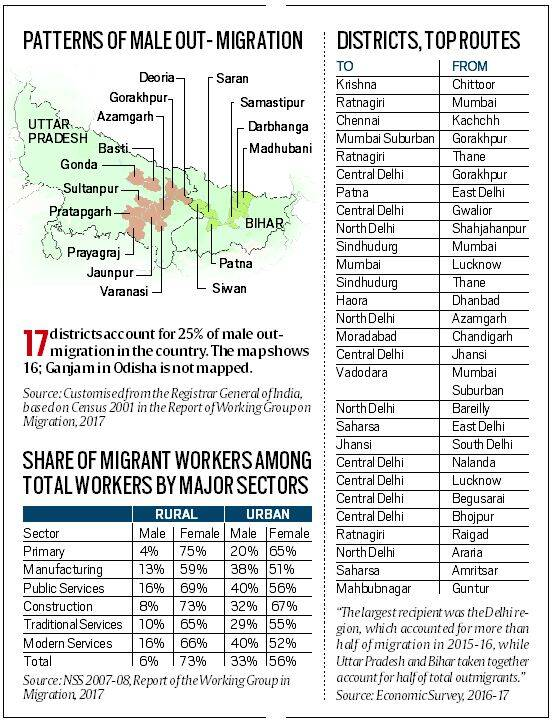 Significance of migration and migrants
● Migration bridges gaps in the demand for and supply of labour, efficiently allocating skilled labour, unskilled labour, and cheap labour.
● Migration boosts possibilities for employment and economic development, which in turn raises the quality of life.
● Through exposure to and engagement with the outside world, migration helps migrants increase their knowledge and abilities.
● The migrants contribute to their home state by sending extra money and remittances there.
● As migrants learn about new cultures, customs, and languages, their social lives improve, fostering greater equality and tolerance as well as a stronger sense of brotherhood among all people.
Challenges Faced by Migrants:
Exploitation by local contractors forces them to accept lower wages.

The opportunity to exercise political rights like the right to vote is frequently denied to migrant workers.

They are prevented from accessing assistance programmes and policies by the mandatory requirement to present evidence of address, voter identification, and Aadhaar cards, which is difficult considering the instability of their lives.

No access to schools for their children and no health services for families.

The state does not always willingly accept migrants, and they frequently remain second-class citizens.

Trafficking and forced labour.

Women and children are often easy targets for inhuman treatment.

Harassment by Police and officials.

Any person moving to a new area has to face a wide range of challenges such as adjusting to the local culture and language hurdles as well as homesickness and loneliness.
legal framework for migrant welfare
The Inter-State Migrant Workmen Act, passed in 1979, is concerned with the welfare of the workers. According to the Act, companies that want to hire migrant labourers must register with the states where they will be employed. Moreover, contractors will need to apply for a licence with the relevant host-state government as well as their home state's authorities. However, this Act hasn't been fully put into effect in practice.

The Inter-State Migrant Workmen Act has been included in the four major labour codes that the Center has publicly announced: the Code on Wages (2019), the Industrial Relations Code (2020), the Social Security Code (2020), and the Occupational Safety, Health and Working Conditions Code (2020). These have not been implemented yet.
State-level Initiatives
An Agreement was signed between Odisha and Andhra Pradesh in 2012 with the assistance of the International Labour Organization to trace labourers who migrate from 11 districts in Odisha to work in brick kilns in the then-united Andhra Pradesh.

Kerala has established facilitation centres for migrant workers, who are known as "guest workers" by the state. These facilitation centres keep track of information about migrant workers who arrive in Kerala and offer assistance with any issues they might encounter. But there is no data exchange between Kerala and the states where the migrant labourers are from.

The Safe and Responsible Migration Initiative (SRMI), launched by Jharkhand in 2021

, aims to enable comprehensive registration of migrant workers for monitoring and analysis in the source as well as the destination districts. The primary goal of SRMI is to gather data and then map the workers who relocate to different states in search of employment.

Recent step
The Union Government has approved the proposal for the continuation of the 7 existing sub-schemes under the "Relief and Rehabilitation of Migrants and Repatriates" scheme.

The government extended the scheme for the period 2021-22 to 2025-26 with a total outlay of Rs.1,452 crore.

The approval will ensure that assistance continues to reach beneficiaries through the Ministry of Home

The scheme will enable migrants and repatriates to earn a reasonable income and promote their inclusion in mainstream society.

The 7 sub-schemes under the "Relief and Rehabilitation of Migrants and Repatriates" scheme are:

Relief and Rehabilitation of displaced families of Pakistan Occupied Areas of Jammu and Kashmir.

Relief assistance to Sri Lankan Tamil refugees.

Relief assistance to Brus lodged in relief camps in Tripura.

Relief to 1984 Anti-Sikh Riot Victims.

Financial Assistance and other facilities to the families of affected civilian victims of terrorist violence including militancy, insurgency, communal/ Left Wing Extremism violence and cross border firing and victims of mine/IED blasts on Indian Territory.

Grants-in-aid to the Central Tibetan Relief Committee.

Grants-in-Aid to the Government of West Bengal for infrastructure development in enclaves of returnees from erstwhile Indian enclaves in Bangladesh. (Under the 100th Constitutional Amendment Act).
Way forward:
To provide people, the option to stay or migrate, states should encourage stability, education, and economic opportunities while reducing the factors that lead to forced migration.

To develop policies that consider the advantages and disadvantages of migration, it is essential to collect, analyze, and use reliable data and information on a variety of topics, including demographics, cross-border movements, internal displacement, diasporas, labour markets, seasonal trends, education, and health.

Cooperation between states can prevent the harmful effects of migration

. By improving human capital through sustainable development and assuring longer-term economic growth, it can also support regional and global development goals.

Migration can benefit society and migrants equally in terms of socioeconomic outcomes. States must abide by best practices that respect, protect, and uphold the human rights of people living on their territory without discrimination based on nationality, race, gender, religion, or status as a migrant to reap these benefits. Policies and practices must also promote the socio-economic well-being of migrants and society.
Must Read: https://www.iasgyan.in/daily-current-affairs/migrant-crisis
PRACTICE QUESTION
Q. Discuss the need for a national internal migration policy while drawing attention to the problems associated with internal migration in India.
https://indianexpress.com/article/explained/explained-law/migrant-workers-issues-data-absence-states-coordination-8482113/
https://indianexpress.com/article/explained/explained-economics/tamil-nadu-migrant-attack-india-numbers-explained-8482919/