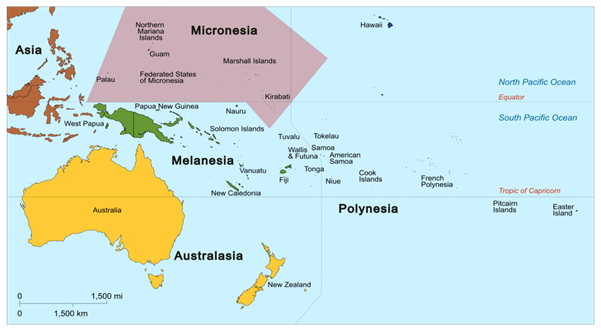 Copyright infringement not intended
In News
The Federated States of Micronesia, a small island country in the Pacific Ocean is one of the latest places on Earth to experience the Covid-19 case.

Micronesia is located in the Western Pacific ocean.

The Federated States of Micronesia consists of 4 island states; Yap, Chuuk, Kosrae and Pohnpei, all in the Caroline Islands.

It is composed of 607 islands and islets with a total land area of 702 square km.

It shares its sea borders with other small island nations and territories in the Micronesia region like Guam, the Republic of Marshall Islands, Palau, Kiribati, and the Mariana Islands.
https://indianexpress.com/article/explained/everyday-explainers/explained-micronesia-remote-pacific-islands-succumbed-covid-outbreak-8041817/