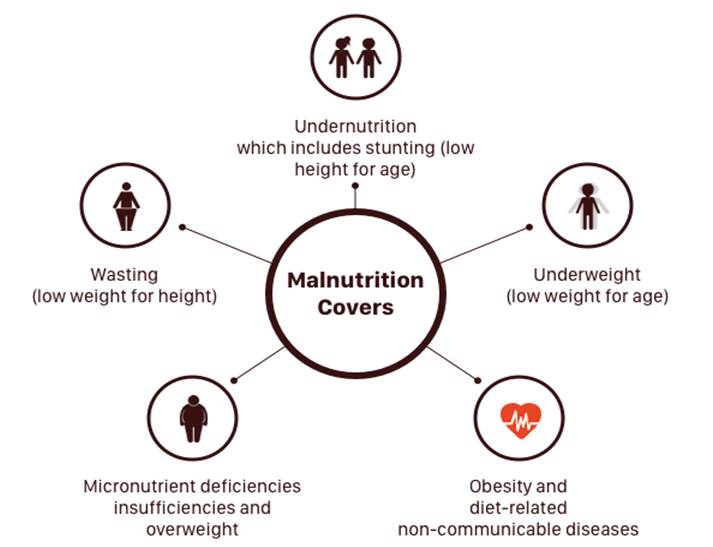 Copyright infringement not intended
In News
The Union Minister of Women and Child Development has released a target report to curb malnutrition in India and updated the Rajya Sabha about the various steps taken by the government to reduce:

Stunting and under-nutrition (underweight prevalence) by 2% per annum among children under 6 years.

Low birth weight by 2% per annum.

Anaemia among children between 6 and 59 months, as well as women and adolescent girls from 15 to 49 years, by 3% per annum.
Background
According to the National Family Health Survey (NFHS-5), nutrition indicators for children under 5 years of age have improved as compared to NFHS-4 (2015-16).

Stunting has reduced from 38.4% to 35.5%.

Wasting reduced from 21.0% to 19.3%.

Underweight Children down from 35.8% to 32.1%.

Women (15-49 years) whose BMI is below normal have reduced from 22.9% to 18.7%.

Despite the decrease, experts have raised concern over the fact that India has one of the highest burdens of malnutrition in the world.
Key Points of the Report
Meghalaya has the highest number of stunted children

(46.5%), followed by Bihar (42.9%).

Assam, Dadra and Nagar Haveli, Gujarat, Jharkhand, Madhya Pradesh and Uttar Pradesh have stunted children higher than the national average of 35.5%.

Puducherry and Sikkim have the lowest percentage of stunted children.

Maharashtra (25.6%) has the highest number of wasted children

(weight for height), followed by Gujarat (25.1%).

Assam, Bihar, Dadra and Nagar Haveli, Karnataka and West Bengal have a higher percentage of wasted children than the national average of 19.3%.

Bihar (41%) has the highest number of underweight children

, followed by Gujarat (39.7%), and Jharkhand (39.4%).

Assam, Dadra and Nagar Haveli, Karnataka, Madhya Pradesh, Maharashtra and Uttar Pradesh have a higher percentage of underweight children than the national average of 32.1%.

Jharkhand has the highest percentage of women, between 15 and 49 years, who have a below-normal Body Mass Index (BMI).

More than 26% of Jharkhand women have below-normal BMI, the national average being 18.5%.

Bihar, Chhattisgarh, Gujarat, Madhya Pradesh, Maharashtra and Odisha also have high percentages of undernourished women.
Malnutrition
Malnutrition is the condition that develops when the body is deprived of vitamins, minerals and other nutrients that our body needs to maintain healthy tissues and organ function.

Malnutrition occurs in people who are either undernourished or overnourished.

Article 47 of the Indian Constitution

mentions the "duty of the State to raise the level of nutrition and the Standard of living and to improve Public health".

Reasons

Poverty, dietary issues and low Social Status.

Hunger, unemployment, Poverty, Child marriage.

Weak implementation of government nutrition Schemes.

Unsafe water, lack of Proper Sanitation and hygiene.

Ignorance of healthy diet and healthy feeding and Caring practices.

Lack of Proper Infant & Young Child Feeding practices.

Lack of Institutional Delivery, Early Childhood Development, Immunization.

Challenges
In our Country, both obesity and malnutrition are Public health issues.

Over half of adolescent girls and women are anemic.

Every 3rd Child is undernourished which leads to several diseases, Child death and maternal mortality.

Inadequate health infrastructure, inadequate investments in health and other Sectors.

Anganwadi has good Programmes but due to a lack of Coordination with PHCs, Children tend to miss the necessary nutrient updates.
Steps were taken by the Government
Promotion of Institutional deliveries through Cash incentive under Janani Suraksha Yojana.

Janani Shishu Suraksha Karyakaram:

Free ante-natal Check-ups, Post-natal Care and treatment of Sick infants till one year of age.

Newborn Stabilization Units

and Kangaroo Mother Care units for Care of Sick babies.

Home Based Newborn Care

is being Provided by ASHAs.

MAA

for improving breastfeeding Practices.

Mission Indradhnaush:

Expanding full immunization Coverage, the introduction of new vaccines.

POSHAN Abhiyaan

to address Malnutrition.

Iron and folic acid Supplementation

for Prevention of Anaemia, home visits by ASHAs to Promote breastfeeding and Promote the use of ORS and Zinc for management of diarrhoea in Children.

Capacity building of health Care Providers

: Training is being conducted under the National Health Mission to build and upgrade the Skills of Health Care Providers.

Kayakalp initiative

to Promote Cleanliness, hygiene and infection control practices in public health facilities.

The government launched an Action Plan for 'Undernourishment free India' by 2022.

The national nutrition Strategy

has Set targets for 2022 and Poshan Abhiyan has Specified 3 years targets to reduce Stunting, undernutrition and low birth weight by 2% each year and to reduce anaemia by 3% each year.
Way Forward
Need to ensure access to Safe drinking water & Proper Sanitation.

Dietary diversification, Promote millets and Pulses Production and distribution under Food Security Programme.

Fortified food into mid-day meals

, Public Distribution Shops and Anganwadi Centres.

Women empowerment can help end malnutrition.

ICT enabled a real-time monitoring mechanism.

Improving the infrastructure of Anganwadi Centres along with training of Anganwadi workers.

Social awareness

through both formal and informal channels to generate awareness.

Campaigns are designed to inform, Communicate and educate on nutrition Specific and nutrition Sensitive behaviors like breastfeeding, diet diversity, hand washing, deworming, Safe drinking water, hygiene and Sanitation.

Malnourished children must be fed freshly cooked food prepared from locally available cereals, pulses and vegetables.

Bio-fortification is important in overcoming hidden hunger

Caused by micronutrient deficiencies Such as iron, iodine, zinc, vitamin A, and vitamin B12.

Decrease food loss and waste through more efficient distribution Systems.

Address the dual burdens of under-nutrition and obesity to ensure full human potential

Sustainable use of traditional Crops, vegetables, and fruit trees, as well as greater livestock diversity, to increase income and improve food and nutrition Security in India.
https://indianexpress.com/article/india/over-35-5-kids-stunted-govt-releases-target-to-curb-malnutrition-8055777/