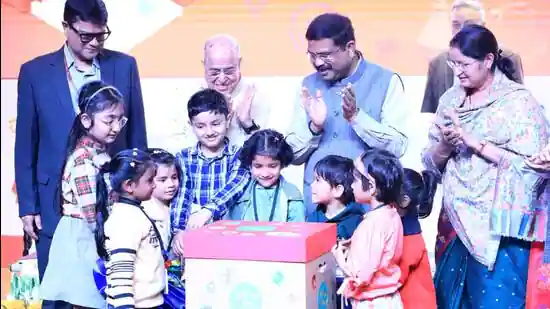 Copyright infringement not intended
Context
To improve the foundational skills of children (age group of 3-8 years) to meet the target set under the National Education Policy the Union Government has prepared a curriculum framework which includes classroom learning based on toys, puppets and story cards.

The Union Minister for Education has released learning and teaching material — called the jaadui pitara or magical box — to strengthen the foundational stage of schooling.

The material also utilises technology and provides QR codes to enable teachers to access teaching resources such as poems, storybooks and flash cards.

The Minister stated that the teaching material released will support the implementation of the National Curriculum Framework for Foundational Skills 2022 for students in balvatika (pre-primary) and Classes 1 and 2.

The Minister highlighted that children between 3 and 6 years learn best through doing activities "such as talking, listening, using toys, working with materials, painting, drawing, singing, dancing, running, and jumping.

The Minister announced that the NCERT will prepare the teaching material through a process of teacher engagement and the material will also include "conversations, storytelling, toy-based learning, songs and rhymes, music and movement, arts and craft, indoor and outdoor games, spending time with nature, and field trips".
Significance of the step
Jaadui Pitara has been developed as a model of content that is needed in any school for the Foundational Stage; it has toys, games, puzzles, puppets, posters, flashcards, story cards, playbooks for students, and handbooks for teachers.

It will improve the Poor state of learning;

Recently a study carried out jointly by the Union Ministry of Education and the National Council of Educational Research and Training (NCERT) has found that;

37% of Class III students have "limited" foundational numeracy skills, such as identifying numbers.

11% "lack the most basic knowledge and skills".

15% lacked "basic skills" in English.

30% were found to have "limited skills".

The Union Education Minister stated that "80-90% of the brain develops by the time a child is 6-7 years old. That is why the focus on building a strong foundation for better growth, development and learning in early years becomes one of the most important indicators for the development of a productive and efficient human capital".
National Curriculum Framework (NCF)
The framework focuses on the 'panchakosha' concept - the ancient Indian emphasis on the body-mind connection.

The NCF says its five parts are physical development (sharirik vikas), development of life energy (pranik vikas), emotional and mental development (manasik vikas), intellectual development (bauddhik vikas) and spiritual development (chaitsik vikas).

The NCF 2022 for foundational age groups, a 360-page document, favours developing an interactive curriculum for children at various levels using story-telling techniques and real-life experiences. It says board games and stories from the Panchatantra (a collection of Indian fables and folk tales) should be used to teach children in the age group of 6-8 years.

For the first three years of the foundational stage, that is 3 to 6 years, there should not be any prescribed textbooks. Rather, simple worksheets are more than sufficient to meet the curricular goals, says the document.

It also recommends that the mother tongue should be the primary medium of instruction for children till eight years of age, in both public and private schools. English could be one of the second language options, it says, without giving any time frame for introducing the language.
Significance of NCF
The National Curriculum Framework for foundational age children provides an "organic" and "well-framed" roadmap for teaching 3-to 8-year-olds, but would be difficult to implement in the absence of proper teacher training and infrastructural support, experts say.

NCERT or, more specifically, the State Boards or SCERTs need to involve teachers as they are the primary stakeholders.

NCERT and SCERTs need to identify the gaps in the current pedagogy

so that the NCF could be implemented; failing which it would remain just "another document".

Implementation would need "frugal" and "innovative" ideas that disrupt the resistance to change and resource constraints. The national guidelines should talk about how to implement rather than just stop at what to implement.

It is most important to involve teachers in a big way. This kind of training for teachers has to be done with great urgency. Teachers have to be trained, whether it is on using the mother tongue or thematic concepts in pedagogy. We need to activate public and private agencies and involve Corporate Social Responsibility in teacher training.

Must Read: https://www.iasgyan.in/daily-current-affairs/aser-report-32