Human Development Index (HDI)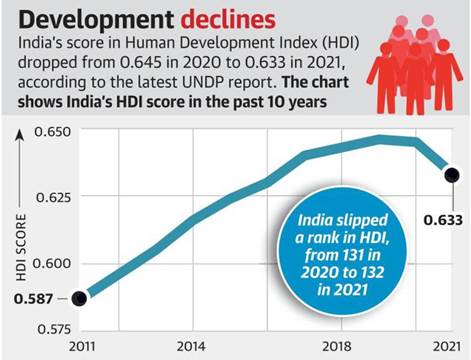 Copyright infringement not intended
In News
India ranked 132 out of 191 countries in the recently released Human Development Index (HDI) 2021 by the United Nations Development Programme (UNDP).

India's rank declined from 130 in 2020 to 132 in 2021.

The performance of nearly 90% of the countries has declined in human development due to multiple crises such as COVID-19, the Ukraine war, violent conflicts, Climate changes, environmental challenges, etc.

India with an HDI score of 0.633 is in the medium Human Development category.

Decline in HDI from 0.645 in 2018 to 0.633 in 2021.

Falling life expectancy at birth from 70.7 years in 2018 to 67.2 years in 2021.

Gender inequality increased by 6.7% globally.

In the latest report, India has shown a slight improvement in its Gender Inequality Index value as compared to the 2020 index.

The report raised concern over the increasing polarisation which is deteriorating democratic freedom and human rights in many parts of the world.
Human Development Index
The United Nations Development Programme (UNDP) published its first Human Development Report (HDR) in 1990.

The report had a human development index (HDI) which was the first attempt to define and measure the level of development of economies.

The 'index' was a product of a select team of leading scholars, development practitioners and members of the Human Development Report Office of the UNDP.

The first such team which developed the HDI was led by Mahbub ul Haq and Inge Kaul.

The HDR measures development by combining three indicators;

Health: Measured by the life expectancy at birth.

Education: Measured by the mean of years of schooling.

Standard of Living: Measured by GNI (Gross National Income/Product) per capita at 'Purchasing Power Parity in US Dollars (PPP $) instead of GDP per capita (PPP $) of the past.

The scores for the three HDI dimension indices are then aggregated into a composite index using the geometric mean. The HDI facilitates instructive comparisons of the experiences within and between different countries.

The HDI sets a minimum and a maximum for each dimension, called goalposts, and then shows where each country stands to these goalposts, expressed as a value between 0 and 1 (the index is prepared on the scale of one).

The UNDP ranked the economies by their achievements on the above-given three parameters on a scale of one (0.000–1.000). As per their achievements, the countries were broadly classified into three categories with a range of points on the index:

High Human Development Countries

: 0.800–1.000 points on the index.

Medium Human Development Countries

: 0.500–0.799 points on the index.

Low Human Development Countries

: 0.000–0.499 points on the index.
https://epaper.thehindu.com/Home/ShareArticle?OrgId=G3UA8LBO0.1&imageview=0
https://t.me/+hJqMV1O0se03Njk9