Copyright infringement not intended
In News
US President Joe Biden has confirmed that a US drone missile strike had killed Al Qaeda chief 'Ayman al Zawahiri'.

He was the chief plotter of the 9/11 terrorist attack on the US.

The President has also informed that no casualties among the civilians happened in the attack.
Hellfire R9X Missile
Hellfire R9X missile is a modified version of the Hellfire missile.

The Hellfire missile was an anti-tank weapon developed in the 1980s and was later modified many times to target individuals.

The missile can shoot more than 100 pounds of metal in order to kill its target, be it a car or building.

The most lethal aspect of the R9X is its 6 long blades that can shred anything in its tracks.

The Hellfire R9X missile was developed to minimize civilian deaths and developed during President Barack Obama.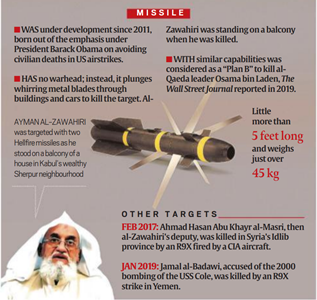 Copyright infringement not intended
https://indianexpress.com/article/explained/everyday-explainers/explained-all-about-hellfire-r9x-the-drone-missile-with-razor-sharp-blades-used-to-kill-al-zawahiri-8066478/
https://t.me/+hJqMV1O0se03Njk9