Copyright infringement not intended
Context: At the main entrance of the 4,500-year-old Great Pyramid of Giza, researchers have discovered a secret passageway.
Details
According to BBC news, the initial finding was made by the ScanPyramids project in 2016 using a non-invasive method called cosmic-ray muon radiography. Since then, researchers have used a variety of techniques to conduct a focused analysis of the discovered structure.
The Great Pyramid
The Great Pyramid of Giza is the largest Egyptian pyramid and the tomb of Khufu, who is widely regarded as the greatest emperor of ancient Egypt.

The Pyramid was built in the early 26th century BC.

The pyramid is the oldest of the Seven Wonders of the Ancient World, and the only one to remain largely intact.

According to National Geographic, the pyramid was constructed out of 2.5 million stone pieces that each weighed between 2.5 and 15 tonnes.
Egypt
Egypt

is officially known as the Arab Republic of Egypt. It is bordered by;

The Mediterranean Sea in the North.

The Gaza Strip of Palestine and Israel in the Northeast.

The Red Sea to the East

Sudan in the South.

Libya in the West.

The Gulf of Aqaba in the northeast separates Egypt from Jordan and Saudi Arabia.

Cairo is the capital and largest city of Egypt.

Islam is the official religion of Egypt and Arabic is its official language.

Egypt is considered to be a regional power in North Africa, the Middle East and the Muslim world, and a middle power worldwide.

Egypt is a founding member of the United Nations, the Non-Aligned Movement, the Arab League, the African Union, and the Organization of Islamic Cooperation.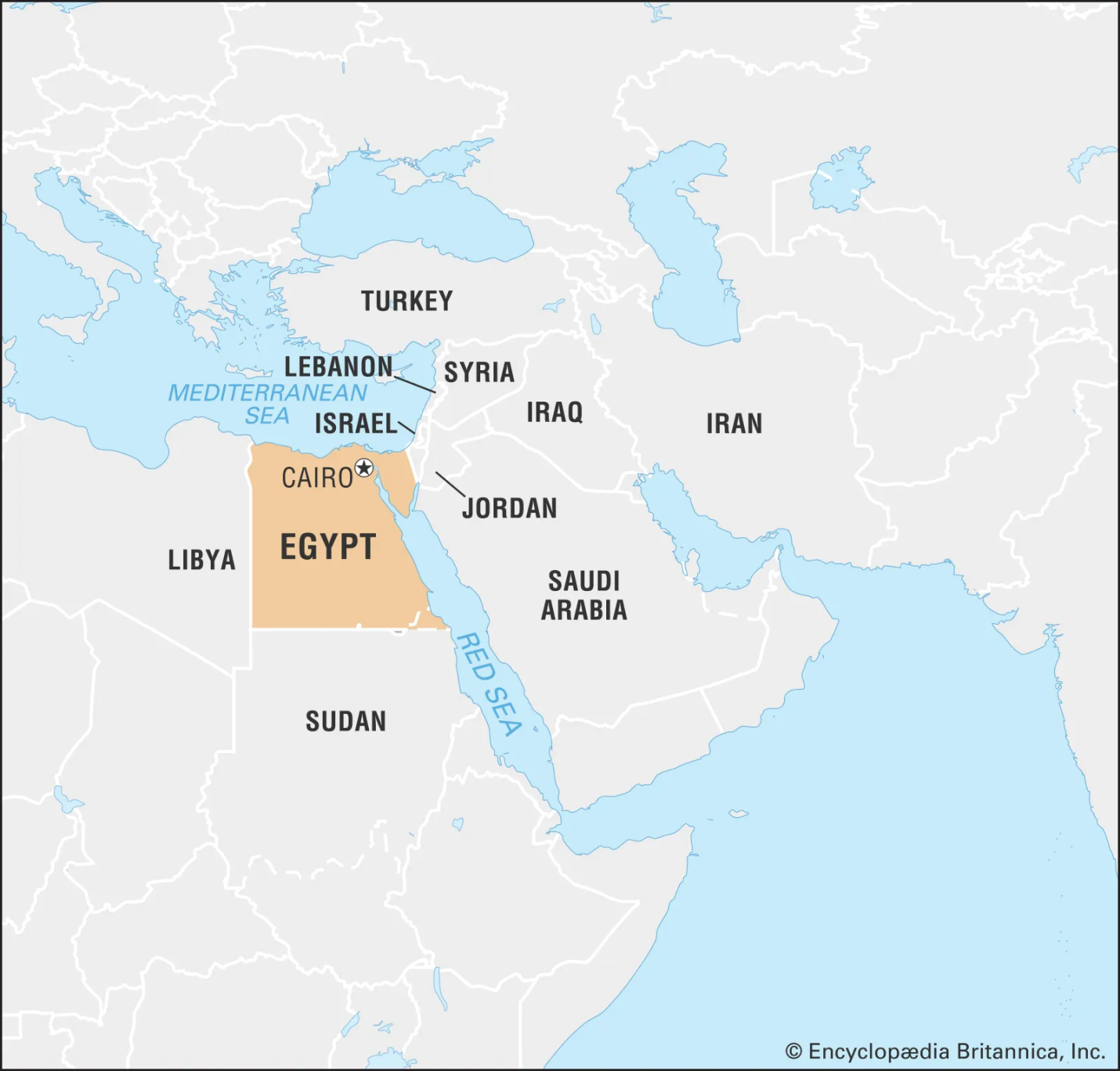 PRACTICE QUESTION
Q. Which of the Following countries has a coastline on the Red Sea?
1. Egypt
2. Jordan
3. Saudi Arabia
4. Sudan
Select the correct code.
(A) 1, 2 and 3 only
(B) 1, 3 and 4 only
(C) 2, 3 and 4 only
(D) 1, 2, 3 and 4
Answer: B
https://indianexpress.com/article/explained/explained-hidden-corridor-great-pyramid-giza-egypt-8477775/