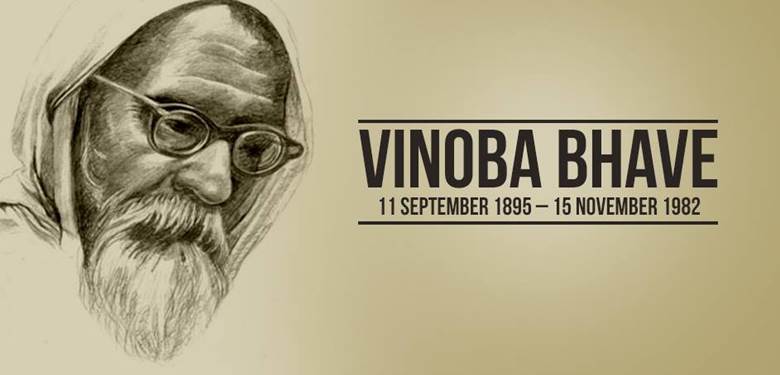 Copyright infringement not intended
In News
The Prime Minister of India paid tributes to Acharya Vinoba Bhave on his Jayanti on 11th September.
Acharya Vinoba Bhave
He was born in 1895 in a small village in Maharashtra.

He wrote Ishavasyavritti and Sthitaprajna Darshan in jail.

Gandhi chose him as the first participant in the individual satyagraha campaign in 1940.

He was a freedom fighter and a spiritual teacher.

He always followed the path of truth and Non-violence, as guided by Mahatma Gandhi.

He participated in the activities at Gandhi's ashram, like teaching, studying, spinning and improving the lives of the community.

He was the founder of the 'Bhoodan Movement' (Gift of the Land).

He started the movement from Telangana.

Vinoba Bhave travelled all across the country asking landlords to consider him as one of their sons and so give him a portion of their land. He then distributed those portions of land to the landless poor.

Vinoba Bhave once said, "All revolutions are spiritual at the source. All my activities have the sole purpose of achieving a union of hearts."

In 1958, Vinoba was the first recipient of the international Ramon Magsaysay Award for Community Leadership.

He was also conferred with the Bharat Ratna posthumously in 1983.
https://www.pib.gov.in/PressReleasePage.aspx?PRID=1858406
https://t.me/+hJqMV1O0se03Njk9