PERSPECTIVE: 'Taking G20 to the Last Mile'
PERSPECTIVE: 'Taking G20 to the Last Mile'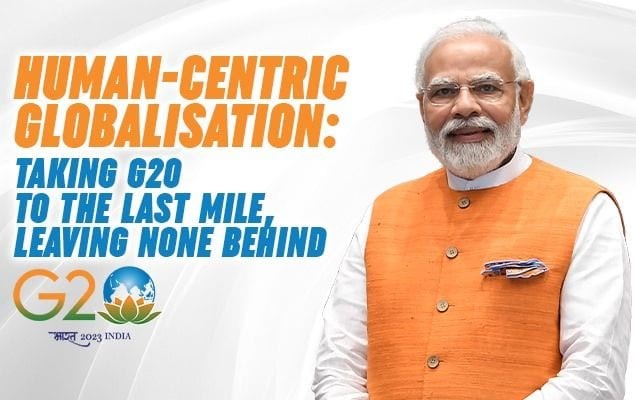 Disclaimer: Copyright infringement not intended.
Context
India's G20 moment is here. World leaders have begun to arrive for the 18th G20 Summit in New Delhi on the 9th & 10th of September.
Details:
These two days provide leaders from the Group of 20 economies the opportunity to discuss solutions to the most pressing problems facing the world today.
Amid the deep geopolitical divide, India provided an all-embracing outlook with its G20 theme: Vasudhaiva Kutumbukam, which means 'The World Is One Family'.
As G20 Chair, India set the agenda for countries to progress as one universal family, transcending borders, languages, and ideologies.
In the words of PM Narendra Modi - As One Earth, we must come together to nurture our planet. As One Family, we must support each other in the pursuit of growth. And we must move together towards a shared future - One Future - which is an undeniable truth in these interconnected times.
As we head towards the G20 Leaders' Summit, we analyze how successful has India been in shifting the world view from GDP-centric to human-centric.
Introduction:
'Vasudhaiva Kutumbakam'
— these two words capture a deep philosophy. It means 'the world is one family'. This is an all-embracing outlook that encourages us to progress as one universal family, transcending borders, languages, and ideologies.
The post-pandemic world order is very different from the world before it. There are three important changes, among others.
First, there is a growing realisation that a shift away from a GDP-centric view of the world to a human-centric view is needed.
Second, the world is recognising the importance of resilience and reliability in global supply chains.
Third, there is a collective call for boosting multilateralism through the reform of global institutions.
India assumes the G20 Presidency on the 1st of December 2022 from Indonesia and will convene the G20 Leaders' Summit for the first time in the country in 2023.
A nation deeply committed to democracy and multilateralism, India's G20 Presidency would be a watershed moment in her history as it seeks to play an important role by finding pragmatic global solutions for the wellbeing of all, and in doing so, manifest the true spirit of 'Vasudhaiva Kutumbakam' or the 'World is One Family'.
Our G-20 Presidency has played the role of a catalyst in these shifts:
The Voice of Global South Summit, which witnessed participation from 125 countries, was one of the foremost initiatives under our Presidency.
It was an important exercise to gather inputs and ideas from the Global South.
Further, our Presidency has not only seen the largest-ever participation from African countries but has also pushed for the inclusion of the African Union as a permanent member of the G-20.
Interconnected worlds:
An interconnected world means our challenges across domains are interlinked. This is the midway year of the 2030 Agenda and many are noting with great concern that the progress on SDGs is off-track.
The G-20 2023 Action Plan on Accelerating Progress on SDGs will spearhead the future direction of the G-20 towards implementing SDGs.
In India, living in harmony with nature has been a norm since ancient times and we have been contributing our share towards climate action even in modern times.
Many countries of the Global South are at various stages of development and climate action must be a complementary pursuit. Ambitions for climate action must be matched with actions on climate finance and the transfer of technology.
A global ecosystem for clean and green hydrogen will emerge from our presidency, along with a Green Hydrogen Innovation Centre.
Global Biofuels Alliance:
In 2015, India launched the International Solar Alliance. Now, through the Global Biofuels Alliance, we will support the world to enable energy transitions in tune with the benefits of a circular economy.
Democratizing climate action is the best way to impart momentum to the movement. Just as individuals make daily decisions based on their long-term health, they can make lifestyle decisions based on the impact on the planet's long-term health.
Just like Yoga became a global mass movement for wellness, we have also nudged the world with Lifestyles for Sustainable Environment (LiFE).
Due to the impact of climate change, ensuring food and nutritional security will be crucial. Millets, or Shree Anna, can help with this while also boosting climate-smart agriculture. In the International Year of Millets, we have taken millets to global palates.
The Deccan High-Level Principles on Food Security and Nutrition is also helpful in this direction.
Technology
Technology is transformative but it also needs to be made inclusive. In the past, the benefits of technological advancements have not benefited all sections of society equally. India, over the last few years, has shown how technology can be leveraged to narrow inequalities, rather than widen them.
India can lend its experience in framing a successful national digital health architecture through a supportive regulatory environment, private-public partnerships, and digital health interventions such as CoWIN and the National Digital Health Mission.
Green Development, Climate Finance and LiFE:
Climate finance and technology, along with "ensuring just energy transitions for developing nations across the world", are key priority areas for India during its presidency.
With LiFe, a "behaviour-based movement that takes from the country's rich, ancient sustainable traditions, India plans to "nudge consumers, and in-turn markets, to adopt environmentally-conscious practices".
Multilateral Institutions for the 21st Century
Efforts to reform multilateralism and create a more accountable, inclusive, and representative international system that is fit for addressing 21st-century challenges.
Women-led Development
Emphasis on inclusive growth and development, with a focus on women empowerment and representation to boost socio-economic development and the achievement of SDGs.
Significance of India's G20 Presidency:
First, agenda-setting is a fundamental and primary tool for securing and extending power and influence in international politics, particularly in multilateral platforms. The year-long G20 presidency offers India a significant opportunity to set global agendas, articulate policies, and build consensus over critical economic, development, socio-political, and security issues.
Second, in global platforms, India always wanted to promote and endeavor to be the voice of the Global South. India can utilize its G20 leadership role to advance the interests of the Global South and New Delhi's credentials as a voice of the Global South.
Third, reforming multilateral institutions to make them more inclusive and responsible is one of the foremost priorities of Indian foreign policy.
Challenges in presidential priorities:
Confronted with issues like climate change, economic recovery, pandemic and increasing geopolitical tensions, the global community is looking for effective and accountable multilateral institutions that could deliver better in the field.
Therefore, India placed reformed multilateralism that is fit for addressing the 21st-century challenges as one of its presidential priorities. If G20, under India's leadership, facilitates progress on this long-pending issue, it will increase India's stature and status in global politics.
Finally, India's presidency comes at a time of escalating global tensions coinciding with a period of flux globally.
The world faces multiple challenges, including post-COVID-19 economic recovery, climate change, food and energy security crises, supply chain disruptions, and conflicts.
The international community expects India to be instrumental in building a global consensus for addressing these issues and shaping the future agenda of global common goods.
Similarly, the world is also expecting India to bridge the increasing divide between countries, not only the developing and developed world split but the rupture among the West as well, especially in the context of the Russia–Ukraine War.
About G20 group:
Accelerated, resilient, and inclusive growth:
India is concentrating on areas that can usher in structural transformation, such as promoting labor rights and secure labour welfare, addressing the global skills gap, and so on.
Accelerating progress on Sustainable Development Goals (SDGs):
India has already had success in getting the G20 members, which includes 19 countries and the European Union, on board with this goal. Following the G20 development ministers' meeting in Varanasi, foreign minister S Jaishankar said India bagged its "biggest achievement" as the group unanimously agreed to an action plan to speed up progress on SDGs and sustainable development lifestyles.
Technological Transformation and Digital Public Infrastructure:
According to MEA, India will endorse a "human-centric approach to technology, and facilitate greater knowledge-sharing in priority areas like digital public infrastructure, financial inclusion, and tech-enabled development in sectors ranging from agriculture to education".
What are the significant achievements of G20?
Over the past two decades, through consistent and mutual efforts, the G20 has been able to significantly impact the governance of member nations. Some of the significant contributions of G20 include:
The member nations contribute to approximately 90 percent of global GDP and 80 percent of global trade.
Battling against the financial crisis such as - the Global Financial Crisis 2008-09, the Eurozone Crisis in 2010, etc.
With a USD 10 trillion rescue package that concentrated on tackling the economic and health crises, the G20 took the lead in the worldwide struggle against the COVID-19 pandemic.
The G20 Debt Service Suspension Initiative (DSSI) benefitted 50 countries and helped to address unsustainable debt burdens and provide long-term reserves to low-income, emerging market and developing countries.
Focusing on boosting women's engagement in the labor market, the International Labor Organization has continued its ongoing study on Women at work in G20 Countries.
Conclusion
India is the fastest-growing large economy is no accident. Our simple, scalable and sustainable solutions have empowered the vulnerable and the marginalized to lead our development story. From space to sports, economy to entrepreneurship, Indian women have taken the lead in various sectors.
They have shifted the narrative from the development of women to women-led development. Our G-20 Presidency is working on bridging the gender digital divide, reducing labour force participation gaps, and enabling a larger role for women in leadership and decision-making.
For India, the G-20 Presidency is not merely a high-level diplomatic endeavour. As the Mother of Democracy and a model of diversity, we opened the doors of this experience to the world.
Today, accomplishing things at scale is a quality that is associated with India. The G-20 Presidency is no exception. It has become a people-driven movement.
Over 200 meetings will have been organized in 60 Indian cities across the length and breadth of our nation, hosting nearly 1,00,000 delegates from 125 countries by the end of our term. No Presidency has ever encompassed such a vast and diverse geographical expanse.
Our G-20 Presidency strives to bridge divides, dismantle barriers, and sow seeds of collaboration that nourish a world where unity prevails over discord, where shared destiny eclipses isolation.
As the G-20 President, we had pledged to make the global table larger, ensuring that every voice is heard and every country contributes.
CITATIONS:
https://www.thehindu.com/news/national/human-centric-globalisation-taking-g20-to-the-last-mile-leaving-none-behind/article67277444.ece
https://neweralive.na/posts/opinion-human-centric-globalisation-taking-g20-to-the-last-mile-leaving-no-one-behind#:~:text=This%20is%20an%20all%2Dembracing,together%20to%20nurture%20our%20planet.
https://www.pmindia.gov.in/en/news_updates/human-centric-globalisation-taking-g20-to-the-last-mile-leaving-none-behind-narendra-modi/
https://www.business-standard.com/opinion/columns/human-centric-globalisation-taking-g20-to-the-last-mile-123090700092_1.html
https://sansadtv.nic.in/episode/perspective-taking-g20-to-the-last-mile-07-september-2023