PERSPECTIVE: INDIA VOICE OF PEACE
PERSPECTIVE: INDIA VOICE OF PEACE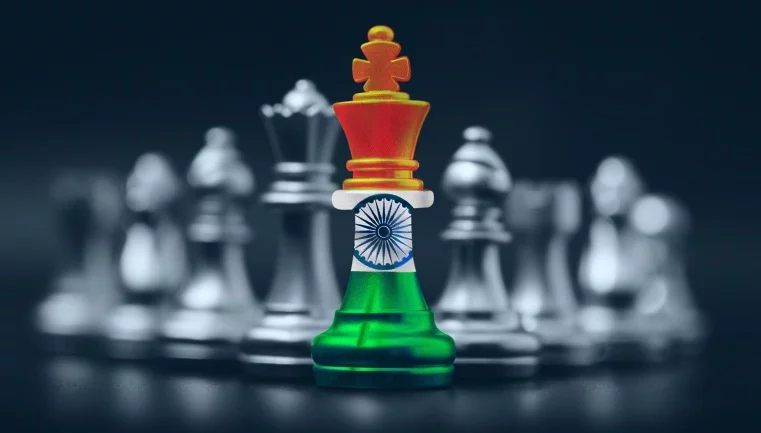 Disclaimer: Copyright infringement not intended.
Context:
External Affairs Minister S Jaishankar made a Suo motu statement on "latest developments in India's foreign policy" in both Houses of Parliament amid sloganeering by Opposition members demanding Prime Minister Narendra Modi's address on the Manipur issue.
Details:
The minister spoke about Prime Minister Narendra Modi's visit to the United States and the key outcomes of it. He also spoke about the PM's visit to the UAE and Egypt and highlighted instances of India hosting the Shanghai Corporation Organisation summit and co-chairing the Forum for India-Pacific Islands Cooperation in Papua New Guinea.
Jaishankar further said India assumed the landmark G20 presidency in 2022, at the beginning of Amrit Kaal. "We will host the summit in September.
Our Presidency has catalyzed to invigorate our foreign policy and given more force to realise the Prime Minister's vision of an Atmanirbhar and Viksit Bharat that regains its rightful place in the world.
Introduction:
India has persistently followed an independent foreign policy that stresses maintaining strategic autonomy which means that it adopted policies, both domestic and external based on its national interest, without being constrained in any manner by other Nation States.
India has stayed away from any alliance structure but has built a web of mutually beneficial relationships and partnerships, across the world on the basis of mutual trust and co-operation.
India has now entered its Amrit Kal, the next 25-year period which will lead to the centenary of its independence.
By all estimations, India @2047 would be a developed country, the third largest economy of the world, and a key voice in the comity of nations.
In this next phase too, which is likely to be extremely complex and fast-changing both geo-strategically and geo- economically, India's foreign policy and diplomatic efforts will play a critical role in the nation's future growth.
About recent Developments in Indian foreign policy:
The International Dimensions of Changes to Indian Foreign Policy
Internationally, the end of the Cold War and the collapse of the USSR have had profound security implications for India. The cumulative impact has been to make India feel more secure and thus more willing to be innovative in its foreign policy. During the four decades after independence, India structured its foreign policy around security concerns related to threats from Pakistan and China.
In 1993, China almost certainly signalled a shift from its long-standing tilt to the Pakistani side on the Kashmir issue when Beijing adopted a neutral position, arguing that India and Pakistan needed to resolve the issue peacefully–and bilaterally.
The foreign policy focus of both is different: China's is to its east and India's south toward the Indian Ocean. The two powers, however, are potential competitors for influence in Southeast Asia, which is both a significant source of energy and a strategic gateway into the Indian Ocean.
Post-Cold War developments have made Pakistan in some significant ways less of a threat, despite the continuing tensions along Kashmir's Line of Control (LOC) with a nuclear-capable Pakistan.
Another area in which change is being seen is the effort to improve relations with countries such as the U.S., the member nations of the European Union, Japan, and the Southeast Asian states that can offer India the trade, investments, and high technology the latter's government believes are necessary to generate more rapid economic growth.
The third notable change in Indian foreign policy is a relatively more generous approach to neighbours in South Asia. With the exception of Pakistan, this shift is motivated in part by a desire to encourage increased economic interaction that will benefit India, especially power generation–tapping Nepal's huge hydroelectric potential and the substantial gas reserves in Bangladesh.
The Domestic Factors for the Changes in Foreign Policy
With the increasing politicization of groups at the lower end of the socioeconomic spectrum, a succession of governments has been forced to respond to their demands for a better life and greater opportunities.
Despite the continuing challenges, the immediate results of this new eco- nomic orientation have generally been positive. India's annual GDP growth rate has climbed to between 6%–7% over the past several years, about double the average of the first four decades of independence though still below the goals targeted by the Vajpayee government.
India's economic reforms have also produced improved macroeconomic indicators. From 1991 and the present, India's foreign reserve holdings expanded from a crisis level of just a few billion dollars to over $40 billion.
Perhaps the most remarkable facet of the economic reform process is that it has been sustained for a decade by a series of governments that span the ideological spectrum, particularly surviving two significant changes in government, once in 1996 and again in 1998.
The government, however, has yet to move significantly on a range of reforms needed to improve the country's current economic performance. These reforms include cutting back on massive subsidies and reforming labor laws that inhibit investment both by Indians and foreigners.
Further reforms are needed in order to introduce some rationality in India's power distribution system, including privatization, to encourage private investment in this key sector.
Current Challenges in India's Foreign Policy:
Managing relations with China:
India has had a complex and sometimes contentious relationship with China, particularly due to border disputes and China's growing influence in the changing World Order.
Managing relations with China has been a milestone in Indian foreign policy that could be achievable only with dialogue and diplomacy.
Balancing ties with the United States and Russia:
India has traditionally had strong ties with Russia, but it has also developed a strategic partnership with the United States in recent years.
Navigating these relationships and balancing the interests of both countries has been a challenge for Indian foreign policy.
With the ongoing Ukraine war, India has been subjected to increasing attacks from the West. Especially, for its decision to abstain from UN resolutions and purchase Russian oil.
Combating Terrorism:
Combating terrorism is an important foreign policy objective for India, as the country has faced a number of terrorist attacks, particularly from Pakistan-based groups.
Securing its energy needs
India's energy security is a concern due to the country's growing energy needs and its reliance on energy imports. India is the third largest consumer of oil in the world and imports around 80% of its crude oil needs.
It is also a major importer of coal, natural gas, and other forms of energy. This reliance on energy imports makes India vulnerable to disruptions in the global energy market and to the political instability in some of the countries from which it imports energy.
Shaping its relations with Africa
Africa is an important contributor to the world economy and is home to a number of important resource-rich countries.
The continent is a major producer of commodities such as oil, natural gas, minerals, and agricultural products, which are in high demand globally.
Africa is also home to a large and growing consumer market, which presents opportunities for companies looking to expand their businesses.
Suggestions for Strengthening Indian Foreign Policy:
China
Strengthening economic ties: India and China have a significant trade relationship, and strengthening economic ties could help to improve relations between the two countries.
Engaging in dialogue and communication: Maintaining regular communication channels and engaging in dialogue can help prevent misunderstandings and manage conflicts.
Fostering people-to-people ties: Encouraging cultural exchanges and people-to-people interactions can help to build a foundation of goodwill and understanding between the two countries.
Another step in balancing the ties is
Communicating openly and transparently. It's generally hard in diplomacy to put your interests on the table, however, effective communication with Russia is the need of the hour. India shouldn't bow down to the pressure from the West.
There are many developing countries that are seeking the middle path. India has this opportunity to rise and lead the developing world.
Engaging in regional and international cooperation: With the Taliban in power and rising security threats, one of the best decisions by the policymakers in New Delhi was to conduct the first meeting of India-Central Asia NSAs.

Regional cooperation meetings like this raise several critical issues, including terror financing and counter-terrorism.
India needs to step up its game internationally in order to dismantle terror networks and their funding.

Seeking to hold accountable those who support or sponsor terrorism: India has sought to hold accountable those individuals or groups who support or sponsor terrorism, including through the use of financial sanctions and other measures.

However, India needs to enhance its diplomatic game at the UN and name the perpetrators and all those who protect fringe entities.

Enhancing cybersecurity and protecting critical infrastructure: India can work to improve its cybersecurity capabilities to protect against cyber threats, which are increasingly being used by terrorists to plan and carry out attacks.
Way Forward:
India will need to keep in mind its long-term objectives even during the delicate balancing that it is doing today.
Ideally, in the longer run, India would like to have both the West and Russia on its side. But given how this war is unfolding and how Beijing is making its moves, India may indeed find it harder than ever to manage the growing contradictions between the West and Russia.
Geopolitical choices are rarely black and white, nor are they always readily available. Sometimes, therefore, states must proactively try to shape the environment to generate new options.
Conclusion:
To envision its goal of a $5 Trillion economy, India needs to shape its ties with Africa while keeping an eye on China. Since the Chinese investments are huge and one of the biggest contributors to Africa's development, it will be a tough nut for India to crack.
China's policy of non-interference has made it one of the most favorable business partners in Africa. However, given the track record of its debt diplomacy and huge Western opposition to China, makes way for India easier.
India can engage in regional diplomacy, including through regional organizations such as the Indian Ocean Rim Association, to promote regional cooperation and address security challenges.
CITATIONS:
https://sansadtv.nic.in/episode/perspective-india-the-voice-of-peace-28-july-2023
https://indianexpress.com/article/india/india-voice-of-peace-security-says-jaishankar-8864235/#:~:text=India%20speaks%20as%20a%20voice,host%20the%20summit%20in%20September.
https://icwa.in/pdfs/INdia75%20Web.pdf
https://library.fes.de/libalt/journals/swetsfulltext/14218806.PDF
https://thekootneeti.in/2023/01/03/top-challenges-for-indian-foreign-policy-in-2023/