WELFARE SCHEMES FOR MINORITIES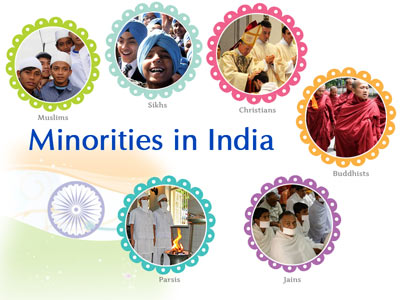 Copyright infringement not intended
Context - The Union Minister for Minority Affairs informed the Lok Sabha about the various initiatives taken under the Prime Minister's New 15 Point Programme for the welfare of Minority Communities.
Background of Prime Minister's New 15-point Programme
Prime Minister's New 15-point Programme for minorities

is a programme launched by the Indian government for the welfare of religious minorities in furtherance of reports by committees such as the Sachar Committee Report that highlighted that minorities, especially Muslims, in the country were often in a worse socio-economic and political condition than communities such as the Scheduled Castes and Scheduled tribes communities that have been oppressed over millennia through the caste system (also referred to as the varna system).

The 15-point program was the government's response to these findings by laying down guidelines to target minorities in schemes and entitlements that are already in place and designing and executing new schemes aimed at the empowerment of these groups.

The programme advocated allocating 15% of plan outlays of welfare schemes identified under the 15-point programme.
Minority Communities in India
The Constitution of India does not define the term minority.

The distinctiveness of a numerically inferior group is certainly recognised as a legal criterion to determine the minority status of any community.

As per the Census 2011, the percentage of minorities in the country is about 19.3% of the total population of the country.

The population of Muslims is 14.2%; Christians 2.3%; Sikhs 1.7%, Buddhists 0.7%, Jain 0.4% and Parsis 0.006%.

The Union Government notified minority communities at the national level in consultation with various stakeholders under Section 2 (c) of the National Commission for Minorities (NCM), Act, 1992.

The 6 communities notified as minority communities under Section 2(c) of the NCM Act, 1992 are Christians, Sikhs, Muslims, Buddhists, Parsis and Jains.
About Prime Minister's New 15 Point Programme
The Ministry of Minority Affairs is implementing the Prime Minister's New 15 Point Programme for the welfare of Minority Communities.

It covers various schemes/initiatives with an aim to ensure that the underprivileged and weaker sections of minority communities have equal opportunities under various Government welfare Schemes and also empower them to contribute to the socio-economic development of the Country.

Beneficiaries Communities under Prime Minister's New 15-point Programme:

Muslims

Sikhs

Christians

Buddhists

Zoroastrians (Parsis)

Jains

The programme has the following broad objectives:

Enhancing education opportunities.

Ensuring an equitable share for minorities in economic activities and employment, through existing and new schemes, enhanced credit support for self-employment, and recruitment to State and Central Government jobs.

Improving the conditions of living of minorities by ensuring an appropriate share for them in infrastructure development schemes.

Prevention and control of communal disharmony and violence.
Objectives of Prime Minister's New 15-point Programme for minorities
Equitable availability of the Integrated Child Development Services (ICDS)

Aims at the development of children and pregnant/lactating mothers from minorities and those living below the Below Poverty Line (India), by providing services such as better supplementary nutrition, immunisation, health check-up and free education.

Improving access to School Education

Implement various Government schemes like Sarva Shiksha Abhiyan, Kasturba Gandhi Balika Vidyalaya scheme and other similar schemes in villages/localities having a substantial minority community population.

Greater resources for teaching Urdu

Assistance in recruitment and posting of Urdu language teachers in primary and upper primary schools in villages/localities where at least one-fourth belong to that language group.

Modernising Madarsa Education

Provide basic educational infrastructure and resources for the modernization of Madarsa education.

Scholarships for meritorious students from minority communities.

Improving educational infrastructure through the Maulana Azad Education Foundation.

Self-Employment and Wage Employment for the poor.

Upgradation of skill through technical training

Open new ITIs in areas predominantly inhabited by minority communities and upgrade some ITIs to 'Centres of Excellence'.

Enhanced credit support for economic activities.

Recruitment to State and Central Services.

Equitable share in the rural housing scheme.

Improvement in condition of slums inhabited by minority communities.

Prevention of communal incidents.

Prosecution for criminal offences.

Rehabilitation of victims of communal riots.
Major Steps taken by the Government
Scholarship Schemes

- Pre-Matric Scholarship, Post-Matric Scholarship and Merit-cum-Means based Scholarship.

Maulana Azad National Fellowship Scheme

provides financial assistance to students from notified minority communities, to pursue higher education such as M.Phil and Ph.D.

Begum Hazrat Mahal National Scholarship

for meritorious girls belonging to minorities studying in Classes IX to XII.

Naya Savera

– Free Coaching and Allied Scheme which aims to enhance the skills and knowledge of students and candidates from minority communities where the total annual family income is less than Rs. 6 lakh.

Seekho aur Kamao (Learn & Earn):

It is a skill development initiative for minorities and aims to upgrade the skills of minority youth in various modern/traditional skills.

Upgrading the Skill and Training in Traditional Arts/Crafts for Development (USTTAD) scheme to give an effective platform to minority artisans and culinary experts from across the country to showcase and market their finest handicrafts and exquisitely crafted products through "Hunar Haats" organised by the Ministry.

Nai Manzil

- A scheme to provide education and skill training to the youth from minority communities.

Gharib Nawaz Employment Training Programme

for providing short-term job-oriented skill development courses to youths belonging to minority communities.

Pradhan Mantri Kaushal Vikas Yojana (PMKVY):

Under Skill India Mission, the Ministry of Skill Development and Entrepreneurship is implementing a flagship scheme known as Pradhan Mantri Kaushal Vikas Yojana (PMKVY) 2016-20 with an objective to provide skilling to one crore people including persons from minority community under Short Term Training (STT) and Recognition of Prior Learning (RPL) across the country.

National Minorities Development Finance Corporation

(NMDFC) Loan Schemes provide concessional loans for self-employment and income-generating activities for the socio-economic development of the 'backward sections' amongst the notified minorities.

Pradhan Mantri Jan Vikas Karyakram (PMJVK)

is implemented by the Ministry of Minority Affairs, which aims to improve the socio-economic conditions and basic amenities of minorities to improve their quality of life and reduce imbalances in the identified Minority Concentration Areas.

The major projects approved under PMJVK are in sectors of education, health and skill, and include Residential Schools, School buildings, Hostels, Degree Colleges, ITIs, Polytechnics, Health Centres, Skill Centres, and Sports facilities, Drinking Water facilities, sanitation facilities etc.
Way Forward
Prime Minister's New 15-point Programme

aims to provide better socio-economic facilities to the minority communities, particularly in the field of education, health and skill development.

It would reduce the gap between the national average and the minority communities with regard to backwardness parameters.
https://www.pib.gov.in/PressReleasePage.aspx?PRID=1848438
https://www.pib.gov.in/PressReleasePage.aspx?PRID=1848435