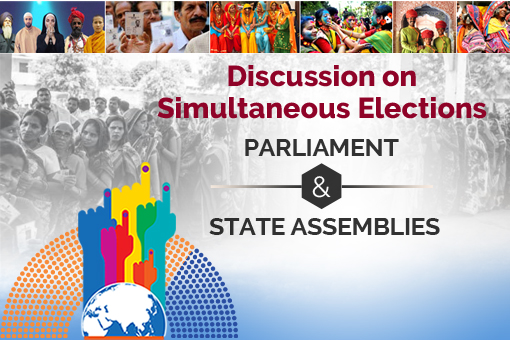 Copyright infringement not intended
In News
The Union Law Minister has stated in the lok sabha that the matter of conducting simultaneous elections of Lok Sabha and Assembly elections had been referred to the Law Commission.
Significance of Simultaneous Elections
Save Public Money.

Allow political parties to focus more on policy and governance.

Reduce unnecessary expenditures.

Reduce the unnecessary use of manpower.

Stop the drain on the administrative setup

and security forces.

Ensure better implementation of government policies on time.
Challenges
A massive increase in demand for electronic voting machines (EVMs) and voter-verifiable paper audit trail (VVPAT) units.

Ensuring the availability of VVPATs everywhere poses a Logistic challenge.

Political consensus

, as well as legislative Cooperation from various parties at the centre and in the states, is required.

Way Forward
It would be far more productive for political parties to focus on the basic electronic reforms and find ways to curb excessive election expenditure.

Achieved by introducing constitutional amendments and with the ratification of the states.

Law Commission recommended holding simultaneous elections to the Lok Sabha and state assemblies to save public money.

Simultaneous polls can be achieved if there is political will and if the states agree to voluntary.
https://epaper.thehindu.com/Home/ShareArticle?OrgId=GQNA2J1S7.1&imageview=0
https://t.me/+hJqMV1O0se03Njk9