NATURAL CALAMITIES IN THE COUNTRY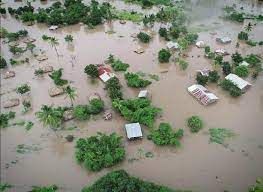 Disclaimer: Copyright infringement not intended.
Context
The efforts and initiatives taken by the Ministry of Earth Sciences (MoES) and the Indian Meteorological Department (IMD) to address climate change and improve weather forecasting and climate adaptation in India.
Details
The Ministry of Earth Sciences (MoES) published a comprehensive climate change assessment report titled 'Assessment of Climate Change over the Indian Region' in 2020.
The report highlights various impacts of climate change on India.
The Indian Meteorological Department (IMD) has undertaken several initiatives to improve weather forecasting and warning services.
Climate Change Impact Assessment Highlights
Temperature Rise and Precipitation Extremes
India's average temperature increased by approximately 0.7 degree Celsius between 1901 and 2018.
Frequency of intense daily precipitation (rainfall >150 mm per day) rose by about 75% from 1950 to 2015.
Increasing Drought Frequency and Spatial Extent
Drought occurrences and their extent over India significantly increased during 1951-2015.
Sea-Level Rise and Cyclonic Activity
North Indian Ocean experienced a sea-level rise of 3.3 mm per year during 1993-2017.
Arabian Sea witnessed a rise in the frequency of severe cyclonic storms during the post-monsoon seasons of 1998-2018.
Impact-Based Forecast (IBF) Implementation
IMD introduced Impact-Based Forecast (IBF) to provide detailed information on weather impacts rather than just weather conditions.
Guidelines for public safety during severe weather events are developed in collaboration with the National Disaster Management Authority (NDMA).
IBF is currently employed for cyclones, heatwaves, thunderstorms, and heavy rainfall, with plans for expansion.
Dissemination of Forecasts and Warnings
Weather forecasts and warnings are distributed through email, WhatsApp groups, social media, and websites.
SMS alerts are also sent to registered users, and press releases are issued when necessary.
Technological Advancements in Weather Services
In 2020, IMD launched seven services through the 'UMANG' mobile app, providing information on various weather aspects to the public.
Mobile apps like 'MAUSAM,' 'Meghdoot,' and 'Damini' were developed for weather forecasting, agromet advisory, and lightning alerts.
Climate Hazard & Vulnerability Atlas of India
IMD created a web-based Climate Hazard & Vulnerability Atlas to address meteorological events causing extensive damages.
The atlas aids state governments and disaster management agencies in planning and responding to extreme weather events.
Impact-based forecasts are also enabled through this atlas.
Modernization under ACROSS
IMD is modernizing and expanding its services through the Central Sector Scheme called "Atmosphere & Climate Research-modelling Observing Systems & Services (ACROSS)."
Sub-schemes under ACROSS include Atmospheric Observation Network (AON), Upgradation of Forecast System (UFS), Weather & Climate Services (WCS), and Commissioning of Polarimetric Doppler Weather Radars (PDWR).
PRACTICE QUESTION
Q) Examine the measures taken by the Indian Meteorological Department (IMD) to enhance weather forecasting, impact-based warnings, and climate adaptation strategies in response to the changing climate patterns highlighted in the report. (150 words)