LANDSLIDES AND GADGIL REPORT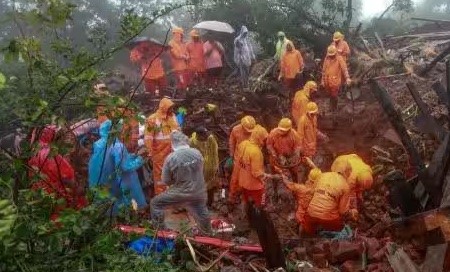 Disclaimer: Copyright infringement not intended.
Context
The Madhav Gadgil report on conservation of the Western Ghats and its impact on the region.
Details
Recent landslide in Raigad district, Maharashtra, brings focus to the 2011 Madhav Gadgil report.
Congress chief Nana Patole raises questions about the implementation of the report in the Maharashtra Assembly.
Deputy CM Devendra Fadnavis acknowledges the mapping of landslide-prone villages based on the report's recommendations.
Overview of the Madhav Gadgil Report
Appointment of Western Ghats Ecology Expert Panel (WGEEP) in 2010.
Recommendations of the 552-page report submitted in August 2011.
Classification of 64% of Western Ghats into Ecologically Sensitive Zones (ESZ 1, ESZ 2, ESZ 3) and designation as an Ecologically Sensitive Area (ESA).
Restrictions on developmental activities in ESZ 1, including mining, thermal power plants, and dams.
Recommendations for Goa and Maharashtra's Ratnagiri and Sindhudurg districts.
Recommendations for Goa: Indefinite moratorium on new environmental clearances for mining in ESZs 1 and 2, Phasing out of mining in Ecologically Sensitive Zone 1 by 2016, Continuation of existing mining in Ecologically Sensitive Zone 2 under strict regulation with an effective system of social audit.
Recommendations for Maharashtra's Ratnagiri and Sindhudurg districts: No new polluting (red and orange category) industries, including coal-based power plants, should be permitted to be established in ESZs 1 and 2, Existing red and orange category industries in ESZs 1 and 2 should be asked to switch to zero pollution by 2016, Plains and coastal tracts in these districts were found to be under "severe environmental and social stress" according to the panel's assessment.
Need for the Report
Study the impact of population pressure, climate change, and development activities on the Western Ghats.
Western Ghats' significance as a UNESCO World Heritage site and its rich biodiversity.
Resistance to Implementation
Stakeholder states' concerns about hindrance to development and loss of livelihood.
Formation of High-Level Working Group on Western Ghats under Dr. K Kasturirangan in 2012.
Kerala's objections to specific recommendations, including the ban on sand mining and quarrying.
Kasturirangan-led Panel and its Report
Kasturirangan report notified only 37% of the area as ecologically sensitive.
Division of Western Ghats into cultural and natural regions.
Introduction of red, orange, and green categories for regulated activities.
Criticism of the Kasturirangan report by Madhav Gadgil.
Government's Response and Notification
Ministry of Environment and Forests' affidavit before the National Green Tribunal in 2014.
Draft notification issued in 2017, demarcating ESA area.
Reduction of ESA area in Kerala.
PRACTICE QUESTION
Q) Discuss measures to strike a balance between ecological conservation and developmental activities in the ecologically sensitive areas of the Western Ghats. (150 words)
https://indianexpress.com/article/explained/explained-climate/raigad-landslide-focus-madhav-gadgil-report-western-ghats-esz-8857084/