INDIA – ETHIOPIA BILATERAL RELATIONS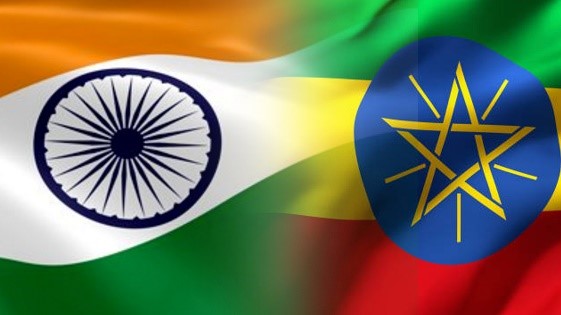 Disclaimer: Copyright infringement not intended.
Context
The 6th Session of India-Ethiopia Joint Trade Committee (JTC) was conducted in Addis Ababa, Ethiopia.
Historical linkages
Historical linkages between India and Ethiopia go back about 2,000 years of recorded history.

Trade between the two countries flourished during the ancient Axumite Empire (1 Century AD), which is seen to be origin of modern Ethiopia.

Indian traders trade silk and spices for gold and ivory through the ancient port of Adulis in the 6 Century AD.

In the 16 century AD, the Portuguese assisted the Christian King in Ethiopia to repel Muslim invaders, and with them came Indians from Goa.

In 1868, General Robert Napier led a punitive expedition to obtain the release of European diplomats and missionaries who had been imprisoned by Emperor Tewodros II in his bunker fort at Makdala. The 30,000 strong force had 13,000 soldiers from India, mostly Sikhs.

The British Army that ended the Italian occupation of Ethiopia (1936-41) also had a sizeable contingent of Indian soldiers. General William Plat, who led one of the three simultaneous attacks, commanded a force consisting of the 4 and 5 Indian Divisions.

Soon after achieving independence, a goodwill mission led by Sardar Sant Singh was sent to Ethiopia.

Diplomatic relations at legation level were established in 1948.

Full diplomatic relations were established in 1950 with Sardar Sant Singh as the first Ambassador.

India Ethiopia relations have been traditionally close and friendly. Ethiopia has been appreciative of the fact that India has never been hostile to Ethiopian interests.

Ethiopia has been consistent in their support for India in the international fora on various issues.

In recent years, with the opening up of the Ethiopian economy, business ties between the two countries have grown significantly, especially in the areas of trade, investment, agriculture and infrastructure projects.
Bilateral Trade
Bilateral trade between Ethiopia and India stood at USD 2.8 billion in 2022, out of which Ethiopia's exports were about USD 80 million.
Bilateral trade between Ethiopia and India stood at USD 1.8 billion in 2021, out of which Ethiopia's exports were about USD 75.13 million (Source: National Bank of Ethiopia).
Exports from India mainly include primary and semi-finished iron and steel products, drugs and pharmaceuticals, machinery and instruments, manufactures of metal, etc.
Major imports by India from Ethiopia were: pulses, precious and semi-precious stones, vegetables & seeds, leather and spices.
India is the second largest trading partner for Ethiopia, accounting for 10.2% of Ethiopia's global trade.
Marketing/Investment opportunities in Ethiopia
Areas with most promising potential for investments in the country are agriculture, food-processing, leather & leather products, textile & garments, horticulture, sugar & related industry, chemicals industry, pharmaceutical industry, cement industry, metal & engineering industry, construction, mining & oil and hydropower.
Leading non-agricultural sectors and investment include renewable energy, information technology and communications, construction, tourism and aviation. Sub-sectors such as mobile banking services and outsourcing services, website software and technologies, software development for e-Government services, and ICT training services are going to be among the major investment opportunities in the country.
The road construction and expansion projects in the country also offer opportunities either to directly involve in the construction work or export of construction machinery, chemicals, and building materials as well as consultancy and supervision services.
Investment
Since the opening up of the Ethiopian economy in the last decade, business ties between the two countries have increased significantly especially in the area of infrastructure projects like roads, power, telecommunications and water resources.
First meeting of Joint Trade Committee was held in Addis Ababa (1998).
The last (fifth) JTC meeting was held in Addis Ababa (Oct 2008).
Bilateral Investment Promotion and Protection Agreement was signed on 5 July 2007 but it has not been operationalized.
Joint Business Council was established between FICCI/ASSOCHAM and the Ethiopian Chamber of Commerce (1997).
Double Taxation Avoidance Agreement signed in May 2011.
Indian companies are in the top three foreign investors in Ethiopia with newer Indian multinationals marking their presence in Ethiopia.
There are about 650 Indian companies in Ethiopia with licensed investment of over USD 5 billion.
Indian investors are the second-largest foreign employers in Ethiopia, providing employment to more than 75,000 persons. About 78% of Indian investment is in the manufacturing sector, followed by agriculture (13.1%).
Indian companies have invested in various sectors like agriculture and floriculture, engineering, plastics, manufacturing, cotton and textiles, water management, pharmaceuticals and healthcare.
Meeting of Prime Ministers (24 August 2023)
Prime Minister Shri Narendra Modi met Ethiopian PM Dr. Abiy Ahmed on the sidelines of the BRICS summit in Johannesburg.

The leaders agreed to deepen relations and discussed ways to expand bilateral cooperation in areas like parliamentary contacts, development partnership & capacity building, trade & investment, defence, ICT, agriculture, skilling of youth and people to people linkages.
Bilateral Agreements
Air Services Agreement (1967); 4 MoUs signed subsequently in 1972, 1993, 2004 and 2008.

Agreement on Technical, Economic and Scientific Cooperation (1969)

Cultural Agreement (1983)

Trade Agreement (1997)

Agreement on Cooperation in Micro Dams and Small Scale Irrigation Schemes (2002)

Agreement on Establishment of Joint Ministerial Commission (2007)

Bilateral Investment Promotion and Protection Agreement (2007)

Agreement on Cooperation in the field of Science and Technology (2007)

Educational Exchange Programme (2007)

Protocol on Foreign Office Consultations (2007)

Double Taxation avoidance treaty (2011)

MOU between NSIC, India and FEMSEDA (2011)

MOU between ICAR and Ethiopian Institute of Agricultural Research (2011)

Trade Agreement (2017)

Agreement for Cooperation in the field of Information, Communication and Media (2017)

MoU for Cooperation between Sushma Swaraj Institute of Foreign Service and Ethiopian Foreign Relations Services Training Institute (May 2018)

Agreement on Mutual Visa Exemption for holders of Diplomatic Passports (2021)

MoU between the Council of Scientific and Industrial Research – Central Research Institute, India and Wollo University, Ethiopia (2021)
Cultural Cooperation (2023)
Recently, Kavi Sammelan was held in Addis Ababa with the participation of two poets from India – Ms. Gauri Mishra and Mr. Sudeep Bhola.

Embassy hosted National Day Reception.

Kite festival was organized at the Embassy. About 100 people participated in the event.

Embassy organized millets food in 4 restaurants in Addis Ababa.

To commemorate International Women's Day (8 March), Indian Women's Association and Embassy donated food and medicines to Mary Joy Ethiopia, a charity organization working to empower vulnerable community groups through integrated development programs.

Embassy organized Holi celebrations in Addis Ababa . More than 800 people attended the celebrations.

Embassy organized India invitational cricket tournament in Addis Ababa. Five teams from India, Bangladesh, Sri Lanka and United Kingdom participated in the tournament.

India Cup – Cricket tournament was held in Addis Ababa.

India Cup – Badminton was held in Addis Ababa.

Embassy organized the screening of the Mann Ki Baat – 100th episode.

Embassy in collaboration with Indian Women's Association organized the second edition of Bachchas Got Talent.

ICCR sponsored the visit of Abhijit Pohankar's Bollywood Ghharana group to Ethiopia. The group performed in Bishoftu, Addis Ababa and at the Embassy.

International Day of Yoga was celebrated in Addis Ababa (18 June). More than 450 yoga enthusiasts turned up for the yoga session.

Free Medical Camp was organized at Bole Lemi Industrial Park. More than 230 people visited Bole Lemi Industrial Park for free general and eye checkup.

As part of Independence Day celebrations, children's quiz competition was held at the embassy. Also, some of our community leaders shared stories connected to growing up years in India (Mitti Ki Khusboo – Mitti Ki Yadein). Community leaders narrated stories of lesser-known heroes of our freedom movement – Helen Lepcha (Sikkim), K Kumar (Kerala) and Mridula Sarabhai (Gujarat). The afternoon event ended with the taking of Panch Pran Pledge.

Tree plantation drive campaign was held in Ethiopia. Besides the embassy, more than 25 Indian companies/organizations participated in the campaign.

On the occasion of India's Independence Day, a flag hoisting ceremony was held at the embassy (15 Aug). About 400 Indian nationals and friends of India celebrated the Independence Day. The event included reading of the Hon'ble President's address to the nation which was followed by patriotic songs and dance. An exhibition on Partition Horrors Remembrance was also held.

As part of National Sports Day, Embassy organized a trekking / exercise morning at the popular Entoto park in Addis Ababa

During Jan-August 2023, Mission had reached out to universities and held discussions on possible areas of collaboration with India – Bahir Dar, Harambee, Dambi Dollo, Samara, Dire Dawa, Bule Hora, Bonga, Gambella, Haramaya and Hawassa.
Lines of Credit
Ethiopia is one of the largest recipients of long-term concessional credit from India in Africa.
The ongoing GoI assistance in developmental projects in Ethiopia has continued with sanctioned Lines of Credit worth more than USD1 billion to Ethiopia for sectors such as rural electrification, sugar industry and railways.
Out of the three Sugar Factory projects being undertaken through LoC funding of USD 640 million, Finchaa Sugar Factory has already been completed and handed over to the Ethiopian side.
The other two, Wonji Shoa and Tendaho Phase-I have commenced production and would be handed over to the Ethiopian side after the completion of some balance works.
Cooperation in Capacity Building
The Indian Technical and Economic Cooperation (ITEC) programme was started in Ethiopia in 1969. ITEC slots have increased over the years reaching 400 (2018-19) and 406 (2019-20). Training is one of the major activities under ITEC.
The Indian Council of Cultural Relations (ICCR) offers scholarship to 55 students from Ethiopia for Undergraduate, Postgraduate and PhD courses.
The Central Leather Research Institute and the Footwear Design and Development Institute from India are cooperating with Ethiopian Leather Development Institute.
The Ethiopian Textile Industry Development Institute and the National Institute of Fashion Technology of India have launched twinning partnership scheme.
A twinning arrangement has also been entered into between Ethiopian Textile Industry Development Institute and Mumbai Institute for Chemical Technology.
Council of Scientific Research and Industrial Research of India and Metal Industries Development Institute of Ethiopia have a twinning agreement.
Indian Community
The early settlers among the Indian community in Ethiopia came from Gujarat in the latter years of the 19th century. During imperial times, there were also tens of thousands of Indian teachers in schools all over Ethiopia, even in the most remote parts.

Today, the Indian community has a sizeable presence in the educational sector of Ethiopia. There are about 1200 Indian Lecturers/Professors in about 40 Universities and higher educational institutions.

The Indian Diaspora in Ethiopia is estimated to be about 5000. There are a number of Indian companies in this country. There are also several Ethiopian companies who engage Indian workers.

Kannan Ambalam was conferred Pravasi Bharatiya Samman Award for his community welfare work in Ethiopia.

Ambalam has constructed 93 low-cost bridges, revived 55 water springs, constructed toilet in one school, built 2 check dams and facilitated the electrification of 1 village in Ethiopia. These projects have major impact on improving the livelihoods of rural communities.
Conclusion
The current high-level visits demonstrate the priority India attaches to Ethiopia. This points to the rising importance of the Horn of Africa in India's foreign policy and economic diplomacy.
India is also supporting Ethiopia in its energy security, by helping to achieve the desired electrification targets and improve its energy infrastructure.
Ethiopia is also one of the first countries to join the International Solar Alliance (ISA), where India is a founding member.
India can share their experiences as major player in developing and utilising solar energy and can push for more solar energy projects in Ethiopia under the ISA umbrella.
The Asia-Africa Growth Corridor (AAGC) is another critical platform where India could partner with Ethiopia that can prove to be a win-win partnership for both countries.
The presence of the Indian diaspora in Ethiopia also makes India's engagement with Ethiopia significant.
Several international players are competing to finance projects in African countries, and India will be at a disadvantage if it does not proactively engage in strengthening development partnerships.
As an emerging power that is actively pushing South-South Cooperation (SSC), India has to convince its partners the advantage of Indian development assistance, which adheres to principles of horizontal cooperation and mutual benefit.
However, the lack of deep pockets and delays in project implementation is making India lag behind in its development cooperation efforts in many regions around the world, including Africa.
While it is essential for India to be a reliable partner for Ethiopia, it has to weigh its role carefully so as to be a responsible Southern partner.
India has to proactively pursue its economic diplomacy with Ehiopia to build lasting ties and keep up the momentum in the bilateral relationship.
There is immense scope for cooperation that has to be tapped by both countries for mutual benefit.
PRACTICE QUESTION
Q. The rising importance of the Horn of Africa in India's foreign policy and economic diplomacy cannot be emphasized enough. India has to proactively pursue its economic diplomacy with countries like Ethiopia to build lasting ties and keep up the momentum in the bilateral relationship. Substantiate.