GLOBAL INNOVATION INDEX 2023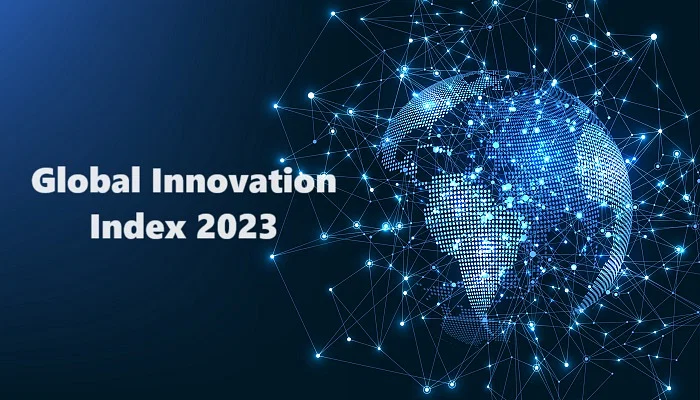 Copyright infringement not intended
Picture Courtesy: psuwatch.com
Context: India's 40th rank in the Global Innovation Index (GII) 2023 reflects the country's continuous progress in the field of innovation. Over the years, India has steadily climbed the GII rankings, moving from 81st place in 2015 to 40th place in 2023.
Details
The GII is an important tool for governments worldwide to gauge their countries' innovation-driven social and economic changes. It serves as a policy instrument, helping governments assess and reflect on their current innovation status.

India's retention of the 40th rank out of 132 economies in the Global Innovation Index (GII) for 2023 is a noteworthy achievement. This ranking indicates India's continued progress in the field of innovation and highlights its commitment to fostering a culture of innovation and entrepreneurship.
This improvement can be attributed to several key factors:
Knowledge Capital

: India's strong emphasis on education and research has led to a well-educated workforce, which is a crucial foundation for innovation. The availability of skilled professionals contributes significantly to the country's innovative capabilities.

Vibrant Start-up Ecosystem

: India's thriving start-up ecosystem has been instrumental in driving innovation. Start-ups often bring fresh and disruptive ideas to the market, and their contributions to various industries have enhanced India's innovation profile.

Research Organizations

: Both public and private research organizations have played a pivotal role in fostering innovation. Government departments such as the Department of Science and Technology, Department of Biotechnology, Department of Space, and Department of Atomic Energy have supported research and innovation initiatives across various sectors.

Government Initiatives

: Government departments and ministries have actively participated in promoting innovation through various policies and programs. Their support and funding have enabled innovative projects and research in areas like electronics, telecommunications, agriculture, and healthcare.

Atal Innovation Mission

: The Atal Innovation Mission has been a driving force in nurturing innovative ideas and projects, particularly among students and young entrepreneurs. It has created a platform for innovation and entrepreneurship to flourish.

NITI Aayog's Efforts

: NITI Aayog's role in promoting policy-led innovation in critical sectors like electric vehicles, biotechnology, nanotechnology, space, and alternative energy sources is noteworthy. Their efforts in expanding innovation ecosystems to different regions of India have had a positive impact.

Monitoring and Evaluation

: Continuous monitoring and evaluation of India's position in global innovation rankings, such as the Global Innovation Index (GII), are essential for tracking progress and identifying areas for improvement. NITI Aayog's involvement in this process reflects a commitment to enhancing India's innovation capabilities.
Global Innovation Index (GII)
The Global Innovation Index (GII) is an influential annual publication that assesses and measures the innovation performance of economies around the world. It serves as a valuable benchmarking tool used by policymakers, business leaders, and various stakeholders to evaluate and track a country's progress in the field of innovation.

The GII was published by the World Intellectual Property Organization (WIPO) in partnership with Cornell University, INSEAD, and other organizations and institutions.
Methodology
The GII is computed by taking an average of scores from two sub-indices: the Innovation Input Index and the Innovation Output Index.

The Innovation Input Index is composed of five pillars that describe attributes of innovation, with each pillar consisting of up to five indicators.

The Innovation Output Index comprises two pillars.

Scores for each indicator are calculated using a weighted average method.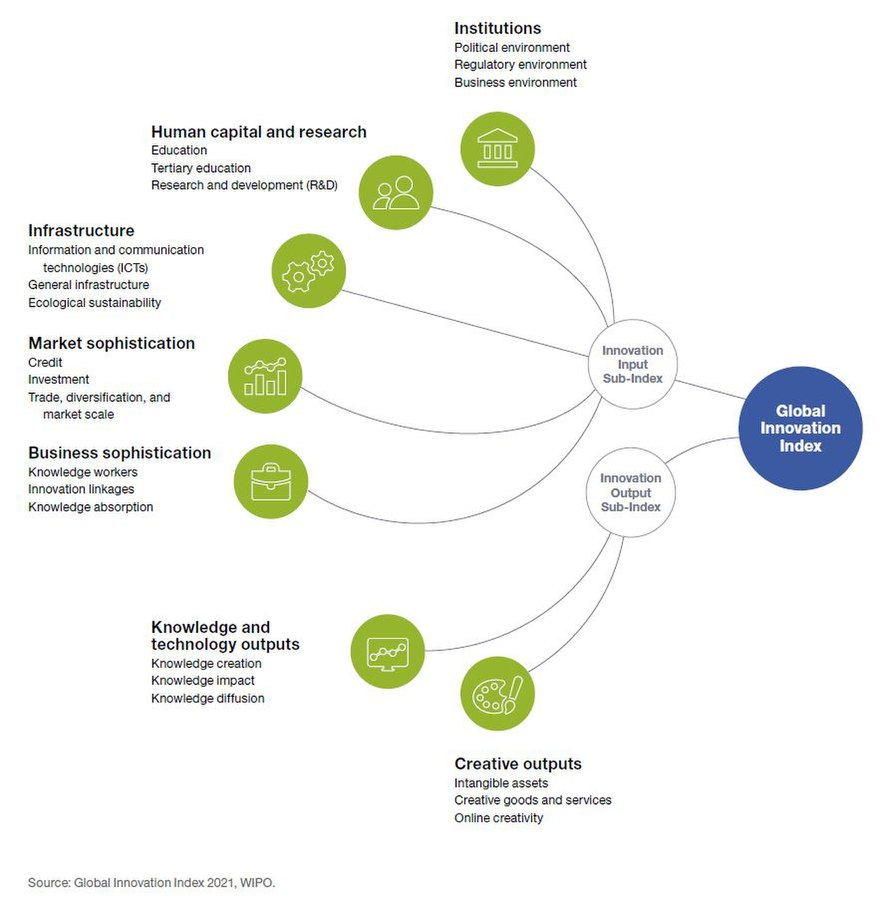 Key points about the GII and its findings in 2023:
Top 3 Innovative Economies in 2023

Switzerland (1st)

Sweden (2nd)

United States (3rd)

China is ranked 12th in 2023, dropping one rank from the previous year. It remains the only middle-income economy to secure a position among the top 30 and retains 3rd place in the Southeast Asia and Oceania (SEAO) region.
Mixed Performance in Innovation Investment
In 2022, science and innovation investment exhibited mixed results, primarily due to several challenges and a decline in innovation finance. While the number of scientific publications continued to grow, it did so at a slower rate.

Global government budgets for research and development (R&D) were expected to increase in real terms, and top corporate spenders significantly increased their R&D expenditure. However, it remains uncertain whether this growth can offset the effects of rising inflation. Additionally, international patent filings stagnated, and venture capital investments decreased significantly compared to the previous year.
Technological Progress in Key Areas
There was notable progress in various technological fields, including information technology, health, mobility, and energy. Advancements in computing powers were particularly strong, and costs associated with renewable energy and genome sequencing continued to decline. These developments create new opportunities for global development.
Increasing Technology Adoption
There has been a gradual increase in the adoption of technology, leading to improved access to safe sanitation and connectivity. Electric vehicle (EV) adoption has been on the rise, and there is a growing desire for greater automation, as evidenced by increased robot installations. However, while some progress has been made, overall penetration rates for many innovation indicators remain medium-to-low. Additionally, the availability of radiotherapy for cancer treatment remains inadequate in many countries.
Limited Socioeconomic Impact of Innovation
Despite advancements in innovation, the socioeconomic impact remains relatively low. The COVID-19 pandemic has led to volatility in labour productivity, which has stagnated. Life expectancy also experienced a decline for a second consecutive year, although healthy life expectancy continued to increase, albeit at a slower pace. Carbon dioxide emissions continued to grow, albeit at a lower rate compared to the post-pandemic surge in 2021, with no significant global reductions in sight.
Conclusion
The Global Innovation Index provides a comprehensive assessment of the innovation landscape, highlighting both strengths and challenges across different stages of the innovation cycle. It serves as a critical resource for understanding the state of innovation globally and can inform policy decisions and strategies to foster innovation and its positive impacts on society and the economy.
Must Read Articles:
Global Innovation Index: https://www.iasgyan.in/daily-current-affairs/global-innovation-index
PRACTICE QUESTION
Q. Which organization is a primary publisher of the Global Innovation Index?
A) United Nations
B) World Intellectual Property Organization (WIPO)
C) International Monetary Fund (IMF)
D) World Health Organization (WHO)
Explanation: The correct answer is B. The GII is primarily published by the World Intellectual Property Organization (WIPO) in collaboration with other partners.