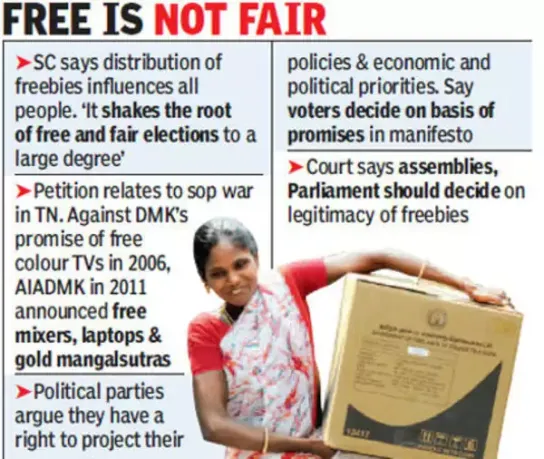 Copyright infringement not intended
In News
The Supreme Court of India has said that the Parliament may not take steps to do away with "irrational freebies", as no political party wants to take away freebies.

The Supreme Court has suggested setting up a specialised body to examine the problem related to "freebies".
Background
Recently the Supreme Court of India has asked the Union government to find out a way to restrain political parties from promising and distributing "irrational freebies" during election campaigns.

A Bench led by the Chief Justice of India has raised concern over the issue as "serious" and asked the union government to control the promise of "freebies" to entice votes.

The Election Commission of India (ECI) stated that "whether such policies are financially viable or its adverse effect on the economic health of the State is a question that has to be considered and decided by the voters of the State".

The court said that freebies are a "serious issue" and had to be tackled at the level of the States.
Details
During election time, Political parties make promises to the voters to provide free electricity/water supply, monthly allowance

for the unemployed

, laptops, smartphones, etc.

These steps are justified as there has been rising inequality in our country, therefore some kind of relief to the population needs to be provided.

It promotes socio-economic Growth: Public Distribution System, employment guarantee schemes, and support for the social sector: education and health.
Concern
Freebies can hurt macroeconomic stability, it distorts expenditure priorities.

Negative i

mpact on the public exchequer and most of the states of India do not have strong financial health.

Against Free and Fair Election

I

t would lead to the overuse of natural resources, Ex- Free water, electricity, etc.
Way Forward
Need to understand the

socio-economic impact of state support on the economy, life quality, and social cohesion in the long run.

Need to Differentiate between Subsidies and Freebies, as targeted subsidies are justified to promote socio-economic development and reduce inequality and for promoting sustainable development, however, irrational freebies need to be regulated as they could challenge the economic stability of the nation.
https://epaper.thehindu.com/Home/ShareArticle?OrgId=GCGA40OAM.1&imageview=0
https://t.me/+hJqMV1O0se03Njk9