Diving Support Craft (DSC) Project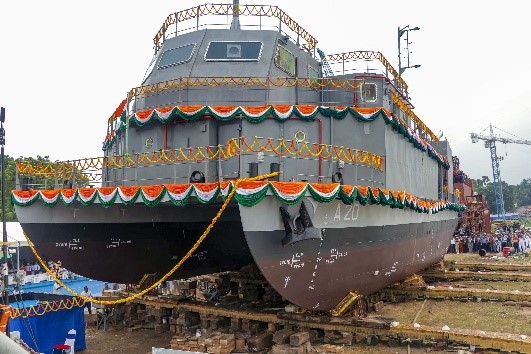 Disclaimer: Copyright infringement not intended.
Context
'DSC A 20' (Yard 325), the first ship of Five (05) Diving Support Craft (DSC) project, was launched at Titagarh, Kolkata onto Hooghly River.
Details
The contract for building the five Diving Support Crafts (DSC) for the Indian Navy was signed between the Ministry of Defence and Titagarh Wagons Ltd (now renamed Titagarh Rail Systems Limited), on February 12, 2021.
These ships are designed to undertake operational/ training diving operations in harbours and coastal waters.
They are 30-metre-long catamaran hull ships, with a displacement of approximately 300 tons.
All five DSCs are anticipated to be delivered to the Indian Navy in the Financial Year 2024-25.
DSCs are being fitted with state-of-the-art diving equipment and tools for performing diving operations.
These ships are indigenously designed and built under relevant naval rules and regulations of the Indian Register of Shipping (IRS).
Significance
With most of the main and auxiliary equipment sourced from indigenous manufacturers, these ships are "proud flag bearers" of Make in India and Make for the World initiatives of the Government of India (GoI)/ Ministry of Defence (MoD).
RELATED ARTICLE:
MARITIME SECURITY CHALLENGES: https://www.iasgyan.in/ig-uploads/pdf/rstv24.pdf
PRACTICE QUESTION
Q. Outline India's regional security architecture and discuss the Maritime Security concerns of India briefly. Throw light on the initiatives taken by the Government to address the challenges.