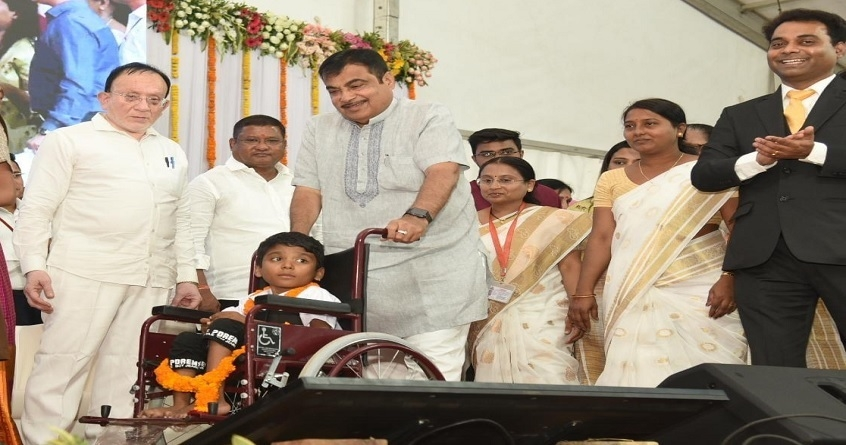 Copyright infringement not intended
Context
The Union Minister for Road Transport and Highways has laid the Foundation Stone of the world's largest Divyang Park - Anubhuti Inclusive Park in Nagpur, Maharashtra.

The Minister said that the park is being developed to promote the Prime Minister's vision of building an inclusive society.

He said instead of sympathy, this park will show empathy; hence this park has been named Anubhuti Divyang Park.

The Minister highlighted that the park will have facilities for all 21 types of disabilities, it will have facilities like a touch and smell garden, hydrotherapy unit, water therapy, and independent room for mentally challenged children and mothers.

The Minister said that the Union government passed the Rights of Persons with Disabilities Act 2016 for protecting the promoting the rights of persons with disabilities and to give the disabled the right to live with dignity.
Rights of Persons with Disabilities Act, 2016
The Act replaced the Persons with Disabilities Act of 1995.

India is a signatory of the United National Convention on the Rights of Persons with Disabilities (UNCRPD). The act fulfils the commitment made by India at UNCRPD.

Under the Act, the

types of disabilities have been increased from the existing 7 to 21

and it authorized the Central Government to add more types of disabilities.

The 21 disabilities are;

Blindness

Low-vision

Leprosy Cured persons

Hearing Impairment (deaf and hard of hearing)

Locomotors Disability

Dwarfism

Intellectual Disability

Mental Illness

Autism Spectrum Disorder

Cerebral Palsy

Muscular Dystrophy

Chronic Neurological conditions

Specific Learning Disabilities

Multiple Sclerosis

Speech and Language disability

Thalassemia

Haemophilia

Sickle Cell Disease

Multiple Disabilities including deaf, and blindness.

Acid Attack victim

Parkinson's disease

First-time Speech and Language Disabilities

and Specific Learning disabilities have been added to the list.

Acid Attack Victims and Dwarfism are also included in the list of disabilities.

The list of disabilities also included three blood disorders;

Thalassemia

Haemophilia

Sickle Cell Disease

Directed the governments to ensure that persons with disabilities enjoy their rights equally with others.

Persons with benchmark disabilities and those with high support will get additional benefits such as reservations in higher education, government jobs, poverty alleviation schemes etc.

Every child between the age group of 6 and 18 years with the benchmark disability shall have the right to free education.

Ensure their accessibility in public buildings (both Government and private).

Reservation in Public vacancies has been increased from 3% to 4% for persons with benchmark disabilities

.

Central and State Advisory Boards on Disability serve as the highest policy-making bodies at the Central and State level.

District-level committees

by the State Governments to address local concerns of PwDs.

National and State Funds

to provide financial support to persons with disabilities.

Strict Punishments and Penalties

for offences committed against persons with disabilities.

Special Courts in each district

to take cases regarding violation of rights of PwDs.

The Act provided an effective tool for ensuring their empowerment and true inclusion into mainstream society in an acceptable manner.
Disability in India
As per Census 2011, at the all-India level, disabled persons constitute 2.21% of the total population.

62% of disabled persons belong to the age group 0-6 years.

According to the 2011 census;

3% of people with disabilities in India have movement disabilities.

9% have hearing impairments.

8% have visual impairments.

The Census 2011 additionally collected data on mental disability for the first time and found that 5.6% of Indians with disabilities fall into that category.
Must Read: https://iasgyan.in/daily-current-affairs/accessibility-standards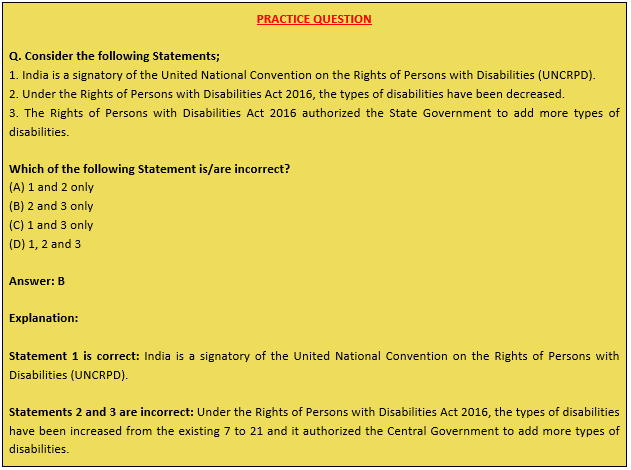 https://www.pib.gov.in/PressReleasePage.aspx?PRID=1900746