Success Story & Preparation Strategy of Medha Anand- Rank: 311 UPSC CSE 2019
Success Story & Preparation Strategy of Medha Anand- Rank: 311 UPSC CSE 2019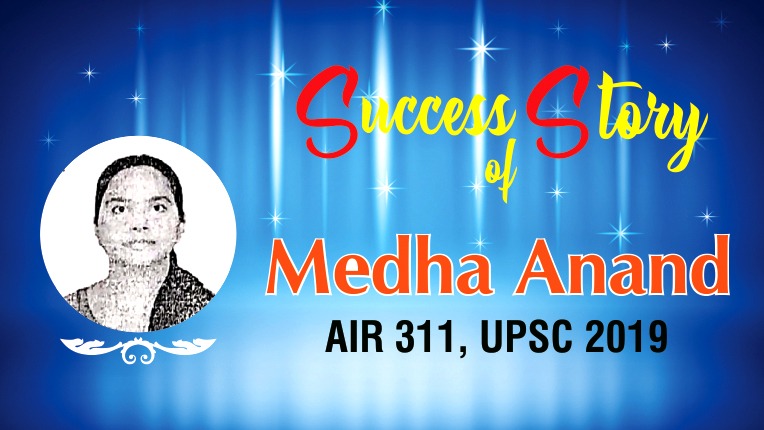 Medha Anand
Rank: 311 UPSC CSE 2019
EDUCATION
I have graduated from HBTU Kanpur in 2017 in Civil Engineering. After that I started preparing for Civil Services.
INSPIRATION: HOW DID THE JOURNEY START?
The journey initially started from Class 11. My mom had given me some books of History & Polity to read.. One of them was DD Basu. And I actually couldn't get it.. like what was written and all.. so after that it was in College. I met few of my seniors who inspired me and then I started my preparation.
BOOK LIST FOR THE PREPARATION
Geography: NCERT
History: Spectrum
Polity: Lakshmikant
Economy: NCERTS And Current Affairs
Art and Culture: Nitin Singhania
For Full Book List Video: Click Here
How Important was Newspaper Reading?
It was actually very important. To just get an idea of what is happening all around Newspaper Reading is very important. Although one might not be able to get all the aspects from a single reading but yes..it gives an idea of all the things which are going around. Initially I was reading The Hindu. But then I got tired of the same pattern and everything. Then I switched on to Indian Express. The Explained section of The Indian Express is really very good. Personally I didn't make notes from the newspaper because it becomes messy and I didn't know how to go about it. So I used to supplement by Newspaper Reading with Monthly Compilations. It's relatively easier.
INTERNET SOURCES VS HARD COPY MATERIALS
The hard copy material was good. Actually, I was staying in Delhi. So I had access to the hard copy materials. But if anybody has no access to it then they can just access it from the internet. It depends on what one is comfortable with.
STRATEGY FOR PRELIMS
First is to complete the syllabus. Complete all the basic books. Second, start practicing Test Papers. That's the only way. If you are not getting good marks in the Test Paper its okay. The most important thing is that one should not get demotivated. That's the thing that happens with most of the people. Even if you are getting just 50 marks that's alright.. Just hang on there. Keep giving tests and go through the previous year question paper as well.
For Daily PRELIMS Quiz: Click Here
STRATEGY FOR MAINS
Write many answers. Start with Answer Writing. We think too much. We try to evaluate ourselves way too much and think that I might not be able to write a good answer. That should not come in the mind. Just after the Prelims make some short notes get some good materials and start writing answers. That's the only way. These days questions are not straightforward. That's why it's very important to practice.
MAINS ANSWER WRITING STRATEGY
Use diagrams, flowcharts and represent the information in a very objective manner. It's easier for the examiner to read it and it also helps the candidate. Because he/she has to write an answer in 8-9 minutes..
For Daily MAINS Answer Writing Practice: Click Here
TIME MANAGEMENT
See, there were days which were very good. When I used to study for a long time. Then there were days in which I didn't feel like studying. So, I think time management should come in that way. Whenever you feel like studying just go for it & spend as many hours as you want. If you don't feel like studying go and watch a movie, have a cup of coffee..do whatever you want. My father used to say, don't sit in front of the book and pretend to be reading when you are actually not. So, that's how time has to be managed. For working professionals they can utilize their Saturdays and Sundays.
QUESTIONS ASKED IN THE UPSC INTERVIEW
Questions pertaining to Optional Subject-Sociology.. They also asked me what my elective was in final year of Engineering. Thankfully I remembered it was Environmental Engineering. They asked me about affordable housing, controlling air pollution. Other than that they asked questions from the Judiciary. I didn't know some of the answers so I said I don't know. It's just about talking to them and having a conversation.
CHALLENGES FACED DURING THE PREPARATION PROCESS
Mind is something which will take to the future and also to the past. Oh what will happen if I can't clear.. or why didn't I start preparing earlier. Stay calm in those moments. Just hang on to the preparation. Don't give up.
IT'S A LONG JOURNEY. WHAT KEPT YOU MOTIVATED?
In my lows, it was my father who used to guide me a lot. It's a long process and there will be breaking points. Your friends are getting jobs or getting promoted and nothing significant is happening in your life. Getting up every day with nothing in hand..no outside contact.. nothing.. Preparing everyday just for an exam.. Take these emotions in a very natural way. But don't succumb to them. Stay positive. Also, I used to tell my father don't expect anything from me. And he was cool about it. So I didn't study out of compulsion but out of passion. I used to convince myself that I have chosen this path for myself. Nobody is forcing me to do it. I can quit whenever I want. So I thing that chill attitude is required. It's my choice and I'm doing it out of my free will. No compulsion. And even if someone is doing it out of compulsion it won't help. Then why feel it. Do Nishkam Karma. Problems will keep on coming. This is not the end. This is just the beginning.
HARD WORK VS SMART WORK
We can't compartmentalize hard work and smart work. Even if someone is doing smart work it's very hard. Isn't it? Even finishing the Lakshmikant in a very Smart way would require a lot of hard work to finish it. So, it takes a lot and lot of hard work. May be some years of their lives..
HOW DID THE IASGYAN MATERIALS & DAF QUESTIONNAIRE HELP YOU?
Actually, APTI PLUS Academy was the first Institute to send me the study materials.. And I am really thankful to you. It's a very good team and a very prompt team. I really didn't know what to study at that point of time.. And the materials you sent really helped me a lot. I also went through the study materials in the IASGYAN website. It's really very good. There's this magazine- The IAS Gazette. It's also very good. So yeah, thanks a lot..