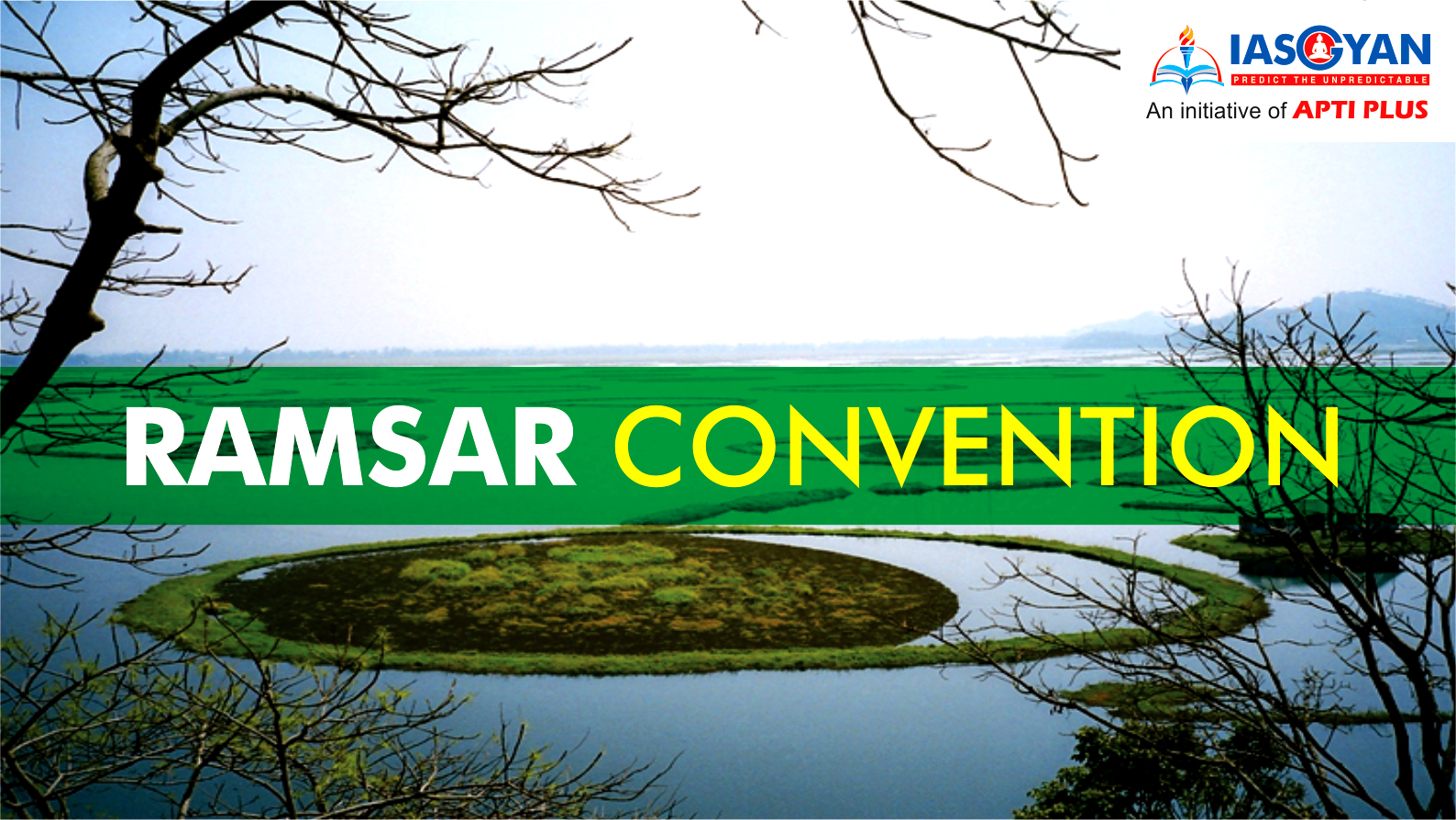 What is Ramsar Convention and what is its mission?
The Convention on Wetlands of International Importance, more commonly known as the Ramsar Convention, is an international agreement promoting the conservation and wise use of wetlands. It is the only global treaty to focus on a single ecosystem. The treaty was negotiated through the 1960s by countries and non - governmental organisations concerned about the increasing loss and degradation of wetland habitat for migratory waterbirds. The Convention was adopted in the Iranian city of Ramsar in 1971 and came into force in 1975.
The Ramsar Convention has 171 Contracting Parties (member countries). Under the "three pillars" of the Convention, the Contracting Parties commit to:
work towards the wise use of all their wetlands;
designate suitable wetlands for the list of Wetlands of International Importance (the "Ramsar List") and ensure their effective management;
cooperate internationally on transboundary wetlands, shared wetland systems and shared species.
What are the criteria to identify the Wetlands of International Importance?
There are nine criteria for identifying Wetlands of International Importance. These criteria are provided in the table below: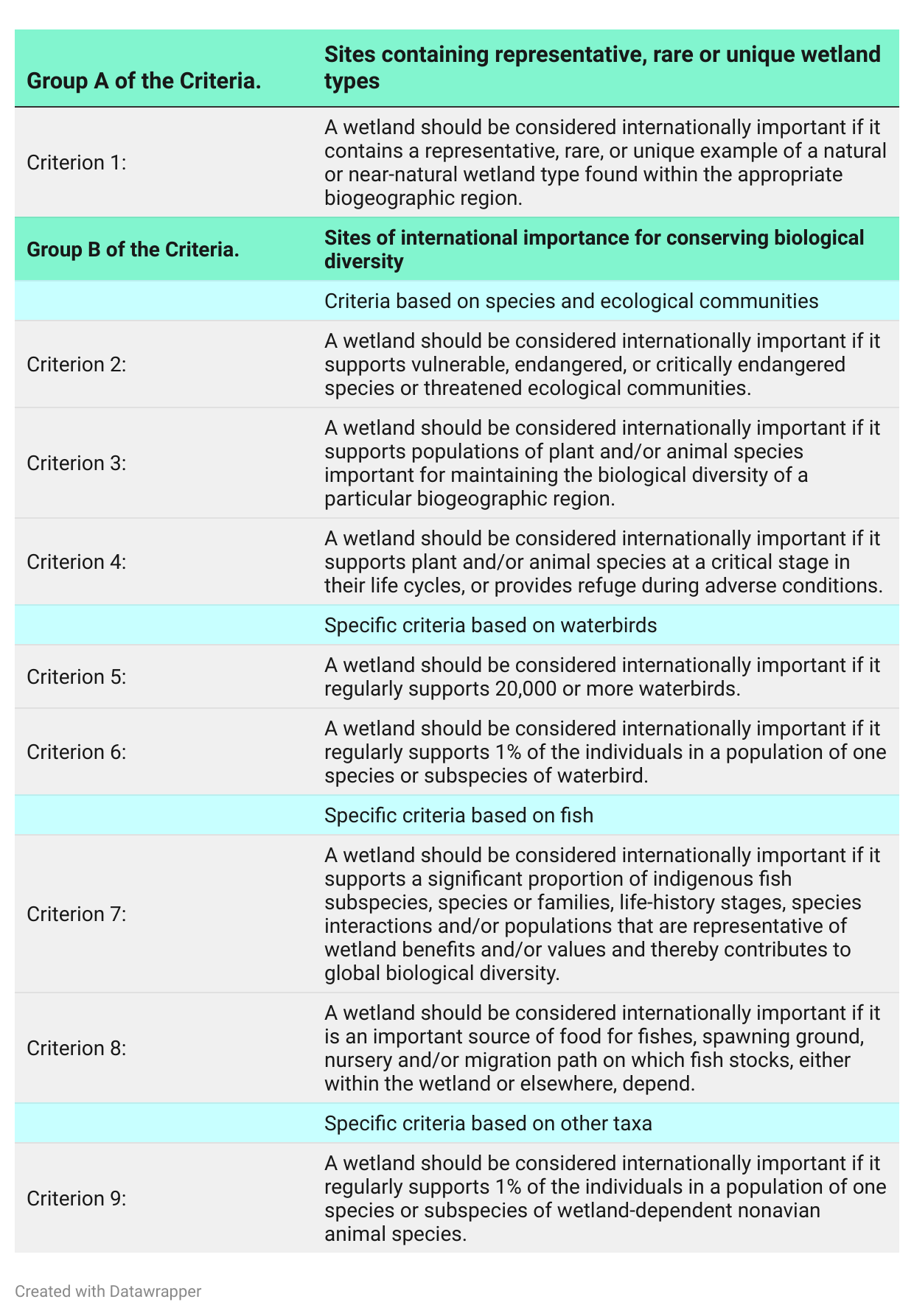 How many Ramsar sites are there around the world?
There are 2,416 Ramsar sites around the world with most sites being in the United Kingdom (175) and Mexico (142). The largest area under the Convention protection is in Bolivia with 148,000 square km area designated.
The world's first site was the Cobourg Peninsula in Australia, designated in 1974. The largest sites are Rio Negro in Brazil (120,000 square kilometres), and Ngiri-Tumba-Maindombe in the Democratic Republic of Congo.
When did the convention enter into force in India?
The convention entered into force in India on February 1, 1982. Chilika Lake in Orissa and Keoladeo National Park in Rajasthan were the first two sites designated by the convention.
How many Ramsar sites does India have and what are their names?
India currently has 42 sites designated as Wetlands of International Importance (Ramsar Sites), with a total surface area of 1,081,438 hectares. The names of these wetlands with the year of designation and the area they occupy in hectares are provided in the table below.
RAMSAR WETLANDS SITES
Sl. No.

Name of Site

State Location

Date of Declaration

Area
(in Sq. km.)

1

Asan Conservation Reserve

Uttarakhand

21.7.2020

4.444

2

Asthamudi Wetland

Kerala

19.8.2002

614

3

Beas Conservation Reserve

Punjab

26.9.2019

64.289

4

Bhitarkanika Mangroves

Orissa

19.8.2002

650

5

Bhoj Wetlands

Madhya Pradesh

19.8.2002

32.01

6

Chandertal Wetland

Himachal Pradesh

8.11.2005

0.49

7

Chilka Lake

Orissa

1.10.1981

1165

8

Deepor Beel

Assam

19.8.2002

40

9

East Kolkata Wetlands

West Bengal

19.8.2002

125

10

Harike Lake

Punjab

23.3.1990

41

11

Hokera Wetland

Jammu and Kashmir

8.11.2005

13.75

12

Kabartal Wetland

Bihar

21.07.2020

26.20

13

Kanjli Lake

Punjab

22.1.2002

1.83

14

Keoladeo Ghana NP

Rajasthan

1.10.1981

28.73

15

Keshopur-Miani Community Reserve

Punjab

26.9.2019

3.439

16

Kolleru Lake

Andhra Pradesh

19.8.2002

901

17

Loktak Lake

Manipur

23.3.1990

266

18

Lonar Lake

Maharashtra

22.7.2020

4.27

19

Nalsarovar Bird Sanctuary

Gujarat

24.09.2012

120

20

Nandur Madhameshwar

Maharashtra

21.6.2019

14.37

21

Nangal Wildlife Sanctuary

Punjab

26.9.2019

1.16

22

Nawabganj Bird Sanctuary

Uttar Pradesh

19.9.2019

2.246

23

Parvati Agra Bird Sanctuary

Uttar Pradesh

2.12.2019

7.22

24

Point Calimere Wildlife and Bird Sanctuary

Tamil Nadu

19.8.2002

385

25

Pong Dam Lake

Himachal Pradesh

19.8.2002

156.62

26

Renuka Wetland

Himachal Pradesh

8.11.2005

0.2

27

Ropar Lake

Punjab

22.1.2002

13.65

28

Rudrasagar Lake

Tripura

8.11.2005

2.4

29

Saman Bird Sanctuary

Uttar Pradesh

2.12.2019

52.63

30

Samaspur Bird Sanctuary

Uttar Pradesh

3.10.2019

79.94

31

Sambhar Lake

Rajasthan

23.3.1990

240

32

Sandi Bird Sanctuary

Uttar Pradesh

26.9.2019

30.85

33

Sarsai Nawar Jheel

Uttar Pradesh

19.9.2019

16.13

34

Sasthamkotta Lake

Kerala

19.8.2002

3.73

35

Sunderbans Wetland

West Bengal

30.1.2019

4230

36

Surinsar-Mansar Lakes

Jammu and Kashmir

8.11.2005

3.5

37

Sur Sarovar

Uttar Pradesh

21.8.2020

4.31

38

Tso Kar Wetland Complex

Ladakh

17.11.2020

95.77

39

Tsomoriri Lake

Jammu and Kashmir

19.8.2002

120

40

Upper Ganga River
(Brijghat to Narora Stretch)

Uttar Pradesh

8.11.2005

265.9

41

Vembanad Kol Wetland

Kerala

19.8.2002

1512.5

42

Wular Lake

Jammu & Kashmir

23.3.1990

189
(Source: Ministry of Environment & Forests, Government of India)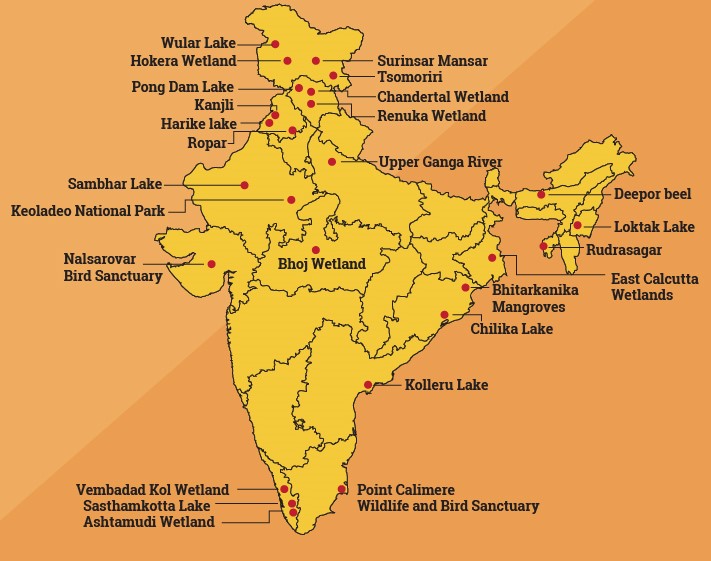 What is the year-wise distribution of the Ramsar sites designated in India?
With the designation of 13 sites, the maximum number of recognition of Ramsar sites occurred in the year 2002, followed by 2019, which observed the designation of 11 sites.
In which states are these Ramsar sites are located?
19 out of 28 states and union territories in India have the designated Ramsar sites.
By the number of sites, maximum of the Ramsar sites are in Uttar Pradesh , home to eight sites. By area, West Bengal (having 4,35,500 hectares of sites) has the maximum area of Ramsar sites, while Uttarakhand (having 444 hectares) has the least area occupied by the Ramsar sites.
Although Uttar Pradesh has the maximum number of sites, they occupy only 29,763 hectares of area in the state. On the other hand, only two sites-- Sunderban Wetlands and East Calcutta Wetlands-- occupy a huge area of in West Bengal.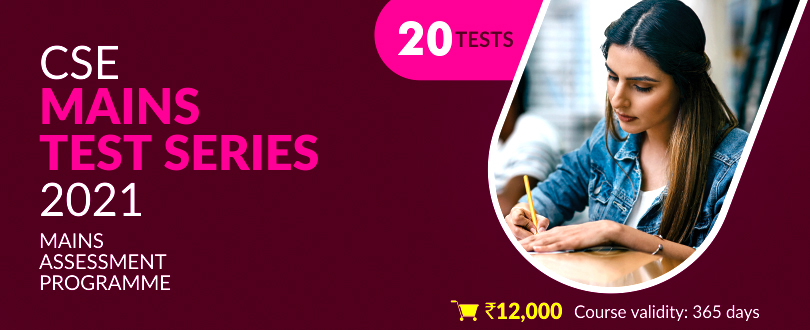 Is there any distribution of these sites based on the type of wetlands?
The definition of wetlands included in the Convention is deliberately broad, encompassing "areas of marshes, fen, peatland or water, whether natural or artificial, permanent or temporary, with water that is flowing or static, fresh, brackish or salty, including areas of marine water the depth of which at low tide does not exceed six metres". It may also include riparian and coastal zones adjacent to the wetlands, and islands or bodies of marine water deeper than six meters at low tide lying within the wetlands. These characteristics form the basis for classifying different wetland types contained in the `Ramsar Classification of Wetland Type'.
The Ramsar Classification of Wetland Type currently in use, was adopted by the Conference of the Parties in 1990. It divides wetlands into three main categories, namely: marine and coastal wetlands, inland wetlands, and man-made wetlands. The categories have further subdivisions which gives a total of 40 wetland types.
Based on the wetland types, out of India's 42 Ramsar sites, 33 are inland wetlands, while 20 are human-made and eight wetlands are marine or coastal wetlands. In many wetlands the type overlaps like Kolleru Lake in Andhra Pradesh is an inland, marine and a human-made wetland.
What ecosystem services do these Ramsar sites provide?
Wetlands provide a range of benefits and functions for people and the environment. The multifunctional nature of wetlands has been conceptualised in the Millennium Ecosystem Assessment's 'wetland ecosystem services', which stresses how they contribute to human well-being and poverty alleviation.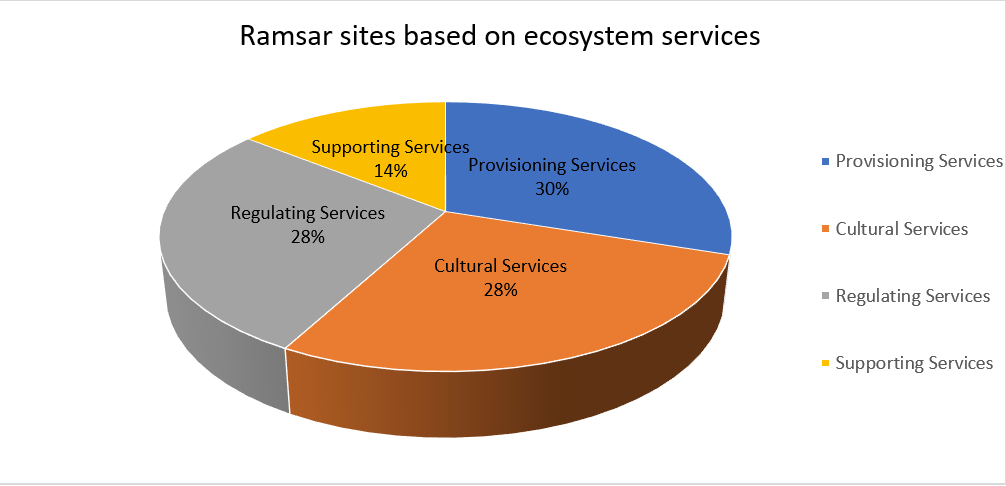 These services are divided into four categories broadly—provisioning, regulating, cultural and spiritual.
The examples of these services are given in the table below.
| | |
| --- | --- |
| Services | Examples |
| Provisioning | Food, freshwater, fibre, fuel, medicinal, genetic |
| Regulating | Climate regulation, water regulation (hydrological flows), water purification and waste treatment, erosion control, natural hazard protection, pollination |
| Cultural | Spiritual and inspirational, Recreational, Aesthetic, Educational |
| Supporting | Soil formation, nutrient cycling |
What are the threats to these sites?
Wetlands are among the most threatened ecosystems in the world. These ecosystems encounter both natural and human threats. The natural threats arise from inevitable naturally occurred processes that have the potential to damage wetlands like flooding, land subsidence, soil erosion, and drought.To expand their economic benefits, humans have extensively reclaimed natural wetlands, and thus pose a threat to the existence of wetlands. Land conversion, discharge of hazardous wastes, unsustainable ecotourism, the introduction of alien species are some of the human threats to wetlands.
Human settlements, agriculture and aquaculture, pollution and natural system modification mostly threaten the Ramsar sites in India. The other threats to these sites include invasive and other problematic species and genes; biological resource use; human intrusions and disturbance; transportation and service corridors; climate change and severe weather; energy production and mining; and geological events.
It is in response to these threats to the ecological character of wetlands that the Ramsar Convention was formed. The Convention has laid guidance to Contracting Parties on the management of Ramsar Sites, in addition to its guidance on the wise use of all wetlands. The inclusion of a wetland in the List embodies the government's commitment to take the steps necessary to ensure that its ecological character is maintained.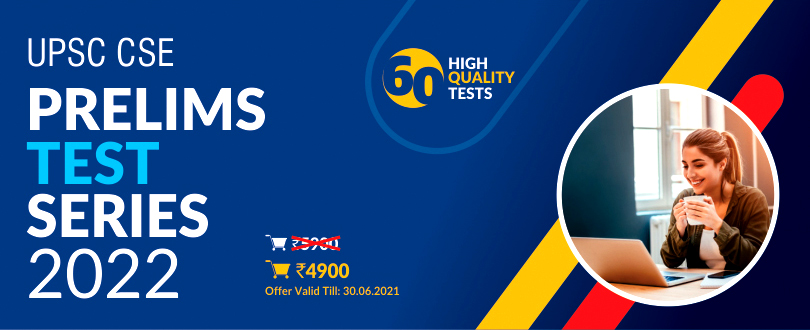 Is there any other designation given to these sites?
Yes. Keoladeo National Park and Loktak Lake are listed in Montreux record, which is a register of wetland sites on the List of Wetlands of International Importance where changes in ecological character have occurred, are occurring, or are likely to occur as a result of technological developments, pollution or other human interference. It is maintained as part of the Ramsar List.
In 1990, a technical assistance mechanism, the Ramsar Advisory Mission was adopted with an aim to provide assistance to developed and developing countries alike in solving the problems or threats that make inclusion in the Montreux Record necessary. But over the years the missions have tended to become more formal and frequently more detailed, involving multi-disciplinary teams, sometimes in collaboration with other bodies such as the World Heritage Convention, the World Conservation Union (IUCN), and the UNESCO Man and the Biosphere Programme. Keoladeo National Park and Chilka lake are the two Ramsar sites in India that are part of the Mission. The Keoladeo National Park along with Sunderban Wetland are also a World Heritage site, while the latter is a UNESCO Biosphere Reserve as well.
The Ramsar Convention works closely with six other organisations known as
International Organization Partners (IOPs). These are:
Birdlife International.
International Union for Conservation of Nature (IUCN).
International Water Management Institute (IWMI).
Wetlands International.
WWF International.
Wildfowl & Wetlands Trust (WWT).