INTERVIEW TRANSCRIPT OF ARPIT JAIN AIR 279, UPSC CSE 2020
INTERVIEW TRANSCRIPT OF ARPIT JAIN AIR 279, UPSC CSE 2020
Recently, UPSC declared the civil services 2020 final result. First of all, Congratulations to all selected students of APTI PLUS family in UPSC CSE 2020, Always ahead in Eastern India. Here we are sharing the interview transcript of one of our successful students, Arpit Jain who secured AIR 279 in UPSC CSE 2020.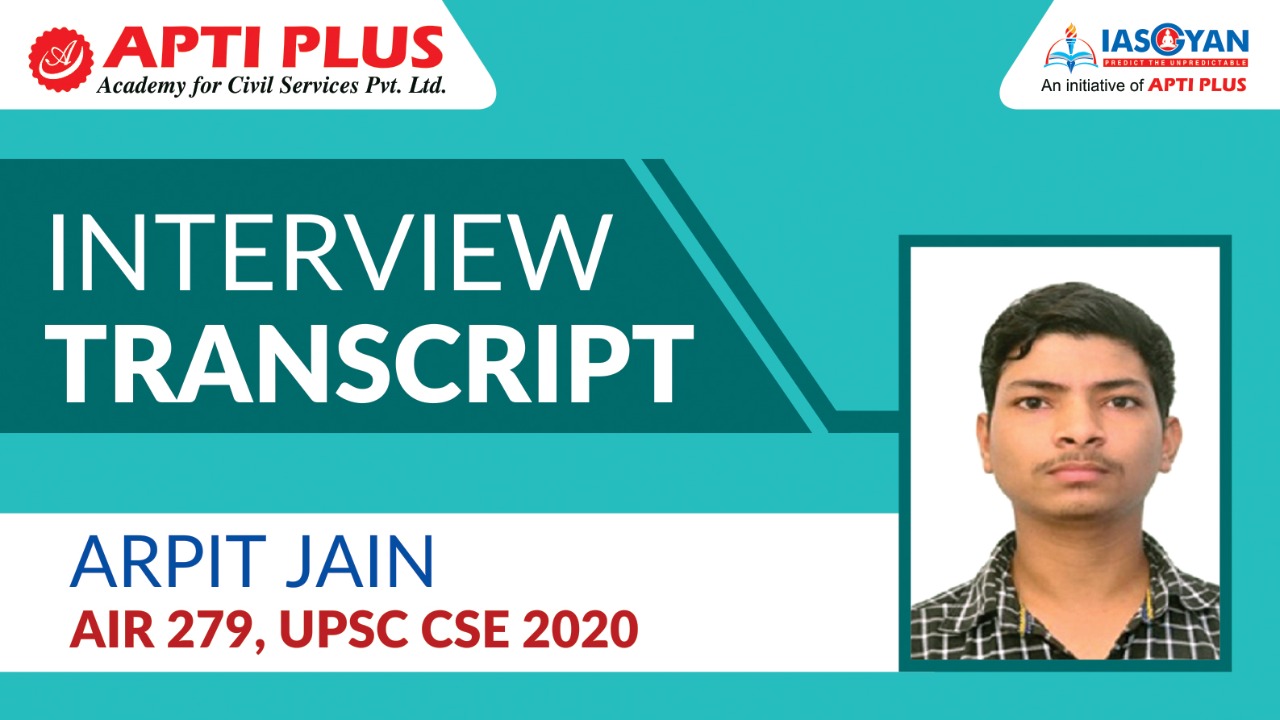 Testimonial: https://youtu.be/IotsBsaaQts
Apti Plus Mock Interview: https://youtu.be/baN7I50O_Ac
Name: Arpit Jain AIR 279 UPSC CSE 2020
Board: Vyas Sir
Date: 26 August 2021 Forenoon 2nd to go
Time: Around 25 mins
Background: Mechanical Engineering UP
Optional: Mechanical Engineering
Questions:
What are u doing since graduation ? only preparation? ( sir selected in engineering services . oh good)
What are the wars we fought and what we learn from them?
Schemes of Government of India in agriculture in recent times.
Fame scheme and difference between Fame I and Fame II.
Challenges with electric vehicles.
What do u mean by green and efficient mobility?
Why greenhouse gases are called greenhouse gases?
If no GHG then what will temperature of earth
How GHG traps heat?
Wavelength range of sunlight.
Chemical weapon convention
OPCW and function
Why India's presence is required in Africa?
What basic things a human being needs for his survival.
How jal jeevan mission different from previous ones?
Challenges in its implementation.
Waste to energy plants? how funds will be arranged? Govt. incentives?
Carbon credits and trading?
Power purchasing agreements.
Why bank nationalisation is required? what are those neglected sectors?
Remarks: No questions from DAF, Hobbies, very supportive and cordial board.
Notification says that, 'The object of the interview is to assess the personal suitability of the candidate for a career in public service. The test is intended to judge the mental calibre of a candidate. In broad terms this is really an assessment of not only his intellectual qualities but also social traits and his interest in current affairs. Some of the qualities to be judged are mental alertness, critical powers of assimilation, clear and logical exposition, balance of judgement, variety and depth of interest, ability for social cohesion and leadership, intellectual and moral integrity. It is not intended to be a test either of the specialised or general knowledge of the candidates which has been already tested through their written papers. Candidates are expected to have taken an intelligent interest not only in their special subjects of academic study but also in the events which are happening around them both within and outside their own State or Country as well as in modern currents of thought and in new discoveries which should rouse the curiosity of well-educated youth'.
The purpose of this interview transcript is to give the aspirants an idea about the type of questions that are asked in the actual interview so that they not only prepare themselves mentally but also practice these with utmost sincerity in front of the mirror and record it so that they can work on their weaknesses.
WHY APTI PLUS ACADEMY IS CONSIDERED AS A LEADING INSTITUTE FOR CSE INTERVIEW PREPARATION?
APTI PLUS ACADEMY provides Interview Guidance Program for Free.
APTI PLUS Academy conducts mock interviews in an ambiance which is akin to the actual UPSC interview, where the esteemed panel members consisting of senior retired bureaucrats, personality experts and eminent professors assess the aspirants critically on grounds of personality, general knowledge and ethical standards.
The panel guides the aspirants on the major shortcomings and suggests ways to overcome them.
Post interview performance analysis is conducted by the panel members.
The recorded videos of the Interview sessions are provided to the aspirants for self-evaluation and analysis of performance.
Based on the performance of the Mock Interviews valuable suggestions and a thorough feedback is provided to the aspirants by the panel members.
Video recordings of mock interviews of successful aspirants are made available on various social media platform.
The academy also posts interview transcripts of various successful candidates on its blog.
Further, webinar sessions of successful candidates who scored good marks in interview are regularly organised to mentor the budding aspirants and clear their doubts.

Free DAF analysis and free interview material are also provided. To get questionnaire on DAF send DAF to

[email protected]

INTERVIEW MATERIALS: High-quality revolutionized learning modules that have been rigorously designed to ensure that you ace the interview.
LIST OF QUALIFIED ASPIRANTS:
JIVANI KARTIK NAGJIBHAI - AIR- 8
PULKIT SINGH - AIR- 26
PRAKHAR KUMAR SINGH - AIR- 29
RALLAPALLI JAGAT SAI - AIR- 32
NARWADE VINAYAK KARBHARI - AIR- 37
JUBIN MOHAPATRA - AIR- 46
Jayant Nahata - AIR- 56
JAYANT SINGH RATHORE - AIR- 59
VASU JAIN - AIR- 67
APURVA TRIPATHI - AIR- 68
KALPESH KUMAR SHARMA - AIR- 73
Ayushi jain - AIR- 85
CHALLAPALLE YASWANTH KUMAR REDDY- AIR- 93
RISHABH KUMAR REWAR - AIR- 104
SHUBHANK MISHRA - AIR- 107
ANSHUL JAIN - AIR- 122
AVHAD NIVRUTTI SOMNATH - AIR- 166
ASHISH GANGWAR- AIR- 188
NAMAN KUMAR - AIR- 197
PRATIBHA DAHIYA - AIR- 214
SHUBHAM BAJAJ - AIR- 232
ARPIT SANGAL- AIR- 239
Nitish Rajora - AIR- 268
ARPIT JAIN - AIR- 279
RISHABH RUNWAL- AIR- 281
C B REX - AIR- 293
INDRASHIS DATTA- AIR- 318
ABHISHEK SAINI - AIR- 327
Pallavi Verma - AIR- 340
KIRITHIKA CM - AIR- 382
GIRDHARI LAL MEENA - AIR- 387
UMESH KUMAR - AIR- 397
MAHATO AMITKUMAR SIDHIPRASAD - AIR- 416
VIKAS MAHATO- AIR- 446
BABITARANI SWAIN - AIR- 464
VRUSHTI JAIN - AIR- 484
Tushar Anand - AIR- 486
YADAV SURYABHAN ACHCHHELAL - AIR- 488
SUNNY RAJ - AIR- 500
HARISH JAIN - AIR- 503
MANPREET SINGH SUDAN - AIR- 506
YADAV RANJIT MOHAN - AIR- 513
PAWAR BANKESH BABARAO - AIR- 516
Ravi Meena - AIR- 518
KISHLAY KUSHWAHA- AIR- 526
SYED ZAHED ALI - AIR- 569
MOHAMED RISWIN I - AIR- 589
Swathika R P - AIR- 593
YOGESH MANDHAIYA - AIR- 637
VISHAL CHAUDHARY - AIR- 665
VIKAS MEENA - AIR- 720
MADKE PIYUSH SUDHAKAR - AIR- 732
PRIYANSHU KHATI - AIR- 745