COMPLETE LIST OF GEOGRAPHICAL INDICATIONS (GI) TAGS IN INDIA (AS OF 2021)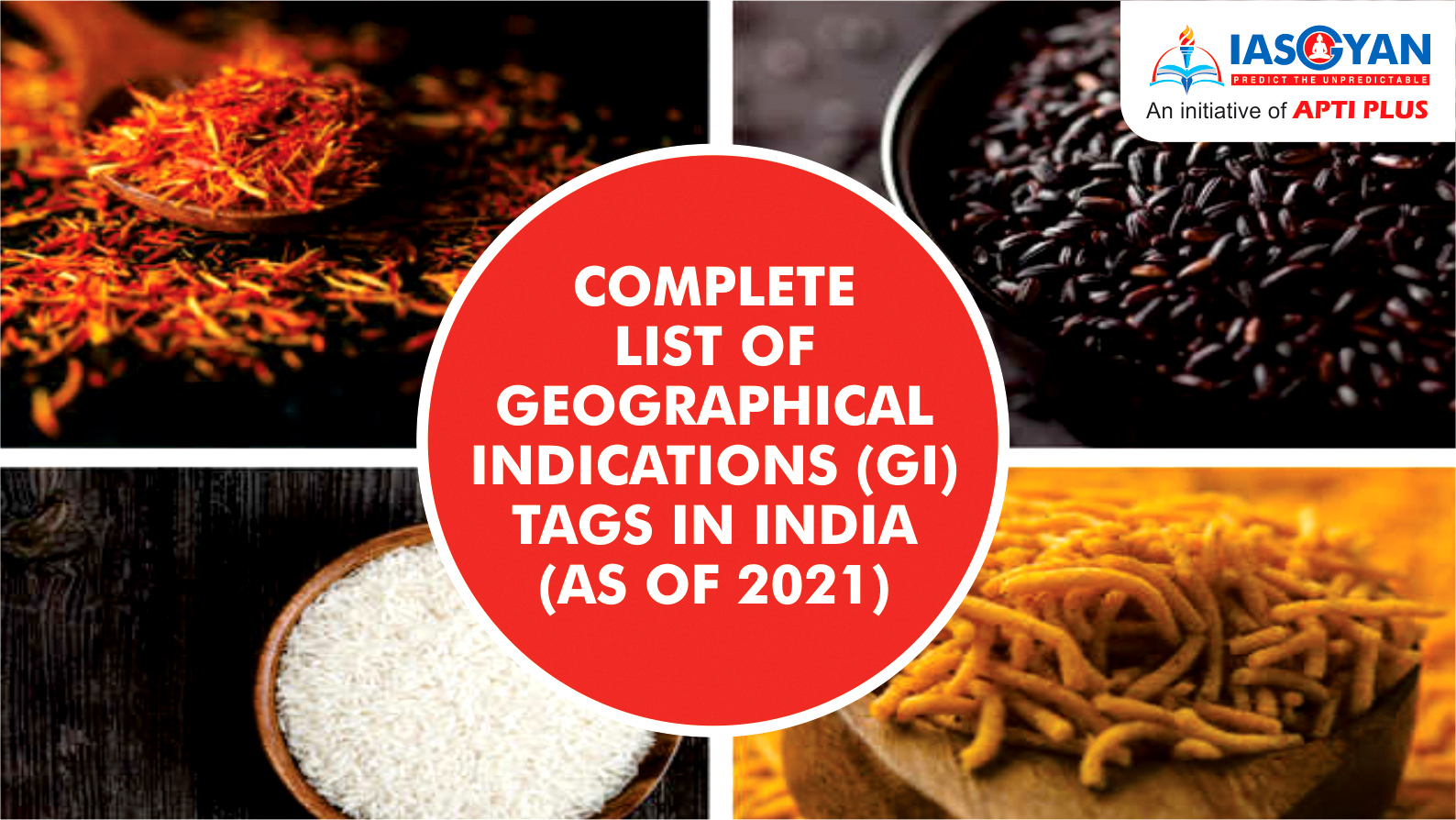 GI Tag
A geographical indication or GI is a sign used on products that have a specific geographical origin and possess qualities or a reputation that are due to that origin.
Geographical Indications are part of the intellectual property rights that comes under the Paris Convention for the Protection of Industrial Property.
In India, Geographical Indications registration is administered by the Geographical Indications of Goods (Registration and Protection) Act of 1999.
This tag is valid for a period of 10 yearsfollowing which it can be renewed.
GI tags are covered under World Trade Organization.
Geographical indications are typically used for agricultural products, foodstuffs, wine and spirit drinks, handicrafts, and industrial products.
It is basically an assurance that the product is coming from that specific area. It's kind of trademark in the international market.
Karnataka has the highest number of GI tags i.e. 47products followed by Tamil Nadu (39).
Benefits of registration of Geographical Indications
It confers legal protection to Geographical Indications in India
Prevents unauthorised use of a Registered Geographical Indication by others
It provides legal protection to Indian Geographical Indications which in turn boost exports.
It promotes economic prosperity of producers of goods produced in a geographical territory.
How a geographical indication is different from a trade mark?
A trade mark is a sign which is used in the course of trade and it distinguishes goods or services of one enterprise from those of other enterprises.
Whereas a geographical indication is an indication used to identify goods having special characteristics originating from a definite geographical territory.
S. No

Geographical Indications

Goods

State

APRIL 2004 – MARCH 2005

1

Darjeeling Tea (word
& logo)

Agricultural

West Bengal

2

Aranmula Kannadi

Handicraft

Kerala

3

Pochampalli Ikat

Handicraft

Telangana

APRIL 2005 – MARCH 2006

4

Salem Fabric

Handicraft

Tamil Nadu

5

Chanderi Sarees

Handicraft

Madhya Pradesh

6

Solapur Chaddar

Handicraft

Maharashtra

7

Solapur Terry Towel

Handicraft

Maharashtra

8

Kotpad Handloom fabric

Handicraft

Odisha

9

Mysore Silk

Handicraft

Karnataka

10

Kota Doria

Handicraft

Rajasthan

11

Mysore Agarbathi

Manufactured

Karnataka

12

Kancheepuram Silk

Handicraft

Tamil Nadu

13

Bhavani Jamakkalam

Handicraft

Tamil Nadu

14

Kullu Shawl

Handicraft

Himachal Pradesh

15

Bidriware

Handicraft

Karnataka

16

Madurai Sungudi

Handicraft

Tamil Nadu

17

Orissa Ikat

Handicraft

Odisha

18

Channapatna Toys &
Dolls

Handicraft

Karnataka

19

Mysore Rosewood Inlay

Handicraft

Karnataka

20

Kangra Tea

Agricultural

Himachal Pradesh

21

Coimbatore Wet Grinder

Manufactured

Tamil Nadu

22

Srikalahasthi Kalamkari

Handicraft

Andhra Pradesh

23

Mysore Sandalwood Oil

Manufactured

Karnataka

24

Mysore Sandal soap

Manufactured

Karnataka
25

Kasuti Embroidery

Handicraft

Karnataka

26

Mysore Traditional
Paintings

Handicraft

Karnataka

27

Coorg Orange

Agricultural

Karnataka

APRIL 2006 – MARCH 2007

28

Mysore Betel leaf

Agricultural

Karnataka

29

Nanjanagud Banana

Agricultural

Karnataka

30

Madhubani Paintings

Handicraft

Bihar

APRIL 2007 – MARCH 2008

31

Kondapalli Bommallu

Handicraft

Andhra Pradesh

32

Thanjavur Paintings

Handicraft

Tamil Nadu

33

Silver Filigree of
Karimnagar

Handicraft

Telangana

34

Alleppey Coir

Handicraft

Kerala

35

Muga Silk of Assam

Handicraft

Assam

36

Temple Jewellery of
Nagercoil

Handicraft

Tamil Nadu

37

Mysore Malligae

Agricultural

Karnataka

38

Udupi Malligae

Agricultural

Karnataka

39

Hadagali Malligae

Agricultural

Karnataka

40

Navara Rice

Agricultural

Kerala

41

Palakkadan Matta Rice

Agricultural

Kerala

42

Thanjavur Art Plate

Handicraft

Tamil Nadu

43

Ilkal Sarees

Handicraft

Karnataka

44

Applique (Khatwa)
Work of Bihar

Handicraft

Bihar

45

Sujini Embroidery
Work of Bihar

Handicraft

Bihar

46

Sikki Grass Products
of Bihar

Handicraft

Bihar

47

Malabar Pepper

Agricultural

India (Kerala, Karnataka & Tamilnadu)

48

Allahabad Surkha
Guava

Agricultural

Uttar Pradesh

49

Nakshi Kantha

Handicraft

West Bengal

50

Ganjifa Cards of Mysore

Handicraft

Karnataka

51

Navalgund Durries

Handicraft

Karnataka
52

Karnataka Bronzeware

Handicraft

Karnataka

53

Molakalmuru Sarees

Handicraft

Karnataka

54

Monsooned Malabar
Arabica Coffee

Agricultural

India (Karnataka
& Kerala)

55

Monsooned Malabar
Robusta Coffee

Agricultural

India (Karnataka
& Kerala)

56

Alleppey Green Cardamom

Agricultural

India (Kerala & Tamilnadu)

57

Coorg Green Cardamom

Agricultural

Karnataka

58

East India Leather

Manufactured

Tamil Nadu

59

Salem Silk known as
Salem Venpattu

Handicraft

Tamil Nadu

60

Kovai Kora Cotton Sarees

Handicraft

Tamil Nadu

61

Arani Silk

Handicraft

Tamil Nadu

APRIL 2008 – MARCH 2009

62

Bastar Dhokra

Handicraft

Chattisgarh

63

Bastar Wooden Craft

Handicraft

Chattisgarh

64

Nirmal Toys and Craft

Handicraft

Telangana

65

Maddalam of Palakkad

Handicraft

Kerala

66

Screw Pine Craft of Kerala

Handicraft

Kerala

67

Swamimalai Bronze Icons

Handicraft

Tamil Nadu

68

Bastar Iron Craft

Handicraft

Chattisgarh

69

Konark Stone carving

Handicraft

Odisha

70

Orissa Pattachitra

Handicraft

Odisha

71

Machilipatnam

Kalamkari

Handicraft

Andhra Pradesh

72

Eathomozhy Tall Coconut

Agricultural

Tamil Nadu

73

Brass Broidered Coconut Shell Crafts of Kerala

Handicraft

Kerala

74

Blue Pottery of Jaipur

Handicraft

Rajasthan

75

Molela Clay Work

Handicraft

Rajasthan

76

Kathputlis of Rajasthan

Handicraft

Rajasthan

77

Leather Toys of Indore

Handicraft

Madhya Pradesh

78

Bagh Prints of Madhya Pradesh

Handicraft

Madhya Pradesh
79

Sankheda Furniture

Handicraft

Gujarat

80

Agates of Cambay

Handicraft

Gujarat

81

Bell Metal Ware of
Datia and Tikamgarh

Handicraft

Madhya Pradesh

82

Kutch Embroidery

Handicraft

Gujarat

83

Kani Shawl

Handicraft

Jammu & Kashmir

84

Chamba Rumal

Handicraft

Himachal Pradesh

85

Dharwad Pedha

Food stuff

Karnataka

86

Pokkali Rice

Agricultural

Kerala

87

Pipli Applique Work

Handicraft

Odisha

88

Budithi Bell & Brass
Metal Craft

Handicraft

Andhra Pradesh

89

Thanjavur Doll

Handicraft

Tamil Nadu

90

Santiniketan Leather Goods

Handicraft

West Bengal

91

Nirmal Furniture

Handicraft

Telangana

92

Nirmal Paintings

Handicraft

Telangana

93

Andhra Pradesh
Leather Puppetry

Handicraft

Andhra Pradesh

94

Malda Laxman Bhog Mango

Agricultural

West Bengal

95

Malda Khirsapati
(Himsagar) Mango

Agricultural

West Bengal

96

Malda Fazli Mango

Agricultural

West Bengal

97

Kashmir Pashmina

Handicraft

Jammu & Kashmir

98

Kashmir Sozani Craft

Handicraft

Jammu & Kashmir

99

Naga Mircha

Agricultural

Nagaland

100

Nilgiri (Orthodox)

Agricultural

Tamil Nadu

101

Assam (Orthodox)

Agricultural

Assam

102

Lucknow Chikan Craft

Handicraft

Uttar Pradesh

103

Virupakshi Hill Banana

Agricultural

Tamil Nadu

104

Sirumalai Hill Banana

Agricultural

Tamil Nadu

105

Feni

Manufactured

Goa

106

Uppada Jamdani Sarees

Handicraft

Andhra Pradesh
APRIL 2009 – MARCH 2010

107

Tirupathi Laddu

Food stuff

Andhra Pradesh

108

Mango Malihabadi Dusseheri

Agricultural

Uttar Pradesh

109

Puneri Pagadi

Handicraft

Maharashtra

110

Banaras Brocades and Sarees

Handicraft

Uttar Pradesh

111

Tangaliya Shawl

Handicraft

Gujarat

112

Vazhakulam Pineapple

Agricultural

Kerala

113

Devanahalli Pomello

Agricultural

Karnataka

114

Appemidi Mango

Agricultural

Karnataka

115

Kamalapur Red Banana

Agricultural

Karnataka

116

Santipore Saree

Handicraft

West Bengal

117

Cannanore Home Furnishings

Handicraft

Kerala

118

Peruvian Pisco

Manufactured

Peru

119

Sanganeri Hand Block Printing

Handicraft

Rajasthan

120

Balaramapuram Sarees and
Fine Cotton Fabrics

Handicraft

Kerala

APRIL 2010– MARCH 2011

121

Bikaneri Bhujia

Food Stuff

Rajasthan

122

Guntur Sannam Chilli

Agricultural

Andhra Pradesh

123

Nashik Valley Wine

Manufactured

Maharashtra

124

Gadwal Sarees

Handicraft

Telangana

125

Kinnauri Shawl

Handicraft

Himachal Pradesh

126

Kasaragod Sarees

Handicraft

Kerala

127

Kuthampully Sarees

Handicraft

Kerala

128

Sandur Lambani Embroidery

Handicraft

Karnataka

129

Hand Made Carpet of Bhadohi

Handicraft

Uttar Pradesh

130

Paithani Sarees and Fabrics

Handicraft

Maharashtra

131

Mahabaleshwar Strawberry

Agricultural

Maharashtra

132

Hyderabad Haleem

Food Stuff

Telangana
133

Champangne

Manufactured

France

134

Napa Valley

Manufactured

United States of America

135

Central Travancore
Jaggery

Agricultural

Kerala

136

Champa Silk Saree
And Fabrics

Handicraft

Chhattisgarh

137

Wayanad Jeerakasala Rice

Agricultural

Kerala

138

Wayanad Gandhakasala Rice

Agricultural

Kerala

139

Kota Doria (Logo)

Handicraft

Rajasthan

140

Nashik Grapes

Agricultural

Maharashtra

141

Surat Zari Craft

Handicraft

Gujarat

142

Cheriyal Paintings

Handicraft

Telangana

143

Pembarthi Metal Craft

Handicraft

Telangana

144

Payyannur Pavithra Ring

Handicraft

Kerala

145

Phulkari

Handicraft

India (Punjab, Haryana &Rajasthan)

146

Khandua Saree and Fabrics

Handicraft

Odisha

147

Byadagi Chilli

Agricultural

Karnataka

148

Scotch Whisky

Manufactured

United Kingdom

149

Prosciutto di Parma

Food Stuff

Italy

APRIL 2011 – MARCH 2012

150

Bagru Hand Block Print

Handicraft

Rajasthan

151

Venkatagiri Sarees

Handicraft

Andhra Pradesh

152

Gir Kesar Mango

Agricultural

Gujarat

153

Bhalia Wheat

Agricultural

Gujarat

154

Villianur Terracotta
Works

Handicraft

Pondicherry

155

Tirukanur Papier
Mache Craft

Handicraft

Pondicherry

156

Cognac

Manufactured

France

157

Kachchh Shawls

Handicraft

Gujarat

158

Udupi Mattu Gulla Brinjal

Agricultural

Karnataka

159

Baluchari Saree

Handicraft

West Bengal
160

Dhaniakhali Saree

Handicraft

West Bengal

161

Kashmir Paper Machie

Handicraft

Jammu & Kashmir

162

Kashmir Walnut Wood Carving

Handicraft

Jammu & Kashmir

163

Bobbili Veena

Handicraft

Andhra Pradesh

164

Khatamband

Handicraft

Jammu & Kashmir

165

Kinhal Toys

Handicraft

Karnataka

166

Chendamangalam Dhoties
& Set Mundu

Handicraft

Kerala

167

Porto

Manufactured

Portugal

168

Douro

Manufactured

Portugal

169

Gopalpur Tussar Fabrics

Handicraft

Odisha

170

Siddipet Gollabama

Handicraft

Telangana

171

Ganjam Kewda Rooh

Manufactured

Odisha

172

Ganjam Kewda Flower

Agricultural

Odisha

APRIL 2012 – MARCH 2013

173

Maheshwar Sarees & Fabrics

Handicraft

Madhya Pradesh

174

Dhalapathar Parda & Fabrics

Handicraft

Odisha

175

Sambalpuri Bandha
Saree & Fabrics

Handicraft

Odisha

176

Bomkai Saree & Fabrics

Handicraft

Odisha

177

Habaspuri Saree & Fabrics

Handicraft

Odisha

178

Berhampur Patta (Phoda
Kumbha) Saree & Joda

Handicraft

Odisha

179

Bhagalpur Silk

Handicraft

Bihar

180

Mangalagiri Sarees and Fabrics

Handicraft

Andhra Pradesh

181

Madurai Malli

Agricultural

Tamil Nadu

182

Tequila

Manufactured

Mexico

183

Pattamadai Pai
("Pattamadai Mat")

Handicraft

Tamil Nadu

184

Nachiarkoil Kuthuvilakku
("Nachiarkoil Lamp")

Handicraft

Tamil Nadu

185

Chettinad Kottan

Handicraft

Tamil Nadu
186

Narayanpet Handloom Sarees

Handicraft

Telangana

187

Toda Embroidery

Handicraft

Tamil Nadu

188

Thanjavur Veenai

Handicraft

Tamil Nadu

189

Bangalore Blue Grapes

Agricultural

Karnataka

190

Agra Durrie

Handicraft

Uttar Pradesh

191

Farrukhabad Prints

Handicraft

Uttar Pradesh

192

Lucknow Zardozi

Handicraft

Uttar Pradesh

193

Banaras Brocades and
Sarees (Logo)

Handicraft

Uttar Pradesh

APRIL 2013 – MARCH 2014

194

Kalanamak Rice

Agricultural

Uttar Pradesh

195

Patan Patola

Handicraft

Gujarat

196

Orissa Pattachitra (Logo)

Handicraft

Odisha

197

Bastar Dhokra (Logo)

Handicraft

Chhattisgarh

198

Bell Metal Ware of Datia and Tikamgarh (Logo)

Handicraft

Madhya Pradesh

199

Kaipad Rice

Agricultural

Kerala

200

Kullu ShawL (Logo)

Handicraft

Himachal Pradesh

201

Muga Silk of Assam (Logo)

Handicraft

Assam

202

Firozabad Glass

Handicraft

Uttar Pradesh

203

Kannauj Perfume

Manufactured

Uttar Pradesh

204

Kanpur Saddlery

Handicraft

Uttar Pradesh

205

Moradabad Metal Craft

Handicraft

Uttar Pradesh

206

Saharanpur Wood Craft

Handicraft

Uttar Pradesh

207

Dharmavaram Handloom
Pattu Sarres And Paavadas

Handicraft

Andhra Pradesh

208

Warli Painting

Handicraft

India (Maharashtra,
Gujarat, Dadara Nagar
Haveli,Daman Diu)

209

Kolhapur Jaggery

Agricultural

Maharashtra

210

Thewa Art Work

Handicraft

Rajasthan

211

Shaphee Lanphee

Handicraft

Manipur
212

Wangkhei Phee

Handicraft

Manipur

213

Moirang Phee

Handicraft

Manipur

214

Kangra Paintings

Handicraft

Himachal Pradesh

215

Nagpur Orange

Agricultural

India (Maharashtra &
Madhya Pradesh)

APRIL 2014 – MARCH 2015

216

Leather Toys of Indore (Logo)

Handicraft

Madhya Pradesh

217

Bangalore Rose Onion

Agricultural

Karnataka

218

Meerut Scissors

Manufactured

Uttar Pradesh

219

Khurja Pottery

Handicraft

Uttar Pradesh

220

Naga Tree Tomato

Agricultural

Nagaland

221

Arunachal Orange

Agricultural

Arunachal Pradesh

222

Sikkim Large Cardamom

Agricultural

Sikkim

223

Mizo Chilli

Agricultural

Mizoram

224

Joynagar Moa

Food Stuff

West Bengal

225

Banaras Gulabi Meenakari Craft

Handicraft

Uttar Pradesh

226

Assam Karbi Anglong Ginger

Agricultural

Assam

227

Tripura Queen Pineapple

Agricultural

Tripura

228

Chengalikodan Nendran Banana

Agricultural

Kerala

229

Ratlami Sev

Food Stuff

Madhya Pradesh

230

Tezpur Litchi

Agricultural

Assam

231

Khasi Mandarin

Agricultural

Meghalaya

232

Kachai Lemon

Agricultural

Manipur

233

Makrana Marble

Natural Goods

Rajasthan

234

Varanasi Wooden
Lacquerware & Toys

Handicraft

Uttar Pradesh

235

Mirzapur Handmade Dari

Handicraft

Uttar Pradesh

APRIL 2015 – MARCH 2016

236

Memong Narang

Agricultural

Meghalaya

237

Nizamabad Black Pottery

Handicrafts

Uttar Pradesh
238

Basmati

Agricultural

India (Punjab / Haryana /Himachal Pradesh / Delhi / Uttarkhand / Uttar Pradesh / Jammu & Kashmir)

239

Bagh Prints of Madhya Pradesh
(Logo)

Handicrafts

Madhya Pradesh

240

Sankheda Furniture (Logo)

Handicrafts

Gujarat

241

Kutch Embroidery (Logo)

Handicrafts

Gujarat

242

Karnataka Bronzeware (Logo)

Handicrafts

Karnataka

243

Ganjifa Cards of Mysore (Logo)

Handicrafts

Karnataka

244

Navalgund Durries (Logo)

Handicrafts

Karnataka

245

Thanjavur Art Plate (Logo)

Handicrafts

Tamil Nadu

246

Swamimalai Bronze Icons (Logo)

Handicrafts

Tamil Nadu

247

Temple Jewellery of

Nagercoil (Logo)

Handicrafts

Tamil Nadu

248

Ajara Ghansal Rice

Agricultural

Maharashtra

249

Mangalwedha Jowar

Agricultural

Maharashtra

250

Sindhudurg & Ratnagiri Kokum

Agricultural

Maharashtra

251

Agates of Cambay (Logo)

Handicrafts

Gujarat

252

Guledgudd Khana

Handicrafts

Karnataka

253

Udupi Sarees

Handicrafts

Karnataka

254

Kuthampally Dhoties & Set Mundu

Handicrafts

Kerala

255

Waghya Ghevada

Agricultural

Maharashtra

256

Navapur Tur Dal

Agricultural

Maharashtra

257

Vengurla Cashew

Agricultural

Maharashtra

258

Lasalgaon Onion

Agricultural

Maharashtra

259

Maddalam of Palakkad (Logo)

Handicrafts

Kerala

260

Brass Broidered Coconut Shell Craft of Kerala (Logo)

Handicrafts

Kerala

261

Screw Pine Craft of
Kerala (Logo)

Handicrafts

Kerala
APRIL 2016 – MARCH 2017

262

Sangli Raisins

Agricultural

Maharashtra

263

Parmigiano Reggiano

Manufactured

Italy

264

Banaras Metal

Repouse Craft

Handicrafts

Uttar Pradesh

265

Beed Custard Apple

Agricultural

Maharashtra

266

Jalna Sweet Orange

Agricultural

Maharashtra

267

Uttarakhand Tejpat

Agricultural

Uttarakhand

268

Waigaon Turmeric

Agricultural

Maharashtra

269

Purandar Fig

Agricultural

Maharashtra

270

Jalgaon Bharit Brinjal

Agricultural

Maharashtra

271

Solapur Pomegranate

Agricultural

Maharashtra

272

Kashmiri Hand Knotted Carpet

Handicrafts

Jammu & Kashmir

273

Jamnagari Bandhani

Handicrafts

Gujarat

274

Prosecco

Manufactured

Italy

275

Mysore Silk (Logo)

Handicrafts

Karnataka

276

Varanasi Glass beads

Handicrafts

Uttar Pradesh

277

Asiago

Food Stuff

Italy

278

Bhiwapur Chilli

Agricultural

Maharashtra

279

Ambemohar Rice

Agricultural

Maharashtra

280

Dahanu Gholvad Chikoo

Agricultural

Maharashtra

281

Jalgaon Banana

Agricultural

Maharashtra

282

Marathwada Kesar
Mango

Agricultural

Maharashtra

283

Karvath Kati Sarees & Fabrics

Handicrafts

Maharashtra

284

Applique (Khatwa) Work of Bihar (Logo)

Handicrafts

Bihar

285

Molela Clay Work of Rajasthan (Logo)

Handicrafts

Rajasthan

286

Bandar Laddu

Food Stuff

Andhra Pradesh

287

Joha Rice of Assam

Agricultural

Assam

288

Udayagiri Wooden Cutlery

Handicrafts

Andhra Pradesh

289

Bardhaman Sitabhog

Food Stuff

West Bengal
290

Bardhaman Mihidana

Food Stuff

West Bengal

291

Sikki Grass Products of Bihar (Logo)

Handicrafts

Bihar

292

Sujini Embroidery Work
of Bihar(Logo)

Handicrafts

Bihar

293

Blue Pottery of Jaipur (Logo)

Handicrafts

Rajasthan

294

Kathputlis of Rajasthan (Logo)

Handicrafts

Rajasthan

APRIL 2017 – MARCH 2018

295

Banaganapalle Mangoes

Agricultural

India (Telangana & Andhra Pradesh)

296

Pochampally Ikat (Logo)

Handicrafts

Telangana

297

Gobindobhog Rice

Agricultural

West Bengal

298

Durgi Stone Carvings

Handicrafts

Andhra Pradesh

299

Etikoppaka Toys

Handicrafts

Andhra Pradesh

300

Tulapanji Rice

Agricultural

West Bengal

301

Chakshesang Shawl

Handicrafts

Nagaland

302

Mahabalipuram Stone Sculpture

Handicrafts

Tamil Nadu

303

Banglar Rasogolla

Food Stuff

West Bengal

304

Lamphun Brocade

Thai Silk

Handicrafts

Thailand

305

Nilambur Teak

Agricultural

Kerala

306

Bankura Panchmura
Terracotta Craft

Handicraft

West Bengal

307

Pokaran Pottery

Handicraft

Rajasthan

308

Adilabad Dokra

Handicraft

Telangana

309

Warangal Durries

Handicraft

Telangana

310

Allagadda Stone Carving

Handicraft

Andhra Pradesh

311

Bhagalpuri Zardalu

Agricultural

Bihar

312

Katarni Rice

Agricultural

Bihar

313

Magahi Paan

Agricultural

Bihar

314

Ghazipur Wall-hanging

Handicraft

Uttar Pradesh

315

Varanasi Soft Stone Jali Work

Handicraft

Uttar Pradesh
316

Bengal Dokra

Handicraft

West Bengal

317

Bengal Patachitra

Handicraft

West Bengal

318

Purulia Chau Mask

Handicraft

West Bengal

319

Wooden Mask of Kushmandi

Handicraft

West Bengal

320

Madur kathi

Handicraft

West Bengal

APRIL 2018 – MARCH 2019

321

Jhabua Kadaknath
Black Chicken Meat

Food Stuff

Madhya Pradesh

322

Boka Chaul

Agricultural

Assam

323

Grana Padano

Manufactured

Italy

324

Alphonso

Agricultural

Maharashtra

325

RajKot Patola

Handicraft

Gujarat

326

Shahi Litchi of Bihar

Agricultural

Bihar

327

Sangli Turmeric

Agricultural

Maharashtra

328

Pethapur Printing Blocks

Handicraft

Gujarat

329

Kolhapuri Chappal

Handicraft

India (Karnataka
& Maharashtra)

330

Silao Khaja

Food Stuff

Bihar

331

Coorg Arabica Coffee

Agricultural

Karnataka

332

Wayanaad Robusta

Coffee

Agricultural

Kerala

333

Chikmagalur Arabica Coffee

Agricultural

Karnataka

334

Araku Valley Arabica Coffee

Agricultural

India(Andhra Pradesh & Odisha)

335

Bababudangiris Arabica Coffee

Agricultural

Karnataka

336

Himachali Kala Zeera

Agricultural

Himachal Pradesh

337

Sirsi Supari

Agricultural

Karnataka

338

Himachali Chulli Oil

Manufactured

Himachal Pradesh

339

Chunar Balua Patthar

Natural

Uttar Pradesh

340

Erode Manjal (Erode

Turmeric)

Agricultural

Tamil Nadu

341

Marayoor Jaggery (Marayoor Sharkara)

Agricultural

Kerala
342

Thirubuvanam Silk Sarees

Handicraft

Tamil Nadu

343

Jeeraphool

Agricultural

Chhattisgarh

APRIL 2019 – MARCH 2020

344

Kandhamal Haladi

Agricultural

Odisha

345

Odisha Rasagola

Food Stuff

Odisha

346

Kodaikanal Malai Poondu

Agricultural

Tamil Nadu

347

Pawndum

Handicraft

Mizoram

348

Ngotekherh

Handicraft

Mizoram

349

Hmaram

Handicraft

Mizoram

350

Palani Panchamirtham

Food Stuff

Tamil Nadu

351

Tawlhlohpuan

Handicraft

Mizoram

352

Mizo Puanchei

Handicraft

Mizoram

353

Gulbarga Tur Dal

Agricultural

Karnataka

354

Tirur Betel Leaf (Tirur Vettila)

Agricultural

Kerala

355

Irish Whiskey

Manufactured

Ireland

356

Khola Chilli

Agricultural

Goa

357

Idu Mishmi Textiles

Handicraft

Arunachal Pradesh

358

Dindigul Locks

Manufactured

Tamil Nadu

359

Kandangi Saree

Handicraft

Tamil Nadu

360

Srivilliputtur Palkova

Food Stuff

Tamil Nadu

361

Kaji Nemu

Agricultural

Assam

362

Chokuwa Rice of Assam

Agricultural

Assam

363

Kovilpatti Kadalai Mittai

Food Stuff

Tamil Nadu

364

Chak - Hao

Agricultural

Manipur

365

Gorakhpur Terracotta

Handicraft

Uttar Pradesh

APRIL 2020-Till date

366

Kashmir Saffron

Agricultural

Jammu & Kashmir

367

Thanjavur Pith Works

Handicraft

Tamil Nadu
| | | | |
| --- | --- | --- | --- |
| 368 | Arumbavur Wood Carvings | Handicraft | Tamil Nadu |
| 369 | Telia Rumal | Handicraft | Telangana |
| 370 | Sohrai – Khovar Painting | Handicraft | Jharkhand |
STATEWISE LIST OF GI TAGS IN INDIA
Uttar Pradesh
Allahabad Surkha Guava (Agriculture)
Lucknow Chikan Craft (Handicraft)
Malihabadi Dusseheri mango (Agriculture)
Banaras Brocades and Sarees (Handicraft)
Hand Made Carpet of Bhadohi (Handmade carpet)
Agra Durrie (Handicraft)
Farrukhabad Prints (Handicraft)
Lucknow Zardozi (Handicraft)
Banaras Brocades and Sarees (Logo) (Handicraft)
Kalanamak Rice (Agriculture)
Firozabad Glass (Handicraft)
Kannauj Perfume (Produced)
Kanpur Saddlery (Produced)
Moradabad Metal Craft (Handicraft)
Saharanpur Wood Craft (Handicraft)
Meerut Scissors (Manufactured)
Khurja Pottery (Handicraft)
Banaras Gulabi Meenakari Craft (Handicraft)
Varanasi Wooden Lacquerware & Toys (Handicraft)
Mirzapur Handmade Dari (Handicraft)
Nizamabad Black Pottery (Handicraft)
Basmati (Agricultural)
Banaras Métal Repoussé Craft (Handicraft)
Varanasi Glass beads (Handicraft)
Ghazipur Wall Hanging (Handicraft)
Varanasi Soft Stone Jali Work (Handicraft)
Chunar Balua Patthar (Natural)
Gorakhpur Terracotta (Handicraft)
Bihar
Madhubani Paintings (Handicraft)
Applique (Khatwa) Work of Bihar (Handicraft)
Sujini Embroidery Work of Bihar (Handicraft)
Sikki Grass Products of Bihar (Handicraft)
Bhagalpur Silk (Handicraft)
Applique (Khatwa) Work of Bihar (Logo) (Handicraft)
Sikki Grass Products of Bihar (Logo) (Handicraft)
Sujini Embroidery Work of Bihar (Logo) (Handicraft)
Bhagalpuri Zardalu (Agricultural)
Katarni Rice (Agricultural)
Maghai Paan (Agricultural)
Shahi Litchi of Bihar (Agricultural)
Silao Khaja (Food Stuff)
Jharkhand
Sohrai – Khovar Painting (Handicraft)
Madhya Pradesh
Chanderi Sarees (Handicraft)
Leather Toys of Indore (Handicraft)
Bagh Prints of Madhya Pradesh (Handicraft)
Bell Metal Ware of Datia and Tikamgarh (Handicraft)
Maheshwar Sarees & Fabrics (Handicraft)
Bell Metal Ware of Datia and Tikamgarh (Logo) (Handicraft)
Nagpur Orange (Agricultural)
Leather Toys of Indore (Logo) (Handicraft)
Ratlami Sev (Food Stuff)
Bagh Prints of Madhya Pradesh (Logo) (Handicrafts)
Jhabua Kadaknath Black Chicken Meat (Food Stuff)
Chattisgarh
Bastar Dhokra (Handicraft)
Bastar Wooden Craft (Handicraft)
Bastar Iron Craft (Handicraft)
West Bengal
Darjeeling Tea (word and logo) (Agricultural)
Nakshi Kantha (Handicraft)
Santiniketan Leather Goods (Handicraft)
Malda Laxman Bhog Mango (Agricultural)
Malda Khirsapati (Himsagar) mangoes (Agricultural)
Malda Fazli Mango (Agricultural)
Santipur Saree (Handicraft)
Baluchari Saree (Handicraft)
Dhaniakhali Saree (Handicraft)
Joynagar Moa (Food Stuff)
Bardhaman Sitabhog (Food Stuff)
Bardhaman Mihidana (Food Stuff)
Gobindobhog Rice (Agricultural)
Tulaipanji Rice (Agricultural)
Banglar Rasogolla (Food Stuff)
Bankura Panchmura Terracotta Craft (Handicraft)
Bengal Dokra (Handicraft)
Bengal Patachitra (Handicraft)
Purulia Chhau Mask (Handicraft)
Wooden Mask of Kushmandi (Handicraft)
Madur kathi (Handicraft)
Gujarat
Sankheda Furniture (Handicraft)
Agates of Cambay (Handicraft)
Kutch Embroidery (Handicraft)
Tangaliya Shawl (Handicraft)
Surat Zari Craft (Handicraft)
Kachchh Shawls (Handicraft)
Gir Kesar Mango (Agricultural)
Bhalia Wheat (Agricultural)
Patan Patola (Handicraft)
Warli Painting (Handicraft)
Sankheda Furniture (Logo) (Handicrafts)
Kutch Embroidery (Logo) (Handicrafts)
Agates of Cambay (Logo) (Handicrafts)
Jamnagari Bandhani (Handicrafts)
RajKot Patola (Handicrafts)
Pethapur Printing Blocks (Handicrafts)
Maharashtra
Solapur Chaddar (Handicraft)
Solapur Terry Towel (Handicraft)
Puneri Pagadi (Handicraft)
Nashik Valley Wine (Manufactured)
Paithani Sarees and Fabrics (Handicraft)
Mahabaleshwar Strawberry (Handicraft)
Nashik Grapes (Agricultural)
Warli Painting (Handicraft)
Kolhapur Jaggery (Agricultural)
Nagpur Orange (Agricultural)
Ajara Ghansal Rice (Agricultural)
Mangalwedha Jowar (Agricultural)
Sindhudurg & Ratnagiri Kokum (Agricultural)
Waghya Ghevada (Agricultural)
Navapur Tur Dal (Agricultural)
Vengurla Cashew (Agricultural)
Lasalgaon Onion (Agricultural)
Sangli Raisins (Agricultural)
Beed Custard Apple (Agricultural)
Jalna Sweet Orange (Agricultural)
Waigaon Turmeric (Agricultural)
Purandar Fig (Agricultural)
Jalgaon Bharit Brinjal (Agricultural)
Solapur Pomegranate (Agricultural)
Bhiwapur Chil (Agricultural)
Ambemohar Rice (Agricultural)
Dahanu Gholvad Chikoo (Agricultural)
Jalgaon Banana (Agricultural)
Marathwada Kesar Mango (Agricultural)
Karvath Kati Sarees & Fabrics (Handicrafts)
Alphonso (Agricultural)
Sangli Turmeric (Agricultural)
Goa
Khola Chilli (Agricultural)
Feni (Manufactured)
Rajasthan
Kota Doria (Handicraft)
Blue Pottery of Jaipur (Handicraft)
Molela Clay Work (Handicraft)
Kathputlis of Rajasthan (Handicraft)
Sanganeri Hand Block Printing (Handicraft)
Bikaneri Bhujia (Food Stuff)
Kota Doria (Logo) (Handicraft)
Phulkari Handicraft (Handicraft)
Bagru Hand Block Print (Handicraft)
Thewa Art Work (Handicraft)
Makrana Marble (Natural Goods)
Molela Clay Work of Rajasthan (Logo) (Handicrafts)
Blue Pottery of Jaipur (Logo) (Handicrafts)
Kathputlis of Rajasthan (Logo) (Handicrafts)
Pokaran Pottery (Handicraft)
Odisha
Kotpad Handloom fabric (Handicraft)
Orissa Ikat (Handicraft)
Konark Stone carving (Handicraft)
Orissa Pattachitra (Handicraft)
Pipli Applique Work (Handicraft)
Khandua Saree and Fabrics (Handicraft)
Gopalpur Tussar Fabrics (Handicraft)
Ganjam Kewda Rooh (Manufactured)
Ganjam Kewda Flower (Agricultural)
Dhalapathar Parda & Fabrics (Handicraft)
Sambalpuri Bandha Saree & Fabrics (Handicraft)
Bomkai Saree & Fabrics (Handicraft)
Habaspuri Saree & Fabrics (Handicraft)
Berhampur Patta (Phoda Kumbha) Saree & Joda (Handicraft)
Orissa Pattachitra (Logo) (Handicraft)
Araku Valley Arabica Coffee (Agricultural)
Kandhamal Haladi (Agricultural)
Odisha Rasagola (Food Stuff)
Andhra Pradesh
Srikalahasthi Kalamkari (Handicraft)
Kondapalli Bommallu (Handicraft)
Machilipatnam Kalamkari (Handicraft)
Budithi Bell & Brass Metal Craft (Handicraft)
Andhra Pradesh Leather Puppetry (Handicraft)
Uppada Jamdani Sarees (Handicraft)
Tirupati Laddu (Food stuff)
Guntur Sannam Chilli (Agricultural)
Venkatagiri Sarees (Handicraft)
Bobbili Veena Venkatagiri Sarees (Handicraft)
Mangalagiri Sarees and Fabrics Venkatagiri Sarees (Handicraft)
Dharmavaram Handloom Pattu Sarees and Paavadas Venkatagiri Sarees (Handicraft)
Bandar Laddu (Food Stuff)
Udayagiri Wooden Cutlery (Handicrafts)
Banaganapalle Mangoes (Agricultural)
Durgi Stone Carvings (Handicrafts)
Etikoppaka Toys (Handicrafts)
Allagadda Stone Carving (Handicraft)
Araku Valley Arabica Coffee (Agricultural)
Telangana
Pochampally Ikat (Handicraft)
Silver Filigree of Karimnagar (Handicraft)
Nirmal Toys and Craft (Handicraft)
Nirmal Furniture (Handicraft)
Nirmal Paintings (Handicraft)
Gadwal Sarees (Handicraft)
Hyderabad Haleem (Food Stuff)
Cheriyal Paintings (Food Stuff)
Pembarthi Metal Craft (Handicraft)
Siddipet Gollabhama (Handicraft)
Narayanpet Handloom Sarees (Handicraft)
Banaganapalle Mangoes (Agricultural)
Pochampally Ikat (Logo) (Handicrafts)
Adilabad Dokra (Handicrafts)
Warangal Durries (Handicrafts)
Telia Rumal (Handicraft)
Tamil Nadu
Salem Fabric (Handicraft)
Kancheepuram Silk (Handicraft)
Kancheepuram Silk (Handicraft)
Madurai Sungudi (Handicraft)
Coimbatore Wet Grinder (Manufactured)
Thanjavur Paintings (Handicraft)
Temple Jewellery of Nagercoil (Handicraft)
Thanjavur Art Plate (Handicraft)
East India Leather (Manufactured)
Salem Silk known as Salem Venpattu (Handicraft)
Kovai Kora Cotton Sarees (Handicraft)
Arani Silk (Handicraft)
Swamimalai Bronze Icons (Handicraft)
Eathamozhi Tall Coconut (Agricultural)
Thanjavur Doll (Handicraft)
Nilgiri (Orthodox) (Handicraft)
Virupakshi Hill Banana (Handicraft)
Sirumalai Hill Banana (Handicraft)
Madurai Malli (Handicraft)
Pattamadai Pai ("Pattamadai Mat") (Handicraft)
Nachiarkoil Kuthuvilakku ("Nachiarkoil Lamp") (Handicraft)
Chettinad Kottan (Handicraft)
Toda Embroidery (Handicraft)
Thanjavur Veenai (Handicraft)
Thanjavur Art Plate (Logo) (Handicraft)
Swamimalai Bronze Icons (Logo) (Handicraft)
Temple Jewellery of Nagercoil (Logo) (Handicraft)
Mahabalipuram Stone Sculpture (Handicraft)
Erode Manjal (Erode Turmeric) (Agricultural)
Thirubuvanam Silk Sarees (Handicraft)
Kodaikanal Malai Poondu (Agricultural)
Palani Panchamirtham (Food Stuff)
Dindigul Locks (Manufactured)
Kandangi Saree (Handicraft)
Srivilliputtur Palkova (Food Stuff)
Kovilpatti Kadalai Mittai (Food Stuff)
Thanjavur Pith Works (Handicraft)
Arumbavur Wood Carvings (Handicraft)
Karnataka
Mysore Silk (Handicraft)
Mysore Agarbathi (Manufactured)
Bidriware (Handicraft)
Channapatna Toys & Dolls (Handicraft)
Mysore Rosewood Inlay (Handicraft)
Mysore Sandalwood Oil (Manufactured)
Mysore Sandal soap (Manufactured)
Kasuti Embroidery (Handicraft)
Mysore Traditional Paintings (Handicraft)
Coorg Orange (Agricultural)
Mysore Betel leaf (Agricultural)
Nanjanagud Banana (Agricultural)
Mysore Malligae (Agricultural)
Udupi Malligae (Agricultural)
Hadagali Malligae (Agricultural)
Ilkal Sarees (Handicraft)
Malabar Pepper (Agricultural)
Ganjifa Cards of Mysore (Handicraft)
Navalgund Durries (Handicraft)
Karnataka Bronzeware (Handicraft)
Monsooned Malabar Arabica Coffee (Agricultural)
Monsooned Malabar Robusta Coffee (Agricultural)
Coorg Green Cardamom (Agricultural)
Dharwad Pedha (Food stuff)
Devanahalli Pomello (Agricultural)
Appemidi Mango (Agricultural)
Kamalapur Red Banana (Agricultural)
Sandur Lambani Embroidery (Handicraft)
Byadagi Chilli (Agricultural)
Udupi Mattu Gulla Brinjal (Agricultural)
Kinhal Toys (Handicraft)
Bangalore Blue Grapes (Agricultural)
Bangalore Rose Onion (Agricultural)
Karnataka Bronzeware (Logo) (Handicrafts)
Ganjifa Cards of Mysore (Logo) (Handicrafts)
Navalgund Durries (Logo) (Handicrafts)
Guledgudd Khana (Handicrafts)
Udupi Sarees (Handicrafts)
Mysore Silk (Logo) (Handicrafts)
Kolhapuri Chappal (Handicraft)
Coorg Arabica Coffee (Agricultural)
Chikmagalur Arabica Coffee (Agricultural)
Bababudangiri Arabica Coffee (Agricultural)
Sirsi Supari (Agricultural)
Gulbarga Tur Dal (Agricultural)
Kerala
Aranmula Kannadi (Handicraft)
Alleppey Coir (Handicraft)
Navara Rice (Agricultural)
Palakkadan Matta Rice (Agricultural)
Malabar Pepper (Agricultural)
Monsooned Malabar Arabica Coffee (Agricultural)
Monsooned Malabar Robusta Coffee (Agricultural)
Alleppey Green Cardamom (Agricultural)
Maddalam of Palakkad (Handicraft)
Screw Pine Craft of Kerala (Handicraft)
Brass Broidered Coconut Shell Crafts of Kerala (Handicraft)
Pokkali Rice (Agricultural)
Vazhakulam Pineapple (Agricultural)
Cannanore Home Furnishings (Handicraft)
Balaramapuram Sarees and Fine Cotton Fabrics (Handicraft)
Kasaragod Sarees (Handicraft)
Kuthampully Sarees (Handicraft)
Central Travancore Jaggery (Agricultural)
Wayanad Jeerakasala Rice (Agricultural)
Wayanad Gandhakasala Rice (Agricultural)
Payyannur Pavithra Ring (Handicraft)
Chendamangalam Dhoties & Set Mundu (Handicraft)
Kaipad Rice (Agricultural)
Chengalikodan Nendran Banana (Agricultural)
Kuthampully Dhoties & Set Mundu (Handicrafts)
Maddalam of Palakkad (Logo) (Handicrafts)
Brass Broidered Coconut Shell Craft of Kerala (Logo) (Handicrafts)
Screw Pine Craft of Kerala (Logo) (Handicrafts)
Nilambur Teak (Agricultural)
Wayanad Robusta Coffee (Agricultural)
Marayoor Jaggery (Marayoor Sharkara) (Agricultural)
Tirur Betel Leaf (Tirur Vettila) (Agricultural)
Arunachal Pradesh
Arunachal Orange (Agricultural)
Idu Mishmi Textiles (Handicraft)
Assam
Muga Silk of Assam (Handicraft)
Assam (Orthodox) (Agricultural)
Muga Silk of Assam (Logo) (Handicraft)
Assam Karbi Anglong Ginger (Agricultural)
Tezpur Litchi (Agricultural)
Joha Rice of Assam (Agricultural)
Boka Chaul (Agricultural)
Kaji Nemu (Agricultural)
Chokuwa Rice of Assam (Agricultural)
Manipur
Shaphee Lanphee (Handicraft)
Wangkhei Phee (Handicraft)
Moirang Phee (Handicraft)
Kachai Lemon (Agricultural)
Chak-Hao (Agricultural)
Meghalaya
Khasi Mandarin (Agricultural)
Memong Narang (Agricultural)
Mizoram
Mizo Chilli (Agricultural)
Pawndum (Handicraft)
Ngotekherh (Handicraft)
Hmaram (Handicraft)
Tawlhlohpuan (Handicraft)
Mizo Puanchei (Handicraft)
Nagaland
Naga Mircha (Agricultural)
Naga Tree Tomato (Agricultural)
Chakhesang Shawl (Handicrafts)
Tripura
Tripura Queen Pineapple (Agricultural)
Himachal Pradesh
Kullu Shawl (Handicraft)
Kangra Tea (Agricultural)
Chamba Rumal (Handicraft)
Kinnauri Shawl (Handicraft)
Kullu ShawL (Logo) (Handicraft)
Kangra Paintings (Handicraft)
Basmati (Agricultural)
Himachali Kala Zeera (Agricultural)
Himachali Chulli Oil (Manufactured)
Jammu & Kashmir
Kani Shawl (Handicraft)
Kashmir Pashmina (Handicraft)
Kashmir Sozani Craft (Handicraft)
Kashmir Paper Machie (Handicraft)
Kashmir Walnut Wood Carving (Handicraft)
Khatamband (Handicraft)
Kashmiri Hand Knotted Carpet (Handicraft)
Kashmir Saffron (Agricultural)