NATIONAL INTELLIGENCE GRID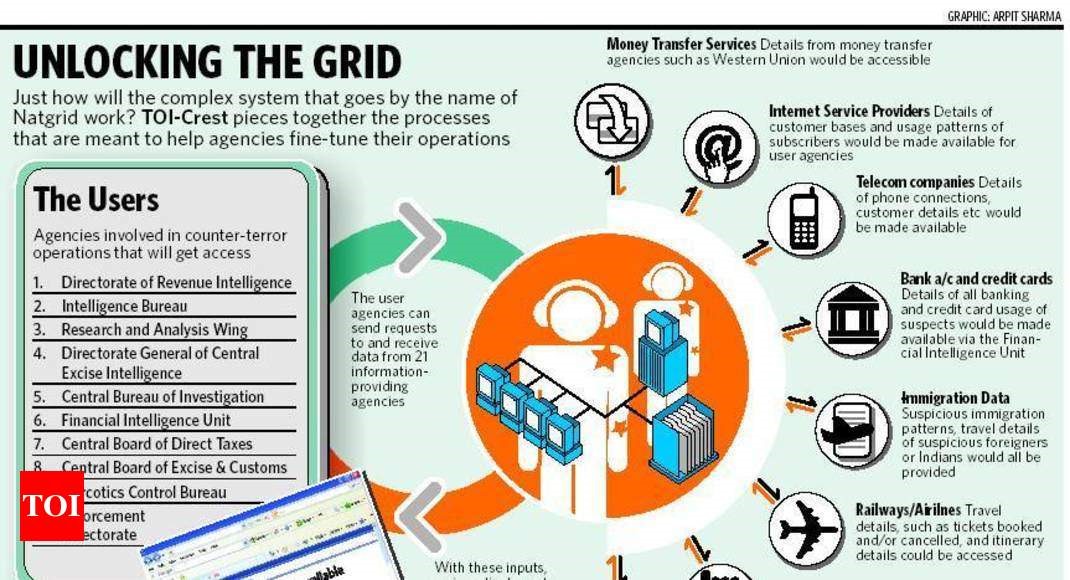 Disclaimer: Copyright infringement not intended.
Context
The Centre extended the tenure of senior bureaucrat Piyush Goyal as the chief executive officer of National Intelligence Grid (NATGRID).
Details
Background
NATGRID was launched following the 2008 Mumbai terrorist attack.

It was initiated with a budget of Rs. 2,800 crores.

The Mumbai attack exposed the need for real-time intelligence capabilities.
Vision
NATGRID aims to create a unified and secure database.

It focuses on gathering and managing information related to terrorists, financial crimes, and critical situations.

The goal is to enhance India's intelligence and security capabilities.
Features and Mandate
Data Collection: NATGRID is mandated by law to collect and consolidate data from various government databases. This includes tax records, bank account information, credit card transactions, immigration records, and travel itineraries (rail and air).

Online Database: It serves as an online platform to integrate diverse pieces of information into a single, accessible repository.

Interagency Connectivity: NATGRID facilitates connectivity and information sharing among different intelligence and investigative agencies.

Exemption from RTI Act: It is excluded from the Right to Information Act of 2005 under Section 24(2), ensuring the confidentiality of sensitive intelligence data.

Big Data and Analytics: NATGRID uses Big Data and data analytics technology to analyze vast volumes of data from various intelligence and law enforcement organizations. This aids in tracking suspects and addressing security challenges effectively.

EVA System (Entity Extraction, Visualization, and Analytics): The project plans to implement an EVA system, which involves advanced data extraction, visualization, and analytics techniques for more efficient and comprehensive intelligence processing.
Conclusion
NATGRID (National Intelligence Grid) stands as a pivotal initiative in India's security landscape. With its vision of creating a unified and secure database for critical intelligence related to terrorism, financial crimes, and other significant situations, NATGRID aims to bolster the country's security apparatus. By collecting and integrating data from various government databases, utilizing advanced technologies such as Big Data analytics, and maintaining strict confidentiality through exemptions from the Right to Information Act, NATGRID plays a vital role in enhancing intelligence sharing and tracking potential threats.
PRACTICE QUESTION
Q. Discuss the significance and objectives of NATGRID (National Intelligence Grid) in enhancing India's intelligence and security capabilities. Highlight its key features, mandates, and the challenges it seeks to address. (250 Words)