National Hydrogen Mission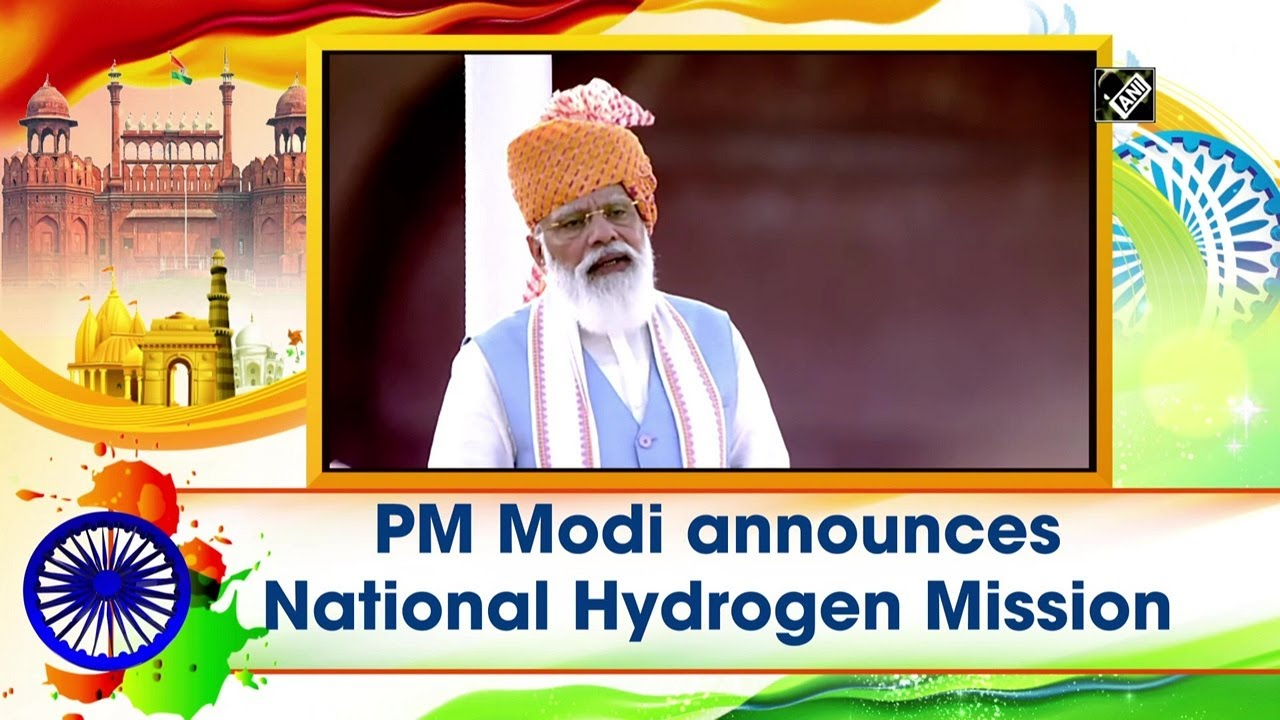 Copyright infringement is not intended
Connected to: Prelims and GS 3
Context: Green Hydrogen Policy released by Ministry of Power
Green hydrogen:
Green hydrogen is defined as hydrogen produced by splitting water into hydrogen and oxygen using renewable electricity.
The new policy would help the government in meeting their target of producing 5 million tonnes of Green hydrogen by 2030.
The announcement of Green Hydrogen Policy will support the Government efforts in achieving the commitments made at COP 26.
Features of Green Hydrogen Policy:
This Policy will provide clean fuel, reduce India's dependence on fossil fuel and also reduce crude oil imports.
Green Hydrogen Manufacturers with the coordination of distribution companies can Store their unutilized renewable power for up to 30 days.
Companies can get distribution licensees at concessional Prices.
Manufacturing companies would get Tax free inter-state transmission for 25 years.
Ensuring 'grid to market' Connectivity to attract Investors and ensure timely delivery.
Single Portal for all business activities to ensure ease of doing business.
Manufacturers will be allowed to set up infrastructure near Ports for Trading activities by paying Charges to respective Port Authorities.
Objective of this Policy: Increasing Production to meet domestic demand and also to become an exporter of Green Hydrogen.
National Hydrogen Mission:
On India's 75th Independence Day (15th August, 2021) the Prime Minister announced the National Hydrogen Mission.
Under the Mission, India is targeting to produce three-fourths of its hydrogen from renewable resources by 2050.
The Mission under the Ministry of Power, aims to support India in meeting its Sustainable climate goals.
Hydrogen is seen as the potential fuel to replace fossil fuels in future.
It will help India in increasing its renewable energy capacity.
This will help the government in achieving the target of 450 GW Renewable Energy by 2030.
Hydrogen As A Fuel:
Hydrogen is a clean fuel and an efficient energy carrier.
Hydrogen is found in water, organic compounds and hydrocarbons such as petrol, natural gas, methanol and propane.
Hydrogen is high in energy content as it contains 120.7 MJ/kg, which is the highest for any known fuel. However, its energy content compared to volume is rather low. This poses challenges with regard to its storage for civilian applications, when compared to storage of liquid fossil fuels.
When burnt, hydrogen produces water as a by-product and is, therefore, environmentally benign.
Although no CO2, etc. are produced if hydrogen is burnt in air, yet NOx will be formed at high temperatures.
One of the advantages of hydrogen as a fuel is that it can be used directly in the existing internal combustion engines and turbines.
It can also be used as a fuel in fuel cells for electricity generation. Hydrogen applications, besides industrial application, cover power generation, transport applications and heat.
However, when compared to other alternatives, use of hydrogen in transport sector appears to be more beneficial as it is possible to store hydrogen on-board.
Hydrogen properties: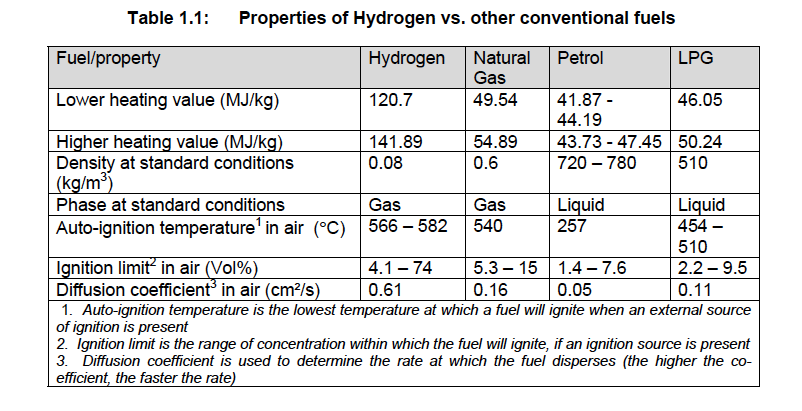 Shades of Hydrogen: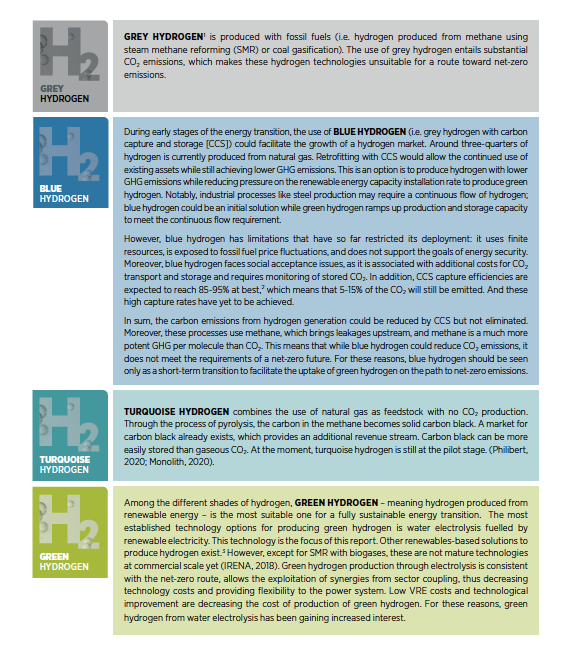 Hydrogen in India:
According to a report titled "The Potential Role of Hydrogen in India – Harnessing the Hype" by The Energy and Resources Institute (TERI) released in December last year, demand for hydrogen could increase by at least 5-fold by 2050, continuing to grow in the second half of the century in India.
Demand for hydrogen is at around 6 metric tonne (MT) per annum, mainly from industry sectors, such as fertilizers and refineries.
This can increase to around 28 MT by 2050 mainly due to cost reductions in key technologies and a push to reduce carbon footprint.
Demand will mainly grow in steel and road transport, shipping and aviation sectors.
The report also projected that India would require 40 MT of green hydrogen to achieve net zero carbon emissions by 2060.
An emerging virtuous circle for hydrogen deployment:
Demand will continue to be largely focused in industry sectors, either expanding in existing sectors, such as fertilizers and refineries, or growing into new sectors, such as steel.
Hydrogen will play some role in the transport sector in heavy-duty and long-distance segments, and a minor role in the power sector as a long-term storage vector.
Beyond 2050, one can expect demand for green hydrogen to continue to grow, particularly in the steel and road transport sectors, as well as in shipping and aviation.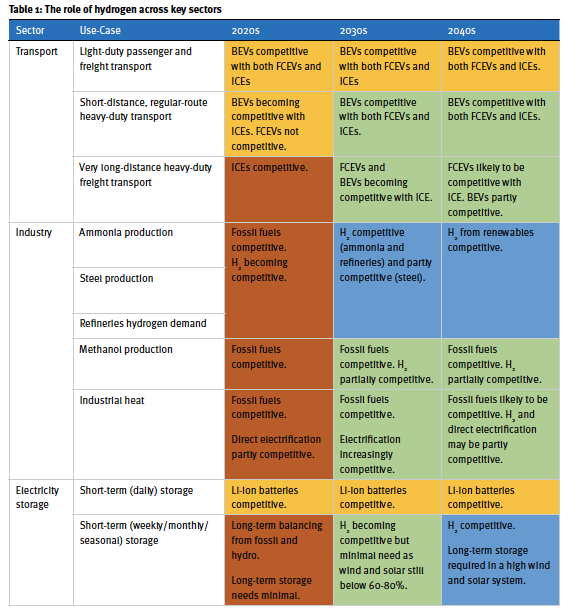 HCNG:
Delhi became the first city in India to operate buses with hydrogen-enriched CNG (HCNG).
Several companies like Indian Oil Corporation and NTPC are working towards operating more hydrogen-run buses in the country.
MNRE allotted Rs 25 crore for research and development (R&D) in hydrogen.
HCNG is a hydrogen-enriched compressed natural gas (CNG).
It is cleaner and more economical. Power output of HCNG is also better than CNG ones.
HCNG means four per cent more fuel economy than CNG.
It reduces the emission of carbon dioxide by 70% and increases the fuel efficiency by upto 3% resulting in overall fuel savings of around 5%.
Switch to HCNG fuel requires minimum modifications to the existing buses.
It requires only a small hydrogen storage and a column for the mixing of hydrogen with natural gas at existing CNG stations. Safety components are similar to the CNG.
HCNG is easier and safer to use than hydrogen as it contains very low energy content from hydrogen i.e., up to 30% by volume.
HCNG reduces the engine's unburned hydrocarbon emissions and speeds up the process of combustion.
The engine's fuel efficiency is improved by blending the CNG from hydrogen which lowers the fuel consumption of the vehicle.
The thermal efficiency and fuel economy is also increased by HCNG.
The Supreme Court had suggested looking at hydrogen-run vehicles as a solution for Delhi NCR's poor air quality and believed that the HCNG could be a step in that direction.
Hydrogen Fuel Cells:
Germany has rolled out world's first hydrogen fuel cell powered trains called Coradia iLint.
It is a fuel cell that combines hydrogen and oxygen to produce electricity with water and steam as the only biproducts.
The excess energy can be stored on board in ion lithium batteries.
It is a climate friendly fuel as it does not emit carbon dioxide or particulate matter as the case with conventional fuels like diesel, coal etc.
A fuel cell works by passing hydrogen through the anode of a fuel cell and oxygen through the cathode.
At the anode, the hydrogen molecules are split into electrons and protons.
The protons pass through the electrolyte membrane, while the electrons are forced through a circuit, generating an electric current and excess heat.
At the cathode, the protons, electrons, and oxygen combine to produce water molecules.
Unlike traditional combustion technologies that burn fuel, fuel cells undergo a chemical process to convert hydrogen-rich fuel into electricity.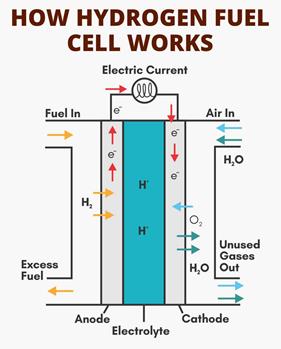 Barriers To The Uptake Of Green Hydrogen:
Barriers include those that apply to all shades of hydrogen, such as the lack of dedicated infrastructure (e.g. transport and storage infrastructure), and those mainly related to the production stage of electrolysis, faced only by green hydrogen (e.g. energy losses, lack of value recognition, challenges ensuring sustainability and high production costs).
HIGH PRODUCTION COSTS Green hydrogen produced would be two to three times more expensive than grey hydrogen. In addition, adopting green hydrogen technologies for end uses can be expensive. Vehicles with fuel cells and hydrogen tanks cost at least 1.5 to 2 times more than their fossil fuel counterparts.
LACK OF DEDICATED INFRASTRUCTURE. Hydrogen has to date been produced close to where it is used, with limited dedicated transport infrastructure.
ENERGY LOSSES. Green hydrogen incurs significant energy losses at each stage of the value chain. About 30-35% of the energy used to produce hydrogen through electrolysis is lost.
LACK OF VALUE RECOGNITION. There is no green hydrogen market, no green steel, no green shipping fuel and basically no valuation of the lower GHG emissions that green hydrogen can deliver.
Further reading - https://www.livemint.com/industry/energy/india-to-launch-national-hydrogen-policy-on-thursday-11645024082093.html