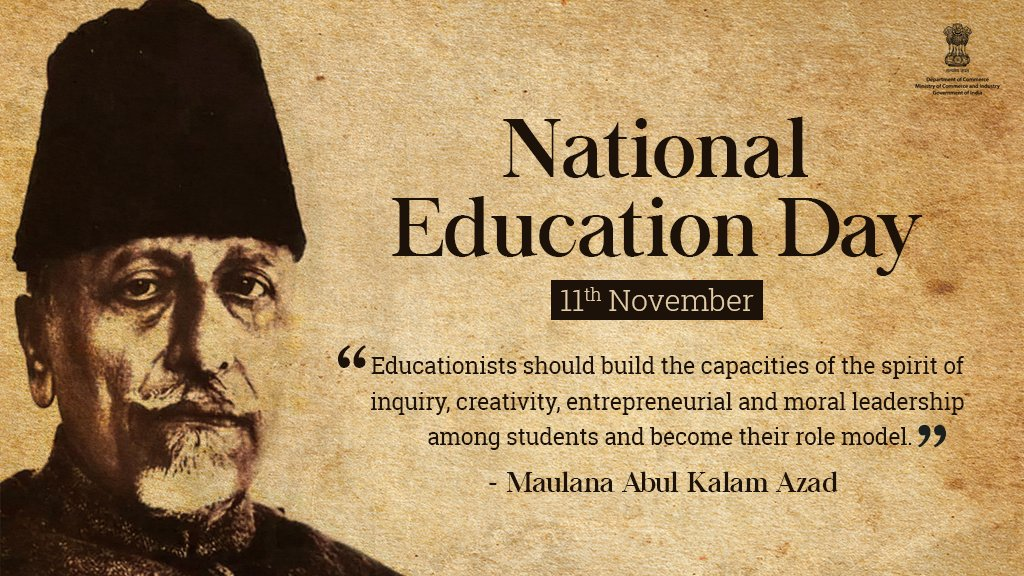 Copyright infringement not intended
Picture Courtesy: Dept of Commerce, GoI
Context: National Education Day on November 11 in India commemorates the birth anniversary of Maulana Abul Kalam Azad, the first education minister of independent India.
Key Highlights
National Education Day is celebrated every year on November 11

across India to mark the birth anniversary of Maulana Abul Kalam Azad, who served as the first education minister of independent India. He held this position from August 15, 1947, to February 2, 1958, and passed away in Delhi on February 22, 1958.

The Day is observed to commemorate the contributions of Abul Kalam Azad to the education sector during his lifetime.
Maulana Abul Kalam Azad
Early Life and Education
Born on November 11, 1888, in Mecca, Saudi Arabia, to a family of Muslim scholars.

Received early education at home, learning Arabic, Persian, Urdu, and English.

Developed expertise in Islamic theology, philosophy, history, and literature.

Showed early literary talent by publishing a collection of poems at the age of 13.
Political Awakening and Nationalism
Visited India in 1898 and witnessed the plight of Indian Muslims under British rule.

Inspired by the Indian National Congress's nationalist movement, decided to stay in India and contribute to the struggle for freedom.
Journalistic and Literary Contributions
Founded the Urdu weekly newspaper Al-Hilal in 1912, promoting Muslim nationalism and anti-imperialism.

Established newspaper, Al-Balagh, in 1915.

Wrote under the pen name "Azad," meaning "free."

Authored several books, including Ghubar-e-Khatir, Tarjuman-ul-Quran, Tazkirah, and India Wins Freedom.

Translated works from Arabic and Persian into Urdu.
Association with Mahatma Gandhi
Became a close associate of Mahatma Gandhi, supporting non-violence and civil disobedience.

Participated in various movements, including the Non-Cooperation Movement, Khilafat Movement, Salt March, and Quit India Movement.

Faced arrests by British authorities and spent years in prison.
Political Leadership
Served as the President of the Indian National Congress four times (1923, 1940, 1942, 1945).

Advocated for Hindu-Muslim unity, secularism, socialism, and education.

Opposed the partition of India.
Post-Independence Contributions
Became the first Minister of Education in independent India.

Initiated educational reforms and established key institutions like the University Grants Commission, Indian Council for Cultural Relations, Sahitya Akademi, Lalit Kala Akademi, and Sangeet Natak Akademi.

Promoted scientific research, adult education, women's education, cultural exchange, and national integration through education.

He focused on various areas such as educating the rural poor and girls, promoting adult literacy, ensuring free and compulsory education for all children up to the age of 14, advocating for universal primary education, and encouraging the diversification of secondary education and vocational training.
Death and Legacy
Passed away on February 22, 1958, in Delhi.

Awarded the Bharat Ratna posthumously in 1992.

National Education Day in India is celebrated on November 11 in his honour.
Conclusion
Maulana Abul Kalam Azad's life was marked by a deep commitment to India's freedom, communal harmony, and education. His multifaceted contributions continue to be celebrated and remembered in India's history.
PRACTICE QUESTION
Q. How can the education system in India be reformed to better address the evolving needs of students in the 21st century, fostering critical thinking, creativity, and practical skills, while also ensuring inclusivity and equal access to quality education across diverse socio-economic backgrounds?