NATIONAL BROADCASTING DAY 2023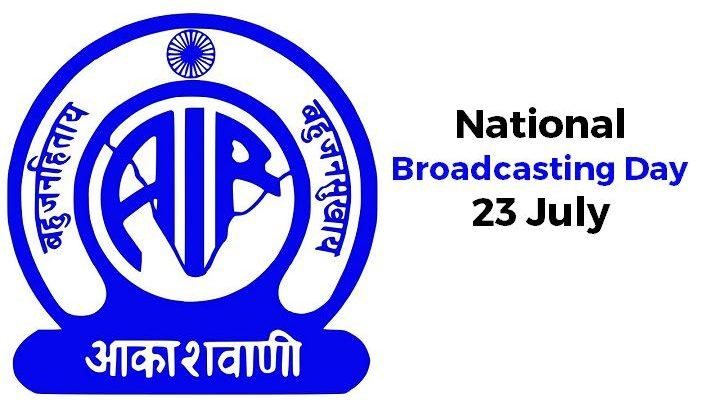 Disclaimer: Copyright infringement not intended.
Context
National Broadcasting Day in India, observed on 23rd July, commemorates the first-ever broadcast in June 1923 by the Radio Club of Bombay, a significant milestone in entertainment, music, and news accessibility.
Details
Establishment of All India Radio (AIR)
The Indian Broadcasting Company (IBC) laid the foundation for AIR, officially established on July 23, 1927.
Evolution of All India Radio
Experimental Beginnings:

Indian Broadcasting Service started its operations on a trial basis but faced financial difficulties.

Revival under Lionel Fielden:

BBC producer Lionel Fielden appointed as the first Controller of Broadcasting in August 1935, leading to the establishment of Delhi's radio station.

Akashvani Mysore:

In 1936, a private radio station called Akashvani Mysore was set up, and the Indian State Broadcasting Service (ISBS) became All India Radio on June 8, 1936.

The Central News Organisation (CNO):

AIR transformed into CNO in August 1937 and later split into the News Services Division (NSD) and the External Services Division (ESD).

Expansion and Independence:

At the time of independence, India had six radio stations, and AIR covered 2.5% of the area and 11% of the population.
The Impact of All India Radio
Introduction of Vividh Bharati Service:

In 1957, Vividh Bharati Service launched with popular film music as its primary component.

Controversy over Film Music:

In 1952, AIR imposed a ban on film music due to concerns of "westernization" and the decline of classical music appreciation.

Emergence of Radio Ceylon:

Radio Ceylon, based in Sri Lanka, gained popularity by broadcasting Hindi music, filling the gap left by the absence of film music on AIR.

Reintegration of Film Music:

Eventually, film music found its place on AIR, and today, AIR has a vast network of around 260 stations broadcasting in 23 languages and 146 dialects, reaching nearly 92% of the country's population.
Significance and Reach of AIR
Broadcasting Giant:

AIR plays a crucial role in disseminating information and entertainment, reaching a vast audience across the country.

Multilingual and Diverse:

Broadcasting in 23 languages and 146 dialects, AIR caters to the linguistic and cultural diversity of India.

Accessibility:

With around 260 radio stations, AIR serves nearly 92% of the total area, making it accessible to almost the entire population of the country.
PRACTICE QUESTION
Q. Which of the following statements about All India Radio (AIR) is/are correct?
1. National Broadcasting Day in India is celebrated on July 23 to mark the first-ever broadcast made by the Radio Club of Bombay in June 1923.
2. All India Radio (AIR) was officially established as the Indian Broadcasting Company (IBC) on July 23, 1927, under colonial rule.
3. Vividh Bharati Service, launched in 1957, primarily focused on classical music and played a pivotal role in promoting classical music appreciation among Indians.
A) Only statement 1 is correct.
B) Statements 1 and 2 are correct.
C) Statements 1 and 3 are correct.
D) All statements 1, 2, and 3 are correct.
Answer: B
https://indianexpress.com/article/explained/everyday-explainers/national-broadcasting-day-2023-radio-air-history-india-8856289/