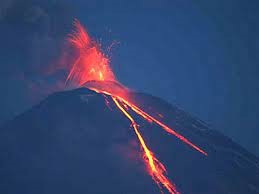 Disclaimer: Copyright infringement not intended.
Context
The ash plume reached as high as 40,000 feet above sea level and extended 1,000 miles to the east-southeast, according to the Kamchatka Volcanic Eruption Response Team (KVERT).
About Klyuchevskoy volcano
It is one of the most well-known volcanoes in the world.
With a height of 4,750 meters, it is one of the world's tallest active volcanoes.
A truncated cone with a centre crater makes up the volcano.
It is a
Since 1700, it has erupted more than 50 times.
The important facts about the Kamchatka Peninsula
It is located in far eastern Russia, between the Sea of Okhotsk to the west and the Pacific and Bering Seas to the east.
With over 30 active volcanoes, it is one of the world's most concentrated zones of geothermal activity.
It is one of the world's largest peninsulas.
Climate: Severe, with cold, snowy winters and rainy, cool summers.
It is part of the huge "Ring of Fire" region of Earth that encircles the Pacific Ocean and is prone to eruptions and frequent earthquakes.
PRACTICE QUESTION
Volcanoes play a significant role in shaping the Earth's landscape and have both positive and negative impacts on human society and the environment. Discuss the geological processes associated with volcanism, their classification, and the socio-economic and environmental consequences of volcanic eruptions.