KANT PANEL ON REAL ESTATE PROJECTS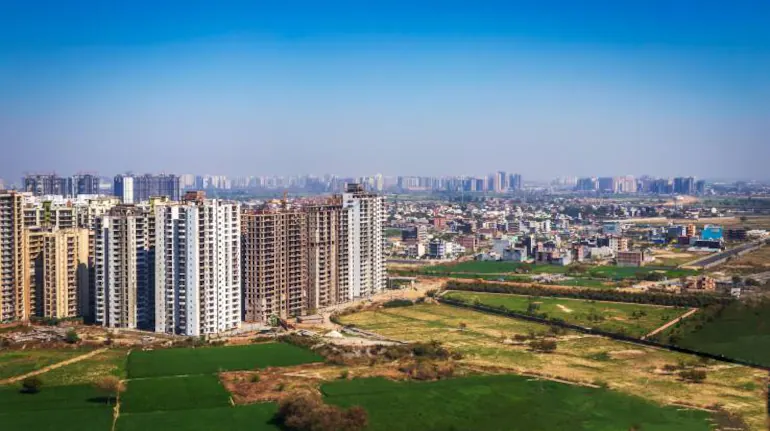 Copyright infringement not intended
Picture Courtesy: Moneycontrol.com
Context: Detailed summary of a committee's findings and recommendations regarding stalled real estate projects in India. The committee was chaired by Amitabh Kant, former CEO of NITI Aayog, and it was set up by the Union Housing and Urban Affairs Ministry to examine and address the issues related to stalled real estate projects.
Details
Findings of the committee
Capital Commitment:

A significant amount of money, Rs. 1.9 lakh crore, had already been invested in stalled projects.

Stressed Dwelling Units:

The Indian Banks' Association estimated that around 4.12 lakh dwelling units, valued at Rs. 4.08 lakh crore, were under financial stress. A significant portion of these units (44%) was located in the National Capital Region, while 21% were in the Mumbai Metropolitan Region.

Financial Viability Issues:

The main cause of the difficulties faced by these projects was their "lack of financial viability." This issue led to not only cost overruns but also delays in project completion.

Importance of IRR:

The committee highlighted that enhancing the Internal Rate of Return (IRR) for these projects was of paramount importance to make them attractive for funding. Improving the financial prospects of the projects would likely encourage more investment.
Recommendations
Enforce RERA:

Ensure the implementation of the Real Estate (Regulation and Development) Act, 2016, which mandates the registration of projects that exceed 500 square meters or involve constructing more than eight apartments under the state Real Estate Regulatory Authority (RERA).

Separate Grant of Registration:

Decouple the granting of registration or sub-lease by land authorities to homebuyers from the recovery of dues from developers. This separation can provide relief to homebuyers who are not directly responsible for developers' financial issues.

Expedite Certificates:

Streamline the process of issuing no-objection and completion certificates for projects that are mostly completed but face administrative hurdles. This helps to facilitate project completion without unnecessary delays.

Rehabilitation Package:

Propose a rehabilitation package to revive stalled projects. Developers who opt for this package commit to completing the projects within three years. The package includes measures like a "Zero Period" of two years, during which interest and penalties are waived due to the impact of the COVID-19 pandemic. Additionally, developers can involve co-developers to expedite the work, and a "partial surrender policy" allows developers to return unused land to authorities in exchange for a waiver on associated dues.

SWAMIH Fund Modifications:

Recommend changes to the Special Window for Affordable and Mid-Income Housing (SWAMIH) Fund's requirements. Modify the minimum Internal Rate of Return (IRR) requirement and first charge requirement to better suit the needs of stalled projects. Additionally, explore options for financing fresh housing loans to potential buyers of unsold inventory from stalled projects.
Implementation aspects of the committee's recommendations
State Government Jurisdiction:

Since many of the recommendations fall within the authority of state governments, it is up to each state to decide whether and how to implement them. The report has been shared with all states, allowing them to make informed decisions on adopting and executing the proposed measures.

Involvement of Ministries:

Some of the recommendations require actions by the Union Housing and Urban Affairs and Finance Ministries. This involvement might include revising the requirements of the SWAMIH Fund and developing financing options for new buyers of unsold inventory from stalled projects.
Conclusion
The committee's report emphasizes the need for a comprehensive approach involving developers, financiers, land authorities, and other stakeholders to address the issues of stalled real estate projects. The success of these recommendations will depend on the willingness of different states and ministries to implement the proposed measures.
Must Read Articles:
RERA: https://www.iasgyan.in/daily-current-affairs/rera
REAL ESTATE INVESTMENT TRUSTS (REITS) AND INFRASTRUCTURE INVESTMENT TRUSTS (INVITS) INDEX: https://www.iasgyan.in/daily-current-affairs/real-estate-investment-trusts-reits-and-infrastructure-investment-trusts-invits-index
PRACTICE QUESTION
Q. What is the current significance of the real sector in India's economy, and what are the key challenges it faces? What strategies could be implemented to propel the real sector forward and ensure sustainable growth in the coming years?
https://indianexpress.com/article/explained/panel-stalled-real-estate-projects-report-findings-recommendations-8903719/