Interpol Global Academy Network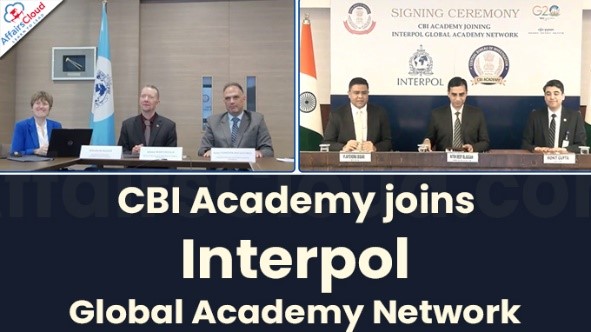 Disclaimer: Copyright infringement not intended.
Context
The Central Bureau of Investigation (CBI) Academy recently joined the Interpol Global Academy Network at a virtual event.
Details
About
INTERPOL Global Academy Network was launched in 2019.
Aim
Supporting INTERPOL in leading a global approach to Law Enforcement Training.
Execution
It is led by INTERPOL's Capacity Building and Training Directorate.
Members
The Network has members in all regions and supports academic collaboration amongst Law Enforcement Training Institutions across the globe.
Membership of CBI
The CBI Academy has become the 10th Member of the Interpol Global Academy Network.
It is a step towards CBI Academy's growing engagement with International Law Enforcement Institutions enabling effective capacity-building and innovation activities.
The corporation between CBI Academy and Interpol has tremendous potential to enhance policing outcomes in India and across the world. This collaboration will not only be highly beneficial to police personnel in India but also offer high-quality capacity building, capability development, and training opportunities to police personnel across the world.
By forming part of the network, the CBI Academy will further enhance its international visibility, provide valuable contributions to discussions of international and regional scope in the field of Law Enforcement Education and benefit from knowledge exchange with other members of the network.
Interpol will collaborate with CBI Academy on the inclusion of CBI Academy Courses in the Network Catalogue of Continuing Education, the development and/or delivery of a Joint Training Programme and the co-ideation and development of Joint Research Projects.
READ ALL ABOUT INTERPOL: https://iasgyan.in/daily-current-affairs/the-interpol
READ ALL ABOUT CBI: https://www.iasgyan.in/ias-gazette-magazine/perspective-new-law-for-cbi
PRACTICE QUESTION
Q. Consider the following statements with reference to CBI:
1. The Central Bureau of Investigation is a statutory body.
2. CBI is exempted from the provisions of the Right to Information Act.
3. CBI takes up cases on the direction of High Courts and the Supreme Court as well.
4. CBI operates under the jurisdiction of the Ministry of Home Affairs.
How many of the above are correctly matched?
A) Only 1
B) Only 2
C) Only 3
D) All
Answer: B) Only 2
https://www.iasgyan.in/ias-gazette-magazine/perspective-new-law-for-cbi
https://www.thehindu.com/news/national/cbi-academy-joins-interpol-global-academy-network/article67172801.ece