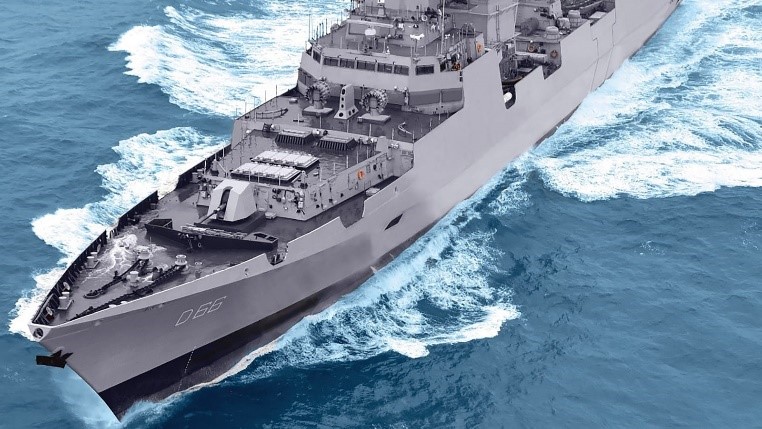 Disclaimer: Copyright infringement not intended.
Context
To enhance the maritime partnership between Indian Navy and Royal Oman Navy, the indigenously built destroyer INS Visakhapatnam entered Oman.
Destroyer
In naval terminology, a destroyer is a fast, manoeuvrable, long-endurance warship intended to escort larger vessels in a fleet, convoy or battle group and defend them against smaller powerful short-range attackers.
A total of 16 such vessels have served, or are currently serving, in the Indian Navy.
Currently, the Indian Navy operates 10 guided missile destroyers from three different classes namely the Kolkata class, Delhi class, and Rajput class.
In addition, six other destroyers have been decommissioned: three were from the R-class and three were from the Hunt class. All the decommissioned ships were scrapped.
INS Kolkata, the lead-ship of Kolkata-class destroyers with about 7,500 tonnes of displacement, is largest destroyer presently in service with the Indian Navy.
An extensively improved version of the Kolkata class, INS Visakhapatnam, part of the Visakhapatnam class, was launched in April 2015.
INS Visakhapatnam
INS Visakhapatnam is the lead ship and the first of the Visakhapatnam-class stealth guided-missile destroyers of the Indian Navy. It was commissioned on November 21, 2021.
A guided-missile destroyer (DDG) is a destroyer whose primary armament is guided missiles so they can provide anti-aircraft warfare screening for the fleet.
INS Visakhapatnam measures 163m in length, and 17m in breadth with a displacement of 7,400 tonnes, and can rightfully be regarded as one of the most potent warships to have been constructed in India.
The ship is propelled by four powerful Gas Turbines capable of achieving speeds in excess of 30 knots.
The ship has enhanced stealth features resulting in a reduced Radar Cross Section (RCS) achieved through efficient shaping of the hull, full beam superstructure design, plated masts, and use of radar transparent materials on exposed decks.
RADAR CROSS-SECTION (RCS)
Radar cross-section (RCS), denoted σ, also called radar signature, is a measure of how detectable an object is by radar. A larger RCS indicates that an object is more easily detected.
The design of the ship is almost 65 percent indigenous, which is significantly higher compared to its predecessors.
This ship will have a full-fledged Total Atmosphere Control System (TAC) for the ship's air conditioning and ventilation system.
It is equipped with 8 Brahmos missiles and has Ukrainian-built Zorya gas turbines.
It is outfitted with the Israeli Multi-Function Surveillance Threat Alert Radar (MF-STAR).
This is one of the few warships in the world to have a Multi-Function Surveillance Threat Alert Radar to provide data to Long Range Surface to Air Missile system.
The ship is equipped with Ship Data Network (SDN), Automatic Power Management System (APMS) and Combat Management System (CMS) and is termed as 'Network of Networks'.
The ship symbolises India's matured shipbuilding capability and the quest for the 'Make-in-India' initiative towards achieving 'Atmanirbhar Bharat'.
The crew of the ship abides by her motto 'Yasho Labhasva', a Sanskrit phrase that translates to 'Attain Glory'.
Visakhapatnam-Class Destroyers
The Visakhapatnam-class destroyers, also classified as the P-15 Bravo class, or simply P-15B, is a class of guided-missile destroyers currently being built for the Indian Navy (IN).
The destroyers were designed by the Indian Navy's in-house organization, the Directorate of Naval Design.
Features
The destroyers are equipped with a "Total Atmosphere Control System" (TAC), which allows them to operate in regions of nuclear fallout.
Additionally, the destroyers are also equipped with nuclear, biological and chemical warfare (NBC) protective equipment, with its entire requirement of air being filtered through NBC filters.
An estimated 72% of the destroyers' components are indigenously sourced, as compared to 59% for the Kolkata-class destroyers and 42% for the Delhi-class destroyers.
The destroyers feature multiple fire zones, battle damage control systems and distributional power systems for improved survivability and reliability in emergent conditions.
The destroyers feature ergonomically-designed accommodations based on modular concepts, which ensures a significant amount of crew comfort.
India and Oman Strategic Partnership
The Indian Navy and Royal Oman Navy are working together to address security challenges in the region and the warship is part of the Western Naval Command Fleet.
The Sultanate of Oman is a strategic partner of India and an important interlocutor at Gulf Cooperation Council (GCC), Arab League and Indian Ocean Rim Association (IORA) fora.
India and Oman are linked by Geography, History, and Culture and enjoy warm and cordial relations.
While people-to-people contact between India and Oman can be traced back 5000 years, diplomatic relations were established in 1955 and the relationship was upgraded to a Strategic Partnership in 2008.
PRACTICE QUESTION
Q. Consider the following statements with reference to P-15 Bravo class of Guided-Missile Destroyers:
1. The P-15 Bravo class of guided-missile destroyers are equipped with a "Total Atmosphere Control System" (TAC).
2. The destroyers are equipped with nuclear, biological and chemical warfare (NBC) protective equipment.
3. 100% of the destroyers' components are indigenously sourced.
How many of the above statements are incorrect?
(a) Only one
(b) Only two
(c) All three
(d) None
Correct Answer: (a) Only one
Statements 1 and 2 are correct.
https://www.hindustantimes.com/india-news/ins-visakhapatnam-reaches-muscat-to-boost-india-oman-maritime-partnership-101690732729273.html