INDIA CARICOM MINISTERIAL MEETING
Disclaimer: Copyright infringement not intended.
Context
External affairs minister co-chaired the 4th India-CARICOM ministerial meeting

with his Jamaican counterpart Kaminaj Smith here in Guyana's capital and discussed a range of issues, including trade, climate change and counterterrorism.
About CARICOM
CARICOM is an intergovernmental organisation that is a political and economic union of 15 member states (14 nation-states and one dependency) throughout the Americas and the Atlantic Ocean.

It is home to approximately sixteen million citizens, 60% of whom are under the age of 30, and from the main ethnic groups of Indigenous Peoples, Africans, Indians, Europeans, Chinese, Portuguese and Javanese.

The Community is multi-lingual; with English as the major language complemented by French and Dutch and variations of these, as well as African and Asian expressions.

Stretching from The Bahamas in the north to Suriname and Guyana in South America, CARICOM comprises states that are considered developing countries, and except for Belize, in Central America and Guyana and Suriname in South America, all Members and Associate Members are island states.

While these states are all relatively small, both in terms of population and size, there is also great diversity with regards to geography and population as well as the levels of economic and social development.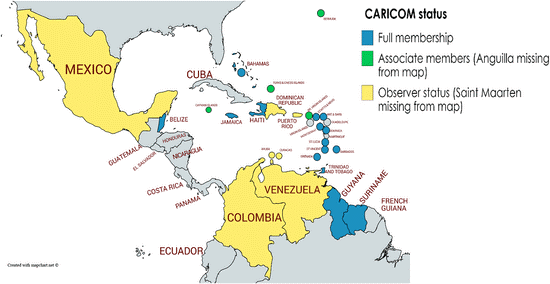 Pillars of Integration
CARICOM rests on four main pillars: economic integration; foreign policy coordination; human and social development; and security.
History
From the early efforts for a political union which led to the establishment of the West Indies Federation (1958), to the deeper and more structured engagements of the Caribbean Free Trade Association (CARIFTA) (1965), to the more sustained measure of regional integration through a Caribbean Community(1973).

CARICOM came into being on 4 July 1973 with the signing of the Treaty of Chaguaramas. The Treaty was later revised in 2002 to allow for the eventual establishment of a single market and a single economy.

Between 1993 and 2000, the Inter-Governmental Task Force (IGTF) which was composed of representatives of all Member States, produced nine Protocols, for the purpose of amending the Treaty.

These nine Protocols were later combined to create a new version of the

Treaty, called formally, 'The Revised Treaty of Chaguaramas' heralding the establishment of the CARICOM Single Market and Economy.

CARICOM is the oldest surviving integration movement in the developing world.
Members
CARICOM has 15 members – Antigua and Barbuda, Bahamas, Barbados, Belize, Dominica, Grenada, Guyana, Haiti, Jamaica, Montserrat, St. Kitts and Nevis, St Lucia, St. Vincent and the Grenadines, Suriname and Trinidad & Tobago.

Of the 15, all except Montserrat are nation States

.

Anguilla, Bermuda, British Virgin Islands, Cayman Islands and Turks & Caicos Islands are Associate Members of the Community.

The Chairmanship of the Community is rotated every six months among the member countries Heads.
Organisational strcture
The CARICOM Secretariat in Georgetown, Guyana is the principal administrative organ of the Community and is headed by a Secretary General who is the Chief Executive Officer of the Community.

The Conference of Heads of Government is the Supreme Organ of the Community and consists of Heads of States/Governments of all Member States (Chief Minister in case of Montserrat).
India – CARICOM: a brief
India's political engagement with CARICOM as a group started with the visit of a CARICOM delegation in 2003, during which an agreement was signed for establishing a Standing Joint Commission on Consultation, Cooperation and Coordination.

In 2005, India was invited as special guest to the CARICOM Summit in Paramaribo.

Subsequently, India-CARICOM Economic Forum was held in August 2005 in Port of Spain.

On the occasion, a project for the computerization of CARICOM Secretariat valued at US$ 1.3 million, funded by India, was completed and handed over to the CARICOM Secretariat.

India has since been extending capacity building and developmental assistance to CARICOM countries in several areas.

India's historic and warm relations with the countries of the Caribbean witnessed a new momentum with the meeting of PM Modi with 14 leaders of the CARICOM countries on the UNGA sidelines on 25 September 2019 in New York, during which PM Modi announced USD 14 million Grant for Community Development Projects (CDP) in the CARICOM.

In order to assist in their fight against COVID19, India had sent medical assistance worth INR 16 Crores to 27 LAC countries including to all CARICOM members.

India has also been providing higher education facilities for students from Caribbean countries through the Indian Technical and Economic Co-operation Programme (ITEC), as well as the Annual Special Courses for CARICOM diplomats at the Sushma Swaraj Institute of Foreign Service.

India and CARICOM share common position on many global issues

and coordinate closely in multilateral fora.

The presence of large Indian diaspora in the region and traditionally close relations of most member countries of CARICOM with India is an important factor.
PRACTICE QUESTION
Q) Which of the following statements with reference to CARICOM is/are incorrect?
a. It is a political and economic union of 15 nation states.
b. CARICOM came into being in 1973 with the signing of the Treaty of Chaguaramas.
a only

b only

both a and b

neither a nor b
Correct Answer: 1
http://timesofindia.indiatimes.com/articleshow/99680922.cms?utm_source=contentofinterest&utm_medium=text&utm_campaign=cppst