INDIA AUSTRALIA RELATIONS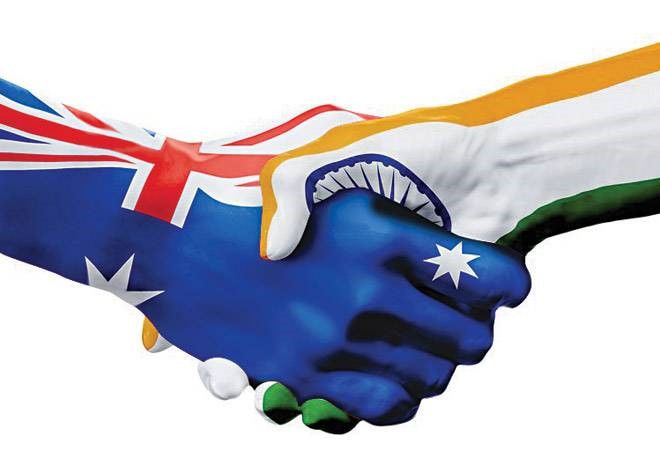 Disclaimer: Copyright infringement not intended.
Context
The Union Cabinet has approved the Memorandum of Understanding (MoU) on Cooperation in Sports between the Ministry of Youth Affairs & Sports of the Republic of India and the Department of Health and Aged Care of the Government of Australia.
Also, the Cabinet has approved the signing and ratification of the Mutual Recognition Arrangement (MRA) between the Central Board of Indirect Taxes and Customs (CBIC), the Department of Revenue, the Government of India, and the Department of Home Affairs incorporating the Australian Border Force, Australian Government.
Significance of Cooperation in Sports
Bilateral exchange programs in the field of sports between India and Australia will help in expanding knowledge and expertise in the area of sports sciences, technologies, and infrastructure; athlete and coach training and development; sports governance and integrity; grassroots participation in sport; major sporting events; diversity and inclusion in sport which would result in improvement in performance of our sportspersons in international tournaments and strengthening of bilateral relations between India and Australia.
Benefits arising from bilateral cooperation in the field of sports with Australia would be equally applicable to all sportspersons irrespective of their caste, creed, region, religion, and gender.
Mutual Recognition Arrangement (MRA)
The arrangement is aimed at providing reciprocal benefits to accredited and trusted exporters of both the signatories in the clearance of goods by the Customs authorities of the importing country.
Mutual recognition of Authorized Economic Operators is a key element of the World Customs Organisation's SAFE Framework of Standards to secure and facilitate global trade to strengthen end-to-end security of supply chains while providing higher facilitation to trade at the global level.
This arrangement shall benefit our exporters to Australia and thereby promote a trade relationship between the two countries.
Mutual Recognition of the Australian Trusted Trader Program in Australia and the Authorized Economic Operator Program in India shall enter into force from the date of signing by the authorized representatives of both countries.
INDIA- AUSTRALIA RELATIONS:
https://www.iasgyan.in/daily-current-affairs/india-australia-relations-1
https://www.iasgyan.in/daily-current-affairs/australia-india-relations
India- Australia Relations
Overview
India is the world's largest democracy and the fifth-largest economy.
The Australian Government's diplomatic network in India includes a High Commission in New Delhi and Consulates-General in Chennai, Mumbai and Kolkata. A new Consulate-General in Bengaluru, India's tech capital, opened in July 2023.
The Australia-India relationship was upgraded to a Comprehensive Strategic Partnership (CSP) in June 2020.
It is based on mutual understanding, trust, close connections and a shared vision of a stable, open and prosperous Indo-Pacific. Through the CSP, both countries are committed to working more closely together on science and technology, maritime cooperation, trade and investment, defense ties, agriculture, education, and tourism.
Diplomatic History
Australia's relationship with India is our oldest continuous formal diplomatic relationship with any Asian country.
Australia and India established diplomatic relations in 1943 when Lieutenant-General Sir Iven Mackay was appointed Australia's first High Commissioner to India.
India's first High Commissioner to Australia, Sir Raghunath P Paranjpe arrived in Canberra in 1945.
Bilateral Relationship
India and Australia have never been closer. Australia is one of only three countries with which India holds annual leader-level summits. The Prime Ministers of Australia and India also regularly interact at major international meetings, including the Quad, G20, and East Asia Summit.
Most recently, Prime Minister Modi visited Australia in May 2023 for bilateral discussions. In March 2023, Prime Minister Albanese visited India for the first Annual Leaders' Summit.
Prime Minister Albanese and Prime Minister Modi held their first bilateral meeting in the margins of the Quad Leaders' Summit in Tokyo in May 2022.
Australian and Indian Foreign Ministers also come together annually for the Foreign Ministers' Framework Dialogue. The Dialogue is an important forum for advancing our ambitious bilateral agenda.
In addition, Australian and Indian Foreign and Defence Ministers meet every second year to discuss strategic issues in a '2+2' format, with the first Ministerial 2+2 held in New Delhi in September 2021.
Since 1989, the Australia–India Joint Ministerial Commission meetings have provided a forum for Australian and Indian Trade Ministers to identify opportunities and address challenges in the economic relationship.
The 18th Joint Ministerial Commission meeting was held in March 2023. These meetings are complemented by ministerial engagement in sector-focused working groups, including on energy and education.
Our strong bilateral architecture is complemented by regional groupings such as the Quad and trilateral forums, including the Australia-India-Indonesia and the Australia-India-France Trilateral Meetings.
People-to-people links
Australia's Indian diaspora forms the living bridge between our countries. The Indian community is Australia's second-largest, and fastest-growing, overseas-born group.
In the 2021 Census, the number of people reporting Indian heritage was 976,000. Of these, there were 673,000 Indian-born Australians, representing 2.6 percent of the Australian population.
Punjabi is our fastest-growing language, and Hindi continues to be one of the top ten languages in Australia at home.
India became the world's most populous country in 2023. It remains Australia's largest source of skilled migrants and the second-largest source of international students.
On 24 May 2023, Prime Minister Albanese and Prime Minister Modi signed the Migration and Mobility Partnership Arrangement to promote two-way mobility between our countries for the education and business sectors, while enhancing cooperation on irregular migration and people smuggling.
The Centre for Australia-India Relations launched in May 2023 by Prime Minister Albanese supports and facilitates greater engagement and collaboration with India. The Centre and its programs, including the Maitri (friendship) programs, are growing our cultural exchange, helping Australian business engagement in the Indian market, elevating policy interchange and channeling the expertise of Australia's vibrant Indian diaspora.
The Australia India Leadership Dialogue and Australia India Youth Dialogue bring our leaders and emerging leaders together to address shared challenges in the Australia-India relationship, explore areas for cooperation and build out our ties.
Economic relationship
According to the International Monetary Fund (IMF), India is the world's fifth-largest economy in nominal terms and third-largest by Purchasing Power Parity.
In 2022, India was Australia's sixth-largest two-way goods and services trading partner and fourth-largest goods and services export market. Two-way goods and services trade with India was $48.4 billion in 2022.
Australia's exports to India totaled $34.8 billion and imports from India totaled $13.5 billion in 2022.
Australia's stock of investment in India was $17.6 billion in 2022 and India's total investment in Australia was $34.5 billion.
India's growth creates opportunities for Australia's goods and services, including agricultural goods, minerals and resources, as well as education and skills training.
It also affords new opportunities for two-way investment, including in renewable energy sectors.
The Australia-India Economic Cooperation and Trade Agreement (ECTA) entered into force on 29 December 2022, and is deepening our economic ties and providing further opportunities for Australian and Indian businesses.
Australia and India are now negotiating a bilateral Comprehensive Economic Cooperation Agreement (CECA) and progressing cooperation in a range of areas, including critical minerals, health, critical technology, science and agriculture.
In March 2022, the Australian Government released the Update to the India Economic Strategy (IES), a five-year action plan that builds on the landmark 2018 India Economic Strategy and responds to evolving opportunities for both countries, changed global circumstances, the growing strength of the bilateral relationship, and key economic reforms in India.
To support more Australian and Indian business partnerships, the Australian Government, through Austrade, launched the Australia India Business Exchange (AIBX). AIBX provides a range of services to support Australian businesses to enter and establish operations in India, from industry-specific insights to guidance on doing business with India and entering India's online retail market.
Austrade provides tailored advice on doing business in India. The quarterly Business Envoy publication offers perspectives and insights on the economic and market impacts of geopolitical events and trends from Australia's global diplomatic network.
Renewable energy and resources
Australia and India have joined forces to accelerate the production and deployment of renewable energy technologies that will create new economic opportunities, diversify global clean energy supply chains, and help reduce global emissions.
During Prime Minister Modi's visit to Sydney in May 2023, Australia and India agreed on Terms of Reference for the Australia-India Green Hydrogen Taskforce. The Taskforce will be comprised of Australian and Indian experts in green hydrogen production and deployment.
It complements the work of the India-Australia Solar Taskforce welcomed by the Prime Ministers of Australia and India in March 2023. The Solar Taskforce will provide advice on opportunities to accelerate solar PV deployment and enhance supply chains.
The Australia-India Green Steel Partnership is helping India meet growing steel requirements while supporting commercialisation of innovative technologies that improve efficiencies and environmental outcomes in steel production.
We are deepening cooperation under the Australia-India Critical Minerals Investment Partnership. Investments under the Partnership will seek to build new supply chains underpinned by critical minerals processed in Australia that will help India's plans to lower emissions from its electricity network and become a global manufacturing hub, including for electric vehicles.
India's goals to lower carbon emissions and boost electric vehicle production present great opportunities for Australia's critical minerals sector.
The India-Australia Minerals Scholar Network, is developing an ecosystem of technical talent across both nations, with expertise in green steel and critical minerals. The Network would support India's emergence as a renewable technology manufacturing powerhouse and Australia's goal of becoming a renewable energy superpower.
Education ties
Education is Australia's largest service export to India, valued at $4.4 billion in 2022.
As of May 2023, almost 88,000 Indian visa holders were studying in Australia.
The Australia-India education partnership is an important pillar of our bilateral relationship, supporting the bridge between our communities, building future-ready workforces, and driving economic growth.
Australia is committed to strengthening the bilateral education relationship with India by increasing institutional cooperation, exploring new and innovative delivery models, and facilitating greater research cooperation.
The Australia-India Education and Skills Council (AIEC) provides a platform for ministerial engagement on strategic policy issues in education, skills and research.
Australia and India's Education Ministers signed the first ever Mechanism for the Mutual Recognition of Qualifications between Australia and India, in New Delhi on 2 March 2023. The mechanism supports the recognition of qualifications in Australia and India to facilitate access to higher education in both countries.
Prime Minister Albanese announced during his visit to India in March 2023 that Deakin University would be first university in the world approved to open an international teaching campus in India. The University of Wollongong has subsequently also received approval to establish a campus in Gujarat International Finance Tec-City (GIFT City).
Defence engagement
Australia's defence engagement with India gathered significant momentum in 2022 and has continued to grow.
Australia and India share ambitions to embed more complex habits of cooperation in our defence relationship.
Since signing our CSP in 2020 and the Mutual Logistics Support Agreement in 2021, we have established a regular pattern of defence exercises, strategic dialogues, and training exchanges. By exercising together, both bilaterally and alongside other partners, we aim to increase interoperability to address threats to our collective security.
Training exchanges strengthen the people-to-people links that anchor our partnership and strategic dialogues set our direction and priorities. For the first time in 2023, Australia will host Exercise Malabar – a joint training initiative with India, the US and Japan.
We regularly exercise together during Exercise AUSTRAHIND and AUSINDEX, bilateral army and navy exercises, and continue to conduct our Maritime Patrol Aircraft deployments to enhance maritime domain awareness.
Grant opportunities
The Australia-India Strategic Research Fund (AISRF) supports scientists in India and Australia to collaborate on leading-edge research.
Australia-India Cyber and Critical Technology Partnership (AICCTP) grants support Australian and Indian organisations to collaborate to contribute to the global development of ethical standards around critical and emerging technologies such as Artificial Intelligence (AI), next-generation telecommunications (5G/6G), Internet of Things (IoT), quantum computing, synthetic biology, blockchain, and big data.
The International Space Investments grants program enables Australian businesses and research organizations to conduct joint projects and build closer relationships with India's space sector.
Grants administered under the Australia-India Indo-Pacific Oceans Initiative Partnership (AIIPOIP) help shape maritime cooperation in the Indo-Pacific to support an open, inclusive, resilient, prosperous, and rules-based maritime order.
The Australian Alumni Grants Scheme (AGGS) supports India-based Australian University alumni to share their knowledge and experience in support of our Comprehensive Strategic Partnership.
Maitri Cultural Partnerships support greater exchange and collaboration between Australian and Indian creative industries. The inaugural grant round funded: a Major Collaboration Grants to engage Indian partners; Visual and Performing Arts Grants supporting cultural collaboration with Australian First National; and Collaboration Grants for Australian cultural organizations and community groups.
The Direct Aid Program (DAP) is a small grants program funded by the Australian Government and managed through the Department of Foreign Affairs and Trade. It supports projects that have a strong development focus, contribute to poverty reduction, and strengthen communities in India. The Australian High Commission in New Delhi and Consulates-General in Chennai, Mumbai, and Kolkata all manage separate DAP grants programs.
PRACTICE QUESTION
Q. India- Australia Relation is based on mutual understanding, trust, close connections, and a shared vision of a stable, open, and prosperous Indo-Pacific. What are the areas of cooperation between the two countries? Discuss.