CONSTANTINE JOSEPH BESCHI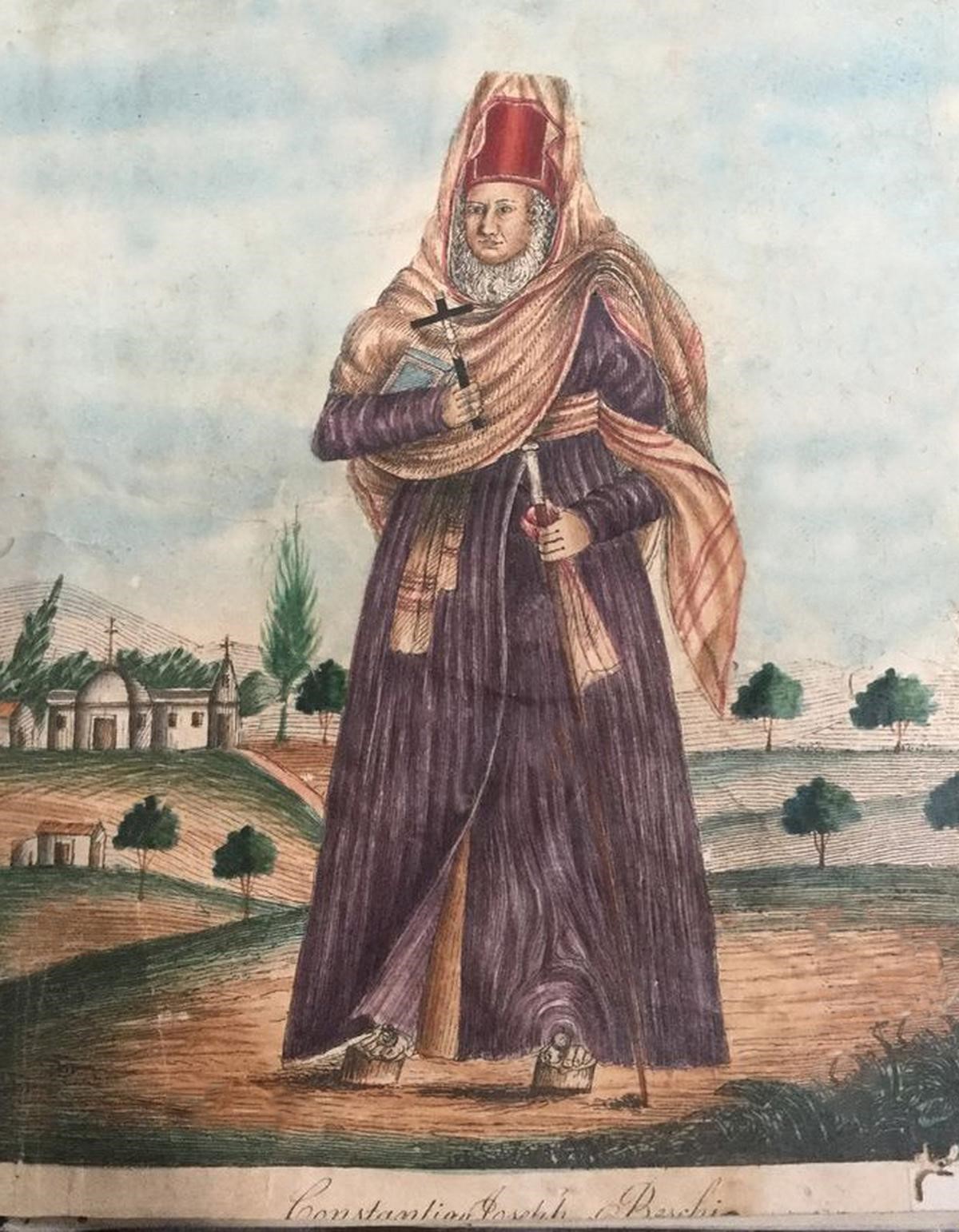 Disclaimer: Copyright infringement not intended.
Context
Constantine Joseph Beschi, popularly known as Veeramamunivar, was an Italian Jesuit priest, Tamil scholar, and a key figure in South India during the 18th century.
His significant role as Chanda Sahib's Dewan (chief minister) and his intricate relationship with the Nawab of the Carnatic bring a unique dimension to his missionary activities.
Details
Early Years and Missionary Work
Birth and Education: Beschi was born in Castiglione delle Stiviere, Italy, in 1680. He received his education in rhetoric, humanities, and grammar at the Jesuits' High School in Mantua.

Jesuit Training: After joining the Jesuit order in 1698, Beschi underwent training in philosophy and theology in various cities, including Ravenna and Bologna. He was ordained as a priest in 1709.

Mission to India: Inspired by the Jesuits' work in India, Beschi obtained permission to join the mission in Madurai, South India. He arrived in Goa in 1710 and later reached Madurai in 1711.
Work in South India
Adoption of Tamil Lifestyle: Beschi embraced Tamil culture and adopted aspects of the lifestyle, including wearing the saffron-colored robe of a sannyasi (Indian ascetic).

Language Proficiency: He traveled to various centers in South India, including Tirunelveli, Ramanathapuram, Thanjavur, and Madurai, to learn Tamil, Sanskrit, and Telugu.

Persecution and Resilience: Beschi faced persecution and even escaped a death sentence in 1714–15. His bold defense of his beliefs earned him the nickname "Dhairiyanathar" (The Fearless Guru).

Missionary Work: He served in Elakurichy, Kamanayakkanpatti, and the Thanjavur area, contributing to the establishment of several Catholic pilgrim centers and churches.
Contribution to Tamil Literature
Lexicography: Beschi compiled the first Tamil-Latin dictionary and the comprehensive Chaturakarati, a quadruple lexicon containing words, synonyms, and categories of words and rhymes.

Translations and Works: He translated and explained the "Thirukkural" into Latin and translated various Tamil literary works into European languages. He authored Tamil grammars, dictionaries, and prose works.

Innovations in Tamil Script: Beschi introduced changes in Tamil script, including dotting the consonants and altering the representation of long vowels.
Relationship with Chanda Sahib
Friendship and Official Role: Contrary to typical Jesuit missions, Beschi had a close friendship with Chanda Sahib, the Nawab of the Carnatic. He served as Chanda Sahib's Dewan and was even bestowed with honors and material gifts by him.
Gifts and Titles: Chanda Sahib conferred upon Beschi the surname "Ismattee Sannyasi," recognizing his excellence as a religious devotee. He also presented him with a palanquin that belonged to his grandfather and granted him four revenue-yielding villages in Tiruchi district.
Role as Dewan: Despite holding the position of Dewan, Beschi maintained religious practices and outward appearances akin to Hindu ascetics, accompanied by traditional Hindu and Muslim ceremonial honors during his travels.
Controversies and Perspectives
Historical Disputes: There are conflicting views about Beschi's friendship and collaboration with Chanda Sahib. While some, like Léon Besse, dispute the claims made by Muttusami Pillei (the author of Beschi's first Tamil biography), others, including Fr. Amaladass, support the veracity of Pillei's account.

Missionary Work and Social Circumstances: Beschi's interactions with Chanda Sahib occurred within the political and social context of his missionary work in Elakurichi in Tiruchi. He seemingly sought support from rulers to facilitate his missionary efforts.
Later Years and Death
Continued Service and Death: Beschi continued his office as Dewan until around 1740. When Chanda Sahib was captured by the Maratha army, Beschi moved to Manapadu, continuing his service to the church until his death in 1742.
Recognition and Legacy
Statues and Tributes: His contributions were recognized by Tamil Nadu, which erected statues in his honor in Chennai (Madras) and Madurai. He was celebrated as a significant figure in both Tamil Nadu and his native Italy.

Legacy in Literature: Beschi's works, including the poetic masterpiece Thembavani and other writings, left a lasting impact on Tamil literature.
Conclusion
Constantine Joseph Beschi's dedication to Tamil language, culture, and literature earned him a revered place in the history of South India and the field of linguistics and missionary work.
PRACTICE QUESTION
Q. Discuss the significant contributions of Constantine Joseph Beschi, popularly known as Veeramamunivar, as an Italian Jesuit missionary and Tamil scholar in South India during the 18th century. (250 Words)