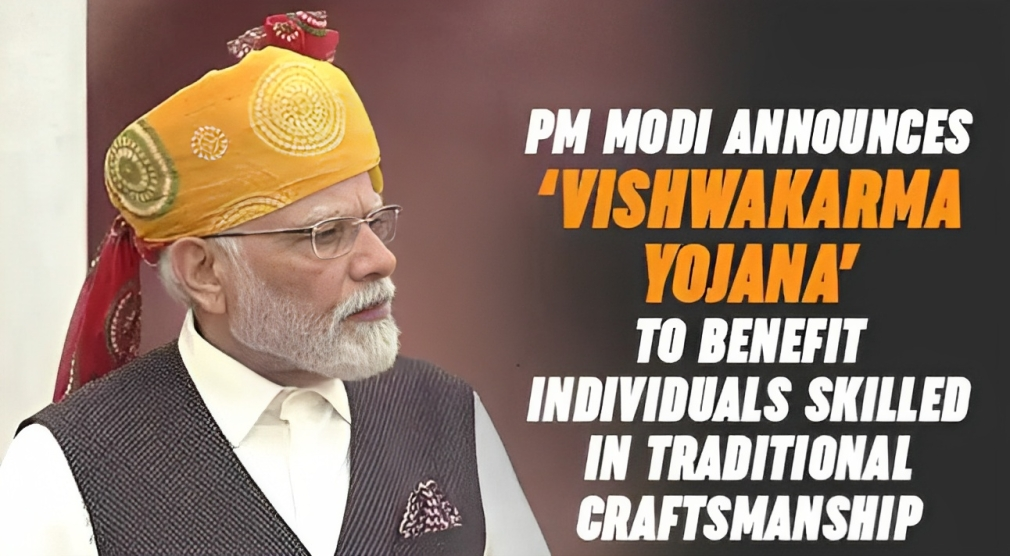 Copyright infringement not intended
Picture Courtesy: narendramodi. in
Context: On August 15, 2023, the Prime Minister of India announced a new scheme for artisans and craftsmen in his Independence Day speech from the Red Fort. The scheme, named Vishwakarma Yojana, aims to promote skill development and empowerment among the youth who are engaged in traditional artisan works such as weaving, goldsmithing, blacksmithing, laundry, barbering and others.
Details
The scheme will have an initial allocation of around ₹13,000 crore to ₹15,000 crore and will be launched on the occasion of Vishwakarma Jayanti, which falls on September 17 this year.
Background
India has a rich and diverse heritage of arts and crafts that reflects its cultural diversity and history. However, these traditional skills are facing many challenges such as lack of formal recognition, low income, competition from modern products, lack of access to markets and credit, and inadequate training and infrastructure. As a result, many artisans and craftsmen are leaving their ancestral occupations and migrating to urban areas in search of better livelihoods. This not only affects their socioeconomic status but also leads to the loss of valuable cultural assets.

To address these issues, the government has launched various schemes and initiatives in the past such as the Handloom Development Programme, the Handicrafts Development Programme, the Khadi and Village Industries Commission (KVIC), the National Rural Livelihood Mission (NRLM), the Deendayal Antyodaya Yojana-National Urban Livelihoods Mission (DAY-NULM), the Pradhan Mantri Kaushal Vikas Yojana (PMKVY), the Skill India Mission and others. However, these schemes have not been able to reach all the segments of the artisan community and have faced challenges such as duplication, fragmentation, lack of coordination, low awareness and participation, and inadequate monitoring and evaluation.

Therefore, there was a need for a comprehensive and holistic scheme that would cater to the specific needs and aspirations of artisans and craftsmen across the country. To address the present challenges Vishwakarma Yojana announced by the PM.
Features of Vishwakarma Yojana
Vishwakarma Yojana is a scheme that aims to provide skill development, financial assistance, market linkages, social security and empowerment to the artisans and craftsmen belonging to various communities, especially the Other Backward Classes (OBCs).

It will cover artisans and craftsmen from various sectors such as textiles, leather, metal, wood, clay, stone, bamboo, cane, paper, glass etc.

It will provide skill training to the artisans and craftsmen based on their existing level of proficiency and market demand. The training will be imparted through various modes such as online courses, mobile apps, workshops, seminars etc.

It will provide financial assistance to the artisans and craftsmen in the form of loans, grants, subsidies, interest waivers etc. The assistance will be given for various purposes such as raw material procurement, tool purchase, product development, quality improvement etc.

It will provide market linkages to the artisans and craftsmen through various platforms such as e-commerce portals, exhibitions, fairs, festivals etc. It will also facilitate branding, packaging,
Significance
The Vishwakarma Yojana is expected to have a significant impact on the lives and livelihoods of traditional artisans and craftsmen.

It will help them to enhance their income, productivity, quality, and competitiveness.

It will help them to access new markets, both domestic and international, and increase their customer base.

It will help them to preserve their identity, dignity, and cultural heritage.

It will contribute to the overall development of the rural economy and society.
Key Steps taken to support and uplift traditional artisans and craftsmen
PM SVANidhi:

The Pradhan Mantri Street Vendor's AtmaNirbhar Nidhi (PM SVANidhi) scheme provides micro-credit facilities to street vendors, including those involved in selling handicrafts and handlooms. This scheme helps street vendors access formal credit and enhance their livelihoods.

PM Kisan Samman Nidhi:

The Pradhan Mantri Kisan Samman Nidhi scheme offers direct income support to small and marginal farmers, including those who cultivate raw materials used in handicrafts and handlooms. This income support contributes to the economic well-being of these farmers.

PMEGP:

The Prime Minister's Employment Generation Programme (PMEGP) offers credit-linked subsidies for establishing micro-enterprises in both rural and urban areas. This scheme supports the setup of various businesses, including those related to handicrafts and handlooms.

SFURTI:

The Scheme of Fund for Regeneration of Traditional Industries (SFURTI) focuses on developing clusters of traditional industries, including handicrafts and handlooms. This initiative aims to enhance the competitiveness of such industries by providing infrastructure and marketing support.

USTAAD:

The Upgrading the Skills and Training in Traditional Arts/Crafts for Development (USTAAD) scheme is aimed at upgrading the skills and training of artisans and craftsmen from minority communities, enabling them to improve their craft and expand their market reach.

Hunar Haat:

Hunar Haat serves as a platform for artisans and craftsmen, particularly those from minority communities, to showcase and sell their products. This initiative provides exposure and direct market access for traditional crafts.

GeM (Government e-Marketplace):

GeM is an online marketplace that facilitates the procurement of goods and services by government entities from micro and small enterprises, including those involved in handicrafts and handlooms. This platform helps artisans access government contracts and markets.
These initiatives collectively reflect the government's commitment to supporting traditional artisans and craftsmen by providing them with avenues for skill enhancement, market exposure, financial assistance, and infrastructural support. By creating a conducive environment for the growth of these traditional industries, India aims to preserve its cultural heritage while also promoting economic development within the sector.
Challenges to ensure the growth and sustainability of the traditional arts and crafts sector
Lack of Awareness

: Many artisans and craftsmen are often unaware of the various government schemes, financial support, and training opportunities available to them. This lack of awareness prevents them from accessing the resources that could help improve their skills and businesses.

Lack of Coordination:

The involvement of multiple government agencies and departments in implementing various schemes can lead to a lack of coordination, resulting in duplication of efforts and gaps in service delivery. Streamlining these efforts could enhance the effectiveness of support programs.

Lack of Data:

The absence of a comprehensive and up-to-date database or census of traditional artisans makes it challenging to accurately identify their numbers, needs, and geographic distribution. This lack of data hampers the planning, monitoring, and evaluation of schemes aimed at supporting artisans.

Lack of Innovation:

Some artisans may be resistant to adopting new technologies, designs, or market trends due to a preference for traditional methods or limited exposure to modern innovations. This can impact the competitiveness and relevance of their products.

Lack of Protection:

Intellectual property rights (IPR) issues are significant concerns for artisans. Many of their unique designs and techniques are vulnerable to infringement or unauthorized replication. A lack of awareness about IPR protection mechanisms leaves artisans susceptible to exploitation.

Market Access:

Limited market access and challenges in reaching consumers directly can restrict the growth of traditional artisans. They may struggle to compete with mass-produced, cheaper alternatives flooding the market.

Skills Transfer:

Traditional knowledge and skills are often passed down through generations. As younger generations move away from traditional practices, there is a risk of the skills and knowledge being lost if not adequately preserved and transferred.

Economic Viability:

Some artisans struggle to make a decent living from their crafts due to low demand, inadequate pricing, and lack of proper marketing channels. This can lead to a decline in interest among younger generations to pursue traditional crafts.

Infrastructure and Training:

Adequate infrastructure, access to raw materials, and specialized training facilities are essential for artisans to enhance their craft. The lack of these facilities can hinder skill development and product quality improvement.

Globalization and Mass Production:

The influx of mass-produced goods and globalization can threaten the demand for traditional crafts, as consumers may opt for cheaper and more easily accessible alternatives.
To make the Vishwakarma Yojana a success, some possible steps are:
Creating Awareness

:

Launching an extensive awareness campaign through various media channels and involving local influencers can help spread information about the scheme and its benefits. This approach can ensure that potential beneficiaries are well-informed and encouraged to participate.

Strengthening Coordination:

Establishing a single nodal agency or authority with representatives from relevant ministries and departments can enhance coordination and streamline the implementation of the scheme. A dedicated portal or helpline can offer easy access to information and grievance redressal.

Collecting Data

:

Conducting regular censuses or surveys of traditional artisans can provide valuable insights into their needs, challenges, and aspirations. This data-driven approach can aid in designing tailored schemes and evaluating their impact effectively.

Promoting Innovation:

Encouraging artisans to embrace new technologies and designs can enhance their competitiveness. Offering incentives for innovation, such as grants and recognition, and facilitating partnerships with institutions can drive creativity and modernization.

Providing Protection:

Ensuring intellectual property rights protection is crucial to prevent imitation and counterfeiting. Registering and certifying products and taking strict actions against infringers can safeguard artisans' creations. Implementing quality standards and tariffs can also create a level playing field.
Conclusion
The Vishwakarma Yojana holds the potential to uplift traditional artisans and craftsmen, but its success hinges on strategic steps. By creating awareness, streamlining coordination, gathering accurate data, promoting innovation, and ensuring protection, the government can foster a thriving environment for these artisans, preserving cultural heritage while driving economic empowerment. Through a holistic approach, the scheme can pave the way for sustainable growth and prosperity in the traditional arts and crafts sector.
PRACTICE QUESTION
Q. What is the significance of providing support to traditional artisans and craftsmen, and how does it impact both cultural heritage and socioeconomic development? What challenges do these artisans face in their pursuit, and what steps can be taken to address these obstacles and ensure their sustainable growth and preservation of traditional craftsmanship?
https://www.thehindu.com/news/national/vishwakarma-yojana-soon-for-artisans-says-pm-modi/article67198023.ece#:~:text=Prime%20Minister%20Narendra%20Modi%2C%20in,engaged%20in%20traditional%20artisan%20works