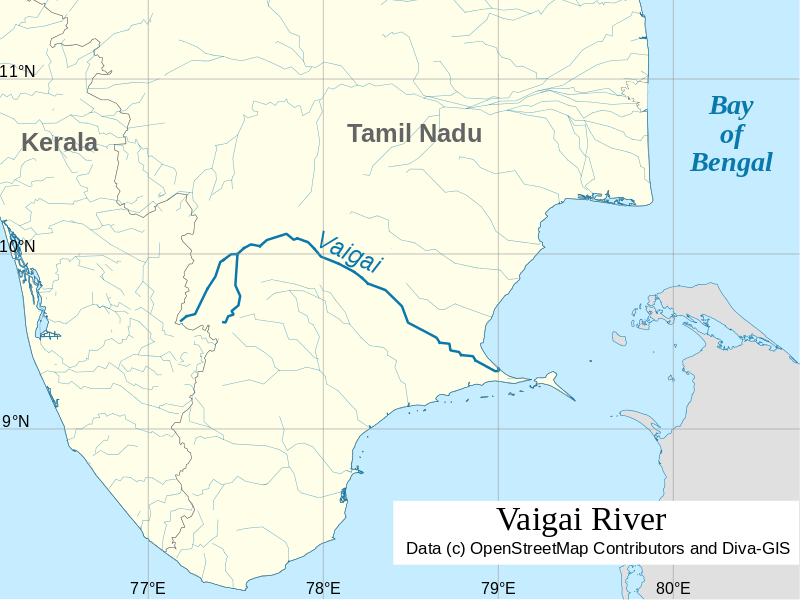 Disclaimer: Copyright infringement not intended.
Context
A second flood warning for five southern districts has been issued after the water level in Vaigai dam touched 68.50 ft. (maximum permissible level 71 ft.) at 5 p.m. on Tuesday.
About
It spans the Vaigai River at Andipatti in Tamil Nadu's Theni district.
It opened in 1959 and is known as the region's lifeblood.
It stands 111 feet tall and can hold 71 feet of water.
Its primary purpose was to deliver water for irrigation in the Madurai and Dindigul districts, as well as drinking water for Madurai and Andipatti.
The Tamil Nadu government has built an Agricultural Research Station near the dam to study the cultivation of various crops.
In close proximity to this dam lies a little garden known as Little Brindavan.
The following are some important facts regarding the Vaigai River
It is a river in the state of Tamil Nadu.
It gets its name from the Varushanad Hills in the Western Ghats.
It passes across the Tamil Nadu area of Pandya Nadu.
It is the main river of Madurai, the mythical city that served as the capital of the old and rich Pandya kingdom in southern Tamil Nadu.
The river appears in Sangam literature dating back to 300 BC.
It is 258 km long.
The Periyar Dam in Kerala provides a significant amount of water to Vaigai.
A tunnel under the Western Ghats diverts water from the Periyar River in Kerala to the Vaigai River in Tamil Nadu.
Suruliyaru, Mullaiyaru, Varaganadhi, Manjalaru, Kottagudi, Kridhumaal, and Upparu are its primary tributaries.
It eventually drains into the Palk Strait at the Pamban Bridge in the district of Ramanathapuram.
The river supplies drinking water to five districts in Tamil Nadu: Theni, Madurai, Ramnathapuram, Sivagangai, and Dindigul.
It also serves to irrigate 200,000 hectares of agricultural land.
PRACTICE QUESTION
Discuss the socio-environmental and economic implications of large-scale dam projects in India. Using a specific case study, analyze the challenges and benefits associated with such projects, and evaluate the measures needed for sustainable and inclusive development while addressing concerns about displacement, environmental degradation, and water management.