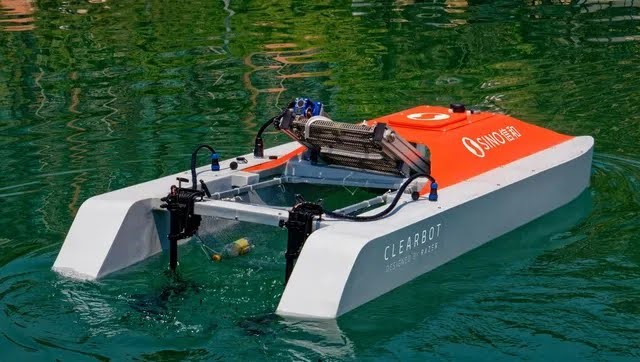 Disclaimer: Copyright infringement not intended.
Context
The Meghalaya government is using artificial intelligence (AI) to tackle the state's growing waste problem.
The state has adopted AI-enabled robotic technology to keep its tourist hotspot, Umiam Lake, free of pollutants.
Details
This is a part of the Meghalaya government's Smart Village initiative under which the AI- enabled robotic boat was recently deployed in collaboration with a global non-profit organisation called Smart Village Movement (SVM), and Hong Kong-based technology firm Clearbot after a week-long demonstration.
The SVM aims to empower rural people through digital technologies and open innovation platforms to access global markets.
The AI-powered boat can gather as much as 15 liters of oil and 200 kilograms of floating refuse daily, thus making it an economical method for effectively removing waste.
How does the AI-enabled robotic boat work?
The AI-integrated robotic boat can collect huge quantities of garbage in a reasonable time from Umiam Lake.
The robot is unmanned and battery-powered. It is built to collect plastic waste on the shoreline and in waterways.
The batteries are charged via solar panels at the on-land docking station and the boat can either be set to run autonomously or guided by a remote operator.
A watershed moment in waste management
As per Tulenam Laloo, Director of Operations for the initiative in Meghalaya, "Such models will develop standard processes for dealing with waste promptly, making operations more efficient than traditional ones." These technologies must be used to address the growing problem of garbage in general, but especially to help scale such operations to similar areas and restore vibrant ecological and wonderful touristic experiences."
Importance of Umiam Lake
Tourist attraction
The lake is a popular tourist destination in the state of Meghalaya.
It's also a popular spot for water sports and adventure activities. Kayaking, water cycling, scooting, and boating are popular activities for visitors.
Environmental impact
In addition to holding water for energy generation, the lake provides a variety of ecological services at the micro, meso, and macro levels.
Local anthropogenic demands are met by downstream irrigation, fisheries, and drinking water.
Toxic threats and silting
The lake is becoming increasingly polluted as the population of Shillong upstream of it grows.
There is also the serious issue of silting.
Every year, an estimated 40,000 cubic metres (1,400,000 cu ft) of silt enters Umiam Lake.
Causes include upstream encroachment, deforestation, blocking of natural drainage systems, and unscientific mining in the catchment area, among others.
The lake's storage capacity has been reduced due to excessive silt load.
Umiam Lake
About
Umiam Lake, also known as Barapani Lake, is a lake in the state of Meghalaya, 15 kilometers (9.3 miles) north of Shillong, the state capital.
It is surrounded by the lush green East Khasi hills.
It is one of Meghalaya's largest manmade lakes, covering an area of 10 square kilometers.
The lake was established in 1965 after a dam was built to generate hydroelectric power.
The dam was built as part of the Umiam Umtru Hydroelectric Power Project, northeast India's first hydroelectric power project.
Water Source: The confluence of two streams, Umkhrah and Umshvrpi, forms the Wah Ro-ro stream in the northwest of town, which joins River Umiam, the lake's main source of water.
The lake and dam's primary catchment area covers 220 square kilometers, which contains Shillong and its surrounding areas.
It is a well-known location for water sports and adventurous activities.
PRACTICE QUESTION
Q) Artificial Intelligence is a rapidly advancing technology that is gaining popularity in various industries, particularly waste management. Discuss.
https://www.indiatimes.com/news/north-east/artificial-intelligence-helps-in-waste-management-at-meghalayas-picturesque-umaim-lake-613875.html
https://en.wikipedia.org/wiki/Umiam_Lake#:~:text=The%20lake%20serves%20as%20a,cycling%2C%20scooting%2C%20and%20boating.