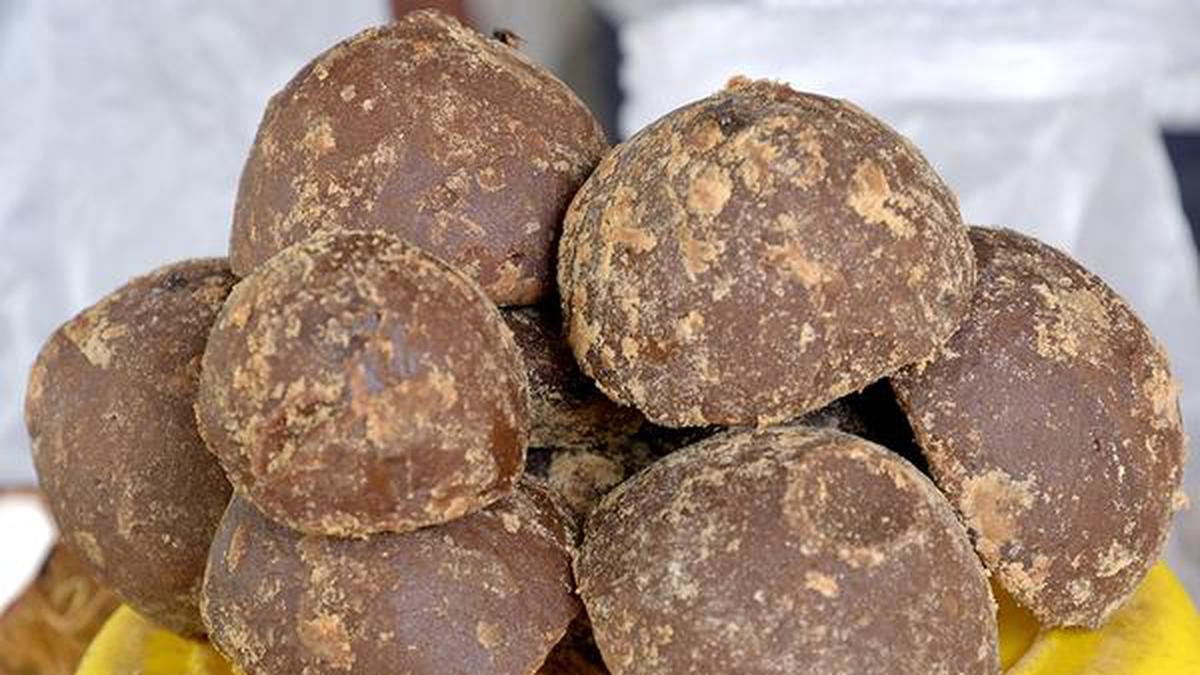 Copyright infringement not intended
Picture Courtesy: THE HINDU
Context: Udangudi 'Panangkarupatti' (palm jaggery or gur) has been granted a Geographical Indication (GI) tag, recognizing its unique characteristics associated with the specific region of Udangudi in Tamil Nadu.
About Udangudi 'Panangkarupatti' (palm jaggery or gur)

Traditional Preparation

●The palm jaggery preparation process in Udangudi follows traditional methods that have been passed down through generations. Unlike many other areas where chemical additives like triple super phosphate and phosphoric acid are used, Udangudi Panangkarupatti is made without the inclusion of any modern strategies or chemical additives.

Unique Soil Composition

●The uniqueness of 'Karupatti' prepared in Udangudi is attributed to the presence of red sand dune soil in the region. This soil type has certain characteristics that influence the quality of the palm jaggery produced. The red sand dune soil in Udangudi holds less groundwater and has a dry climatic condition, which results in higher sucrose content and contributes to the distinctive taste of the jaggery.

Dry Climate Benefits

●The region's dry climate is also beneficial for the storage of 'Karupatti' over a longer duration, making it a practical choice for both local consumption and export.

Exported to Foreign Countries

●Udangudi jaggery has gained popularity not only locally but also internationally. It has been exported to foreign countries, including Sri Lanka, Malaysia, and Singapore, highlighting its quality and demand beyond India's borders.

Method of Production

●The production process involves the collection of palm sap (padhaneer) drop by drop into small earthen pots. This sap is collected during specific months, from March-April to June-July. The collected sap is then boiled in large vessels.

●Castor seeds are used as an antifoaming agent, and scum is removed during the boiling process. As the temperature reaches a certain range, the jaggery thickens and changes colour, eventually solidifying into 'Karuppukatti' in coconut shells.
Conclusion
The GI tag not only recognizes the unique characteristics of Udangudi 'Panangkarupatti' but also helps protect the traditional production methods and heritage associated with this regional speciality.
Must Read Articles:
GI TAGS: https://www.iasgyan.in/daily-current-affairs/gi-tags-list-updated
PRACTICE QUESTION
Q. Recently, Udangudi 'Panangkarupatti' (palm jaggery or gur) has been granted a Geographical Indication (GI) tag, where is Udangudi located?
A) Karnataka
B) Andhra Pradesh
C) Tamil Nadu
D) Kerala
Answer: C
Explanation: Udangudi is a town situated in the state of Tamil Nadu, India.