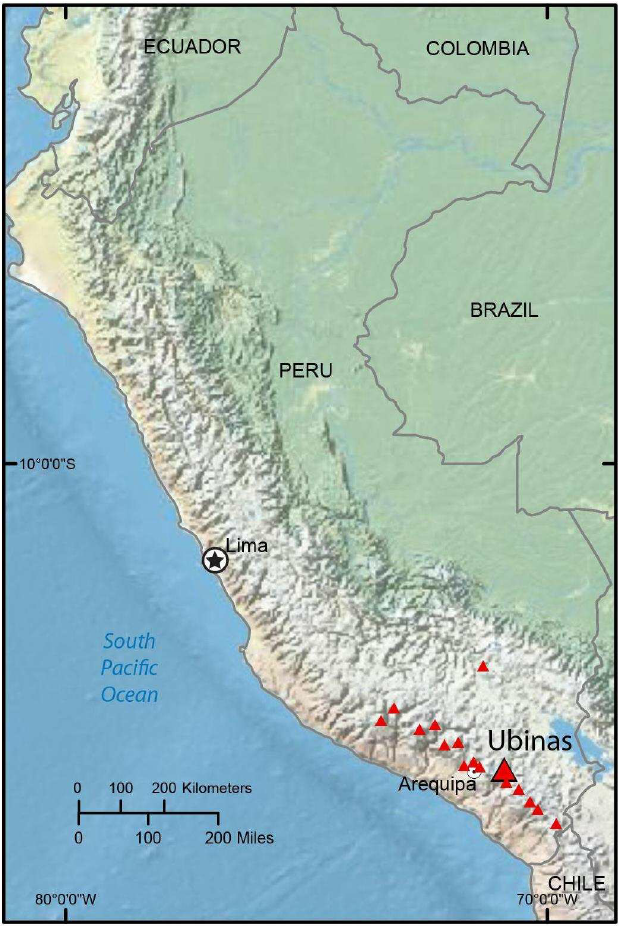 Disclaimer: Copyright infringement not intended.
Context
State of emergency was declared in Peru's Moquegua region due to the activity of the Ubinas volcano.
Details
Peru's Moquegua region

has declared a state of emergency due to ongoing activity of the Ubinas volcano.

The volcano has been spewing ash and experiencing numerous explosions in the past two days.

President Alberto Otarola declared an emergency, stating that the Ubinas volcano has entered an "eruptive process."
Volcano Activity and Impact
The Ubinas volcano, located in the southern Andean region, began emitting ash onto surrounding villages on Tuesday.

The volcano had been inactive since 2019.

The ash plume reaches an altitude of approximately 5,000 meters (16,404 feet) and is carried by the wind to nearby villages.

The eruption is likely to impact approximately 2,000 people living in the vicinity.

The ash has covered houses and streets in nearby villages, prompting precautionary measures.
Precautionary Measures
Residents have been advised to remain indoors to prevent inhaling the ash.

The advisory will be in effect for the next two months.

Local authorities have not issued evacuation orders yet, but federal agencies are making preparations by setting up shelters.
Geographical Context
The Ubinas volcano is part of a group of seven volcanoes in southern Peru within a volcanic zone extending from southern Peru to northern Chile.

The affected area is situated within the "Ring of Fire," known for its volcanic activity and seismic events.
Previous Eruptions and Volcanic Region
During the eruption of Ubinas in 2019, hundreds of people were evacuated from the area.

Historical records indicate that Ubinas has experienced around 25 eruptions since 1550.

The regions of Moquegua, Arequipa, and Tacna, along with their neighboring areas, are home to approximately 40 volcanoes, with the majority currently dormant.
About Peru
Peru is a country located in western South America, bordering the Pacific Ocean to the west.

It shares borders with Ecuador, Colombia, Brazil, Bolivia, and Chile.

The country has a diverse landscape, including the Andes Mountains, the Amazon rainforest, and coastal regions.

Peru has a population of approximately 32 million people, with Lima being the capital and largest city.
Cultural and Historical Significance
Peru has a rich cultural heritage, with ancient civilizations such as the Inca Empire leaving significant historical landmarks and artifacts.

Machu Picchu, a UNESCO World Heritage Site

, is an iconic symbol of Inca civilization and a popular tourist attraction.

The country is known for its vibrant traditional festivals, music, and cuisine, including ceviche and the famous Peruvian dish, Cuy (guinea pig).
Economy and Industries
Peru has a mixed economy with a diverse range of industries.

It is a leading producer of minerals such as copper, gold, silver, and zinc, contributing significantly to its export revenue.

Agriculture is also important, with Peru being a major exporter of products like coffee, asparagus, and quinoa.

The tourism sector plays a significant role, attracting visitors with its archaeological sites, natural wonders, and cultural experiences.
Environmental Diversity and Biodiversity
Peru is home to a remarkable range of ecosystems due to its diverse geography.

The Amazon rainforest covers a significant portion of the country, hosting a wide array of plant and animal species.

The Andes Mountains are characterized by high-altitude landscapes and unique flora and fauna.

Peru is considered one of the world's megadiverse countries, with abundant biodiversity and endemic species.
Challenges and Conservation Efforts
Peru faces environmental challenges such as deforestation, illegal mining, and habitat degradation.

Efforts are being made to promote sustainable practices, protect natural areas, and support indigenous communities.

The country has established numerous national parks, reserves, and protected areas to safeguard its natural heritage.
Cultural and Ethnic Diversity
Peru is a multicultural country with a rich blend of indigenous, European, African, and Asian influences.

Indigenous communities, including Quechua and Aymara, contribute to the country's cultural diversity.

Spanish is the official language, but Quechua, Aymara, and other indigenous languages are also spoken.
PRACTICE QUESTION
Q) Match the following:
Type of volcano

Characteristics

1.Cinder cones
A. made from high-viscosity lava, ash and rock debris.
2.

Lava Domes

B.eruptions of mostly small pieces of scoria and pyroclastics
3.

Composite

C.

eruption of low-viscosity lava that can flow a great distance from vent.

4.Shield
D.built by slow eruptions of highly viscous lava.
Select the correct answer using the codes below:
(A) 1- A, 2- C, 3-B, 4-D
(B) 1-C, 2-B, 3-D, 4-A
(C) 1-D, 2-B, 3-A, 4-C
(D) 1-B, 2-D, 3-A, 4-C
Answer: D
https://www.republicworld.com/world-news/south-america/perus-ubinas-volcano-spews-smoke-and-ash-emergency-declared-in-moquegua-articleshow.html