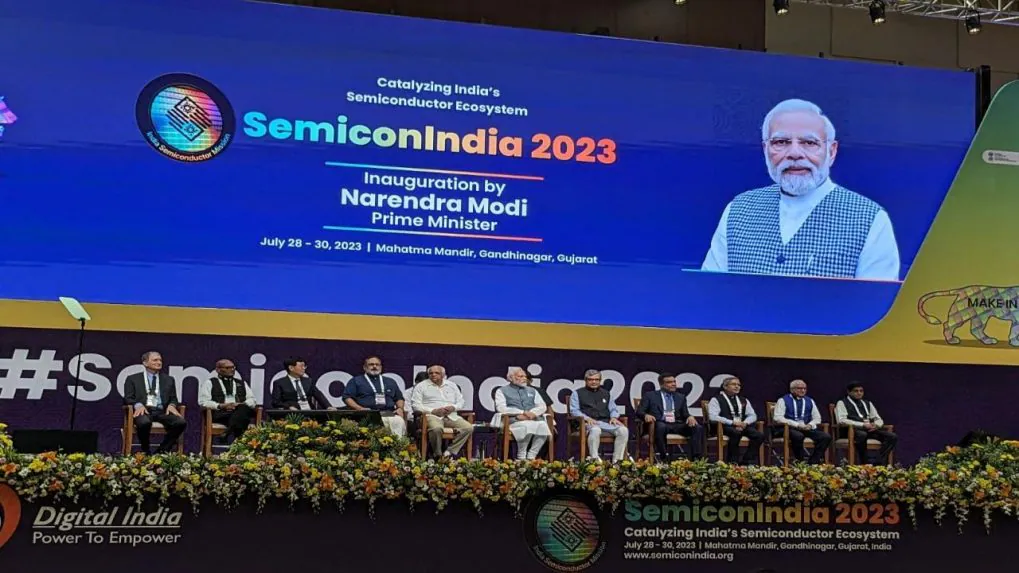 Copyright infringement not intended
Context: Semicon India 2023 is a premier demonstration of India's chip design innovation and semiconductor prowess. Prime Minister inaugurated the event at Gandhinagar, Gujarat.
Details
The event showcases the latest developments and trends in the semiconductor industry, with a focus on India's role and potential in this sector. The event also features keynote speeches, panel discussions, technical sessions, and networking opportunities for the participants.
Semicon India 2023 aims to foster collaboration and innovation among the stakeholders of the semiconductor ecosystem in India and abroad.
Prime Minister in his inaugural address, praised the achievements and aspirations of the Indian semiconductor industry. He said that India has the talent, vision, and ambition to become a global leader in chip design and manufacturing.
India's Prime Minister has made a strong pitch to the global semiconductor industry, inviting them to invest in India and promising a conducive policy environment and reforms. He said that India is best positioned to become a trusted chip supplier to the world, given its large domestic market, skilled talent pool, democratic values and geopolitical stability.
Key points from the Prime Minister's Speech
Expanding Talent Pool: Modi emphasized that India has a massive talent pool, including skilled engineers and designers, making it an attractive destination for semiconductor companies seeking skilled human resources.
Favourable Tax Regime: The Prime Minister mentioned that India provides many tax exemptions for the new manufacturing industry, including the semiconductor industry. Additionally, India has one of the lowest corporate tax rates, which can be appealing to investors.
Financial Incentives: India is offering special incentives for the semiconductor industry to attract investments. These incentives could include subsidies, grants, or other financial support.
Reforms to Improve Business Environment: Modi assured investors that the government is committed to continuing reforms aimed at enhancing the business environment in India. This suggests that the government is actively working on improving regulations and policies to facilitate investment and business growth.
Positive Perception of India: The Prime Minister highlighted the changing perception of India as an investment destination, indicating that the country is becoming more favourable to potential investors.
Geopolitical Stability and Trust: Amid geopolitical tensions, India is positioning itself as a trusted destination for semiconductor manufacturing, with a stable, responsible, and reform-oriented government.
Emerging Opportunities: Modi pointed out that India's digital electronics manufacturing sector has seen exponential growth, with increasing exports and a rise in mobile manufacturing units. This indicates a growing market and potential for semiconductor companies.
Collaborative Partnerships: The semiconductor industry representatives expressed the belief that India's time has come, and collaborative partnerships can play a significant role in the country's emergence as a player in semiconductor production.
Global Responsibilities: India is working on a comprehensive roadmap with friendly countries and building a vibrant semiconductor ecosystem, as evidenced by initiatives like the National Quantum Mission and the National Research Foundation Bill.
First-Mover Advantage: The Prime Minister stressed the importance of early entry into the Indian market, suggesting that companies that invest early may have a first-mover advantage over others.
Overall, Prime Minister Modi's pitch appears to be aimed at positioning India as a competitive and promising destination for semiconductor investments, leveraging its strengths such as a skilled workforce, favourable tax policies, and policy reforms to attract global players in the semiconductor industry.
Must-Read Articles:
SEMICONDUCTOR INDUSTRY: https://www.iasgyan.in/daily-current-affairs/semiconductor-industry
PRACTICE QUESTION
Q. How does the semiconductor industry contribute to the growth and development of India, and what are the key challenges hindering its progress in this sector? Considering these challenges, what measures can be taken to pave the way forward and enhance India's position in the semiconductor industry?
https://epaper.thehindu.com/ccidist-ws/th/th_delhi/issues/45500/OPS/GT2BI0MVG.1.png?cropFromPage=true