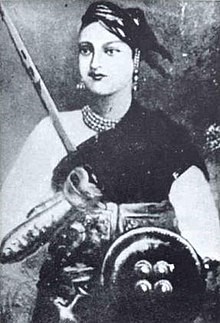 Disclaimer: Copyright infringement not intended.
Context
The Prime Minister, Shri Narendra Modi paid heartfelt tributes to the symbol of the bravery of Indian women power, Rani Lakshmibai on her birth anniversary.
Details
Rani Lakshmibai, also known as the Rani of Jhansi, was a prominent figure in the Indian Rebellion of 1857 against British colonial rule.
Her valiant efforts and unwavering courage have made her an enduring symbol of resistance and patriotism in India's struggle for independence.
Early Life and Background
Birth and Childhood:

Born as Manikarnika Tambe on November 19, 1828, in Varanasi, she later became known as Lakshmibai.

Daughter of Moropant Tambe and was raised in the culture of courage and valor.

Marriage to Maharaja of Jhansi:

Married Raja Gangadhar Rao Newalkar, the Maharaja of Jhansi, at a young age.

After their marriage, she was named Lakshmibai, and her son was named Damodar Rao.
Rani Lakshmibai's Role in the Rebellion of 1857
Resistance Against Annexation:

Following her husband's death in 1853, the British East India Company attempted to annex Jhansi under the Doctrine of Lapse.

Rani Lakshmibai fiercely opposed this annexation, refusing to cede control of Jhansi to the British.

Leadership in the Rebellion:

Amid the Indian Rebellion of 1857, Rani Lakshmibai took charge, leading her troops in the defense of Jhansi against the British.

Showcased remarkable bravery, military acumen, and determination in the face of adversity.

Battle of Jhansi:

Engaged in the Battle of Jhansi against British forces, exhibiting strategic prowess and a strong sense of leadership.

Although Jhansi ultimately fell to the British, her resistance became legendary.
Legacy and Contribution to India's Freedom Movement
Symbol of Courage and Patriotism:

Rani Lakshmibai's bravery and sacrifice made her an iconic figure in India's struggle for independence.

Her valor in fighting against colonial rule continues to inspire generations.

Iconic Battle Cry:

Her battle cry "Krantikari Rani" and "Jai Bhavani, Jai Shivaji" echoed the spirit of resistance against oppression.

Honors and Tributes:

Honored through numerous memorials, statues, and tributes across India, including the Rani Jhansi Marine National Park and Rani Jhansi Road in Delhi.
Death and Legacy
Death in Battle:

Rani Lakshmibai fought fiercely in the Battle of Gwalior in 1858 and died on June 18, 1858, while leading her troops.

Enduring Inspiration:

Her legacy of courage, determination, and sacrifice remains etched in Indian history and serves as an enduring inspiration for freedom fighters and nationalists.
Conclusion
Rani Lakshmibai's indomitable spirit, determination, and sacrifices for the nation have immortalized her as a symbol of bravery and patriotism in India's fight against colonial rule, earning her a revered place in the annals of Indian history.
PRACTICE QUESTION
Q. Rani Lakshmibai is often considered a symbol of resistance and courage during India's struggle for independence. Discuss her role in the Rebellion of 1857 and the impact of her leadership on the Indian freedom movement. (250 Words)