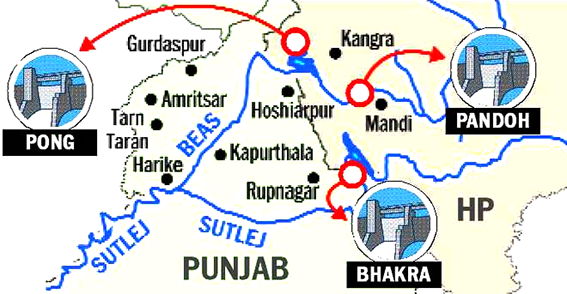 Copyright infringement not intended
Context
The recent flooding situation in certain districts of Punjab, particularly Hoshiarpur and Rupnagar.
Details
Excess water release from Pong and Bhakra dams leads to inundation of villages near Beas and Sutlej rivers.

Evacuation efforts underway; authorities closely monitoring the situation.
Government Advisory and Dam Overflow
Punjab government advises residents of Gurdaspur, Amritsar, Hoshiarpur, Kapurthala, and Tarn Taran districts to avoid the Beas river due to water release from Pong dam.

Bhakra dam on Sutlej and Pong dam on Beas, both in Himachal Pradesh, overflowed due to heavy rain.
Impact on Villages and Farmlands
Farmlands in Talwara, Hajipur, and Mukerian villages flooded from water discharge from Pong dam reservoir.

Water enters low-lying villages, homes, and fields along Beas river.

Villagers were forced to shift to safer locations, including gurdwara.
Rescue and Relief Operations
Rescues of trapped individuals, including migrant laborers, carried out near dam and river areas.

National Disaster Response Force (NDRF), State Disaster Response Force, NGOs engaged in relief operations.

Six relief camps established, 450 people evacuated to safer places.
Continuous Monitoring and Safety Measures
District administration closely monitors the situation, no loss of life reported so far.

Controlled water discharge from dams, inflow and outflow being managed.

Villagers evacuated to safer places, precautions against panic urged.
Rupnagar District Impact
Excess water release from Bhakra dam affected villages in Anandpur Sahib.

Evacuation efforts underway, people trapped in homes due to strong currents.

Punjab Education Minister assures assistance, evacuation, and safety measures.
Preparedness and Relief Camps
The Chief Secretary holds meetings with deputy commissioners, emphasizes preparedness and relief measures.

Relief camps set up, officials ready to handle any situation arising from flooding.
About Pong and Bhakra Dams
Pong Dam
Location and Purpose:

Located on the Beas River in Himachal Pradesh, India. It is also known as the Pong Reservoir or Maharana Pratap Sagar. It was constructed for irrigation, hydroelectric power generation, and flood control.

Reservoir and Capacity:

It creates a large reservoir extending into the neighboring state of Punjab. One of the largest man-made lakes in India. Provides water for irrigation to the states of Punjab, Haryana, and Rajasthan.

Hydroelectric Power Generation:

Houses a hydroelectric power plant. Generates electricity by utilizing the flow of water from the dam.

Flood Control:

Designed to mitigate flooding in downstream areas. Controls and regulates the flow of water during periods of heavy rainfall.
Bhakra Dam
Location and Significance:

Located on the Sutlej River near the border of Punjab and Himachal Pradesh. One of the largest and most important multipurpose dams in India.

Purpose and Benefits:

Built for irrigation, hydroelectric power generation, and flood control. Supplies water to various states including Punjab, Haryana, and Rajasthan. Plays a crucial role in meeting agricultural and water needs of the region.

Hydroelectric Power Generation:

Equipped with several powerhouses and turbines for electricity generation. Contributes significantly to the power supply of the northern states.

Flood Control and Water Management:

Helps regulate the flow of the Sutlej River during monsoon and heavy rainfall. Prevents downstream flooding and ensures water availability during dry periods.

Historical Importance:

An engineering marvel when it was constructed in the mid-20th century. Represents the successful harnessing of water resources for various needs.

Tourist Attraction:

Draws tourists due to its scenic beauty and recreational facilities around the reservoir. Offers boating, fishing, and other water-based activities.
PRACTICE QUESTION
Q) Consider the following statements about Pong and Bhakra dams
The Pong Dam primarily focuses on flood control and hydroelectric power generation, while the Bhakra Dam is renowned for its extensive irrigation capabilities.

The Pong Dam, located on the Beas River, plays a vital role in regulating water flow and providing irrigation, while the Bhakra Dam is a major source of hydroelectric power generation on the Sutlej River.
Select the correct statements using the code below:
(a) 1 only
(b) 2 only
(c) Both 1 and 2
(d) Neither 1 nor 2
Answer: B
https://www.tribuneindia.com/news/punjab/several-villages-in-punjabs-hoshiarpur-rupnagar-inundated-after-water-released-from-pong-bhakra-dams-535341