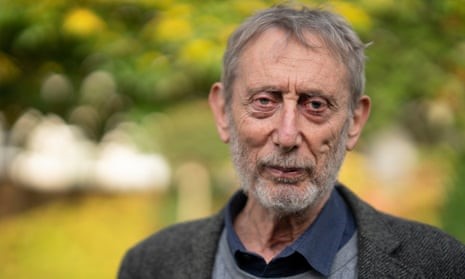 Disclaimer: Copyright infringement not intended.
Context
British children's writer

and performance

poet Michael Rosen

has been awarded the prestigious

PEN Pinter Prize 2023

.

Aged 77, He is a writer from the UK

and will receive the award

alongside another 'Writer of Courage.
Other Details
Writer of Courage will be selected by Rosen

from a shortlist of international writers who showed courage and even risked their life and safety for the sake of freedom of expression.

Ruth

Borthwick was the Chair of Judges of English PEN.

The other judges for this year's PEN Pinter Prize included poet Raymond Antrobus, and writer-theatre director Amber Massie-Blomfield.
About Michael Rosen
Family Back ground and Early Years
Rosen grew up around books

with educationalist father and a teacher mother.

His parents' activism and intellectual friend circle, which included critic Wayne Clayson Booth and poet and theosophist Beatrice Hastings etc., shaped his inclination towards literature.

At first, at an early age of 12, he started writing satirical poems.

He studied in Middlesex Hospital Medical School followed by Wadham College in Oxford to study English.

He started writing plays and poetries there.

He also served as the Children's Laureate (in the UK) from 2007 to 2009.

At present, he is a professor of children's literature at Goldsmiths, University of London.
Significance of Rosen's Work
Made poetry, mostly on social, political and ethical theme

, accessible to children through his work and performances.

He implanted in children the values and habits of courage, imaginations, critical thinking and reading through humour and wordplay in his works.
Michael Rosen's work
Children
Rosen's first book of children's poems, Mind Your Own Business, came out in 1974.

In On the Move

: Poems about Migration (2020), - he explored contemporary and historical migrations.

You Can't Catch Me (1982), - it won the Signal Poetry Award.

You Wait Till I Am Older Than You (1996).

Rover (2007).

Fantastic Mr Dahl

We're Going on a Bear Hunt

(1989) - It is a classic tale of overcoming obstacles.

Rosen's Sad Book in 2004

– It is a book about living with loss and bereavement.
For Adults
Rosen has also written for adults.

Workers' Tales

: A collection of socialist Fairy Tales,

Fables and Allegories from Great Britain (2018),

Mr Mensh (2019)

A Story of Life, Death and the NHS – It is an account of his life-altering experience of being in an induced coma and fight against COVID-19.
The PEN Pinter Prize
Launched in 2009 by English PEN, the annual PEN Pinter Prize literary awards given in the honour of the late Nobel Literature Prize-winning English playwright Harold Pinter.

This award is open for writers from the UK, Ireland or the Commonwealth for upholding freedom of expression, even it means to risk their own safety, in their works.

It reflects a fierce intellectual determination to define the real truth of our lives and our societies

Writer Malorie Blackman won it in 2022.
PRACTICE QUESTION
Consider the following statements about PEN Pinter Prize:
1. This award is provided to the writers across world to uphold freedom of expression.
2. It is one of the highest awards of the world in the field of journalism.
Which of the statements given above is/are correct?
A. 1 only
B. 2 only
C. Both 1 and 2
D. Neither 1 nor 2
Answer: (D)
https://indianexpress.com/article/explained/explained-culture/michael-rosen-pen-pinter-prize-glimpse-into-work-8692653/