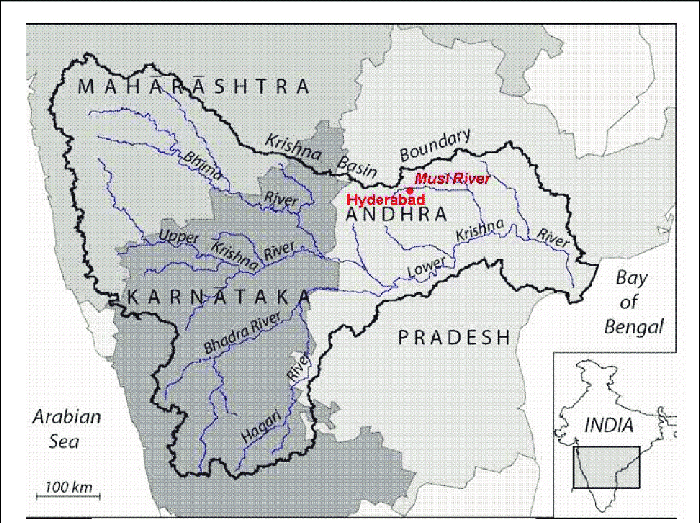 Disclaimer: Copyright infringement not intended.
Context
Environmental activists have appealed to the Chief Justice of the Telangana High Court to set up an ecological heritage bench for the restoration of the Musi River and other water bodies across the State.
Details
About Musi River
It is a river that runs through the Indian state of Telangana in the south.
On the Deccan Plateau, it is a tributary of the Krishna River.
Previously, it was known as the Muchukunda River.
Hyderabad is located on the banks of this river, which separates the old and new parts of the city.
Course:
It originates in the Anantagiri Hills near Vicarabad in the Rangareddi district, 90 kilometers west of Hyderabad.
After roughly 240 kilometers, it meets the Krishna River near Wazirabad in Nalgonda district.
Dams: The two dams built over the river are Himayat Sagar and Osman Sagar.
Bridges: Several historical bridges cross the river, including the Purana Pul (Old Bridge), which was built during the time of the Nizams of Hyderabad.
The remaining bridges are in Dabirpura, Amberpet Chaderghat, and Uppal Kalan.
On September 28, 1908, the Musi River caused disastrous floods in Hyderabad.
Because of haphazard urbanization and a lack of planning, the river has become a repository for all unprocessed home and industrial trash drained from Hyderabad.
PRACTICE QUESTION
Consider the following statements about the Musi River
Musi River is a tributary of the Godavari River.
Himayat Sagar and Osman Sagar are dams built on it which used to act as a source of water for Hyderabad.
Which of the above statements is/are correct?
A) 1 only
B) 2 only
C) Both 1 and 2
D) Neither 1 nor 2
Answer: B