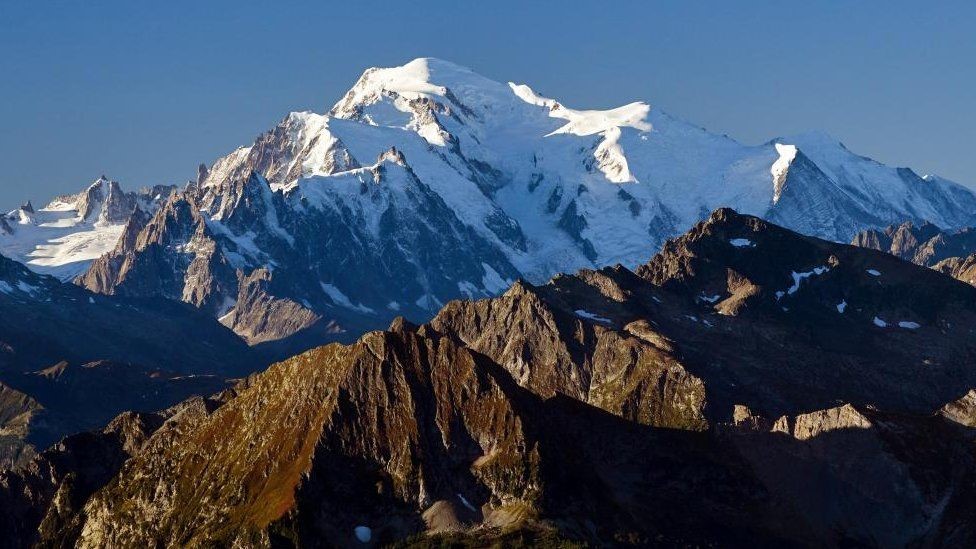 Disclaimer: Copyright infringement not intended.
Context
Mont Blanc, the highest mountain in Western Europe, has experienced a reduction in its height over the last two years. It is now measured at 4,805.59 meters, which is 2.22 meters shorter than its height in 2021.
Details
Possible Cause: According to French geometer Jean des Garets, the shrinking of Mont Blanc could be attributed to lower precipitation (less rain) during the summer. The mountain's height variation is influenced by the accumulation of snow and ice at its summit, which, in turn, depends on weather conditions and precipitation.
Climate Change Monitoring: Mont Blanc's height is regularly measured every two years to monitor the impact of climate change on the Alps. These measurements have been ongoing since 2001. The mountain's summit is known to constantly change in altitude and position, with variations of up to five meters.
Glacial Loss in the Alps: Glaciers in Switzerland have experienced their second-largest annual loss, which is seen as a clear symptom of global warming. This highlights the broader challenges of climate change affecting mountainous regions.
Measurement Method: The height measurement of Mont Blanc is conducted by placing small receivers in the snow to model the ice cap at the summit. These receivers emit a GPS signal, which is then used to obtain a precise measurement to the nearest centimeter.
Historical Significance: Mont Blanc is often referred to as "the roof of Europe" and holds historical and cultural significance, having been a subject of fascination for climbers, artists, and writers over the years.
About
Geography:
Mont Blanc is situated in the Graian Alps, part of the greater Western Alps range, on the border of France and Italy. Its precise location is in the Mont Blanc Massif, which includes several other notable peaks.
Geology:
Mont Blanc is primarily composed of granite, which was formed during the late Paleozoic era. It is part of the Pennine Alps, characterized by its rugged terrain and towering peaks.

The mountain has been sculpted by glacial activity over millions of years, resulting in dramatic features like arêtes, cirques, and hanging valleys.
History:
The first recorded ascent of Mont Blanc took place in 1786 when Jacques Balmat and Michel Paccard, a crystal hunter and a doctor, successfully reached the summit.

Mont Blanc has played a significant role in the history of alpinism, with numerous climbing routes and challenges associated with it.
Tourism:
Mont Blanc and its surrounding areas, including the Chamonix Valley in France and Courmayeur in Italy, attract millions of tourists each year.

The region offers a wide range of outdoor activities, such as skiing, snowboarding, hiking, and mountaineering.

The town of Chamonix, known as the "Capital of Extreme Sports," is a hub for outdoor enthusiasts and serves as a gateway to Mont Blanc.
PRACTICE QUESTION
Q. Discuss the recent reports of Mont Blanc's shrinking height and its implications for the region. How does this phenomenon connect with broader climate change trends, and what measures can be taken to address the environmental challenges faced by mountainous regions like the Alps? Provide insights and policy recommendations. (250 Words)